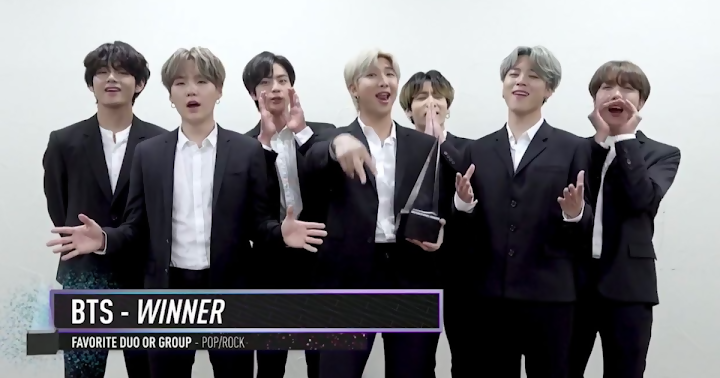 The 47th annual American Music Awards were held November 24, 2019 at the Microsoft Theater in Los Angeles, California. The awards show fêtes music artists and their contributions to the music scene during a given year.
For this year's awards, global K-Pop sensation BTS were nominated for three awards: Favorite Duo or Group Pop/Rock, Favorite Social Artist, and Tour of the Year. BTS took home each award!
For Favorite Duo Group Pop/Rock, BTS beat out the Jonas Brothers and Panic! At the Disco. For this award, BTS became the first non-English speaking group to be nominated for and won the award.
"BTS has been a group for six and half years, and throughout those years, so many of our dreams somehow manifest into reality. And ARMY, you guys are the ones who make all of this possible," RM said in a recorded message after winning the award. "We really couldn't have done it without your love and support from all over the world. We will try our best to live up to [your love], to strive high and work hard."
A special thank you message from @BTS_twt to the ARMY for winning Favorite Duo or Group – Pop/Rock! #AMAs pic.twitter.com/mkdFiMwmhI

— American Music Awards (@AMAs) November 25, 2019
For the second year in a row, the group took home the Favorite Social Artist award, beating out Billie Eilish, EXO, Ariana Grande, and Shawn Mendes. This is also the second year the award has been given, and so far, BTS is making it their own.
For Tour of the Year, BTS' "Love Yourself World Tour" earned the honor over Elton John, P!nk, Ariana Grande, and Ed Sheeran.
BTS swept the categories for which they were nominated, which is a first for a Korean artist. Congratulations to BTS and A.R.M.Y for their winnings!
—–Olivia Murray
Related Articles