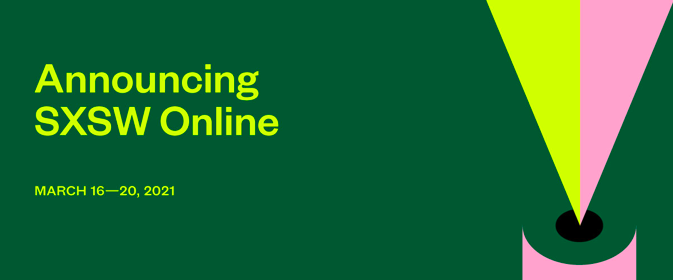 "The challenge of building a new future is one that we're excited to tackle. This has been such a year of change and we, like the entire world, are reshaping our perspective on how we connect. We're pleased to introduce SXSW Online as part of our program for 2021, and regardless of platform, we will continue to bring together the brightest minds from creative industries worldwide." – Roland Swenson, CEO and Co-Founder
How do you build the future from scratch? At SXSW we're known for being the world's foremost gathering of creative professionals, and although so much is different, that is one thing we intend to stay the same.
Today we're excited to announce SXSW Online as part of our 2021 offerings. We're working hard on a digital experience in March that brings you the benefits of sessions, film festival screenings, music showcases, networking, and exhibitions. The dates for SXSW EDU Online are March 9 – March 11, 2021 and SXSW Online will take place March 16 – Saturday, March 20, 2021.
Entries for the 2021 online event will open on Tuesday, October 6 with PanelPicker® proposals for SXSW and SXSW EDU, as well as Film Festival Submissions. In lieu of the standard showcase application process, the Music Festival will be curated by programming staff with priority given to showcase presenters and artists who were scheduled for the 2020 event.
SXSW is working with the City of Austin and public health authorities on plans for a 2021 physical event, and we will provide updates as more information becomes available.
We hope you'll join us in 2021. Stay tuned for more details!
Related Articles