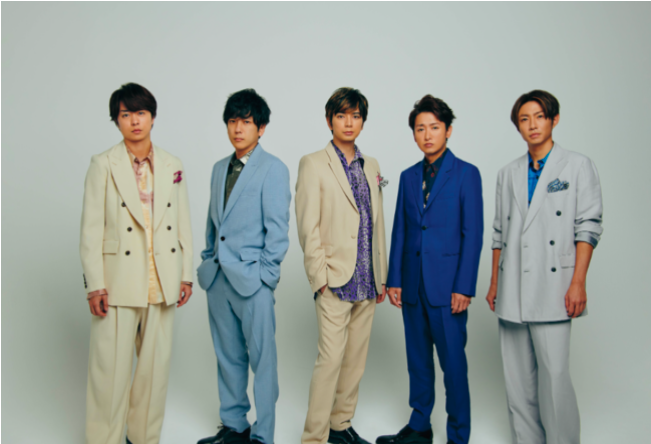 FIRST SINGLE SUNG ENTIRELY IN ENGLISH PRODUCED BY BRUNO MARS
VIDEO FEATURES STUNNING VIEWS OF TOKYO
Legendary J-pop band ARASHI are debuting their new single "Whenever You Call," a sleek, groovy pop ballad produced by Bruno Mars. The track marks the band's first single sung entirely in English; listen/share HERE and watch/share the official video HERE, shot with the beautiful Tokyo skyline in the background.
"Personally, I have been a huge fan ever since his mainstream debut, and have attended his live shows multiple times," Jun says of working with Bruno. "We originally intended to go to Los Angeles and work under his vocal direction in recording, but alas with the current COVID-19 situation that was not to be…Through many discussions and his advice on how best to handle the nuance of the vocals, we were able to finish it anyway. It was a fantastic experience to be able to learn from his unique and incredibly talented singing style."
Sho remarks, "When we first heard the song, it was in the recording studio and the five of us listened to it together…it felt clearly that this was a song created through really digging deep and getting to know who ARASHI really is…It is a message of love, but one that imparts bravery too."
"It is a love song that uplifts with the sense of beauty and emotion that only the melody and lyrics of Bruno can impart, straight from the heart," Aiba says, while Nino describes, "I was surprised. I couldn't believe that [Bruno] would write this song for us…I was totally moved." Ohno praises Bruno, "It is an honor that he would produce this song for us…He put so much of what we're going through now and his own thoughts into the creation of this incredible song."
"Whenever You Call" follows the release of previous single, "IN THE SUMMER," produced by Rami (Selena Gomez, Ariana Grande, Lady Gaga), which saw widespread success in both the U.S. and global markets.
ARASHI continue to see extensive critical acclaim as they make their U.S. debut. Beyond the streaming success of "IN THE SUMMER," the band also participated in their first ever Twitter Q&A, hosted by @TwitterMusic, around the release. The event saw over 4.9M views, 490K likes, 129K retweets, and 45M impressions.
Pop sensation ARASHI are Japan's biggest J-pop band, dominating the scene for over two decades and breaking records across the board. In 2019 the iconic group's 5×20 All the Best!! 1999-2019 became the best-selling album of the year globally, putting them in the top spot over BTS and Taylor Swift. The career-spanning compilation album, which celebrated the quintet's 20th anniversary, sold a record-breaking 3.3 million copies globally, earning the band a Guinness World Record.
Their 5×20 anniversary tour broke records as the largest scale tour in Japanese history, seeing over 2,375,000 attendees and spanning 50 shows in 5 dome venues. The historic J-Pop group is now taking on the U.S. audience, actively working their singles in America for the first time in their two-decade long career. ARASHI is Masaki Aiba, Jun Matsumoto, Kazunari Ninomiya, Satoshi Ohno and Sho Sakurai.
The group has seen unparalleled success, having sold over 41 million records and performed for 14 million people during the duration of their career. ARASHI, whose name means "force of a storm," formed in September 1999 in Honolulu and released their debut single that November. In 2007, the release of hit single "Love So Sweet" gained the band commercial success by becoming the theme song of popular drama Hana Yori Dango 2 and turning ARASHI into a household name. By their tenth anniversary in 2009, ARASHI had become one
Related Articles