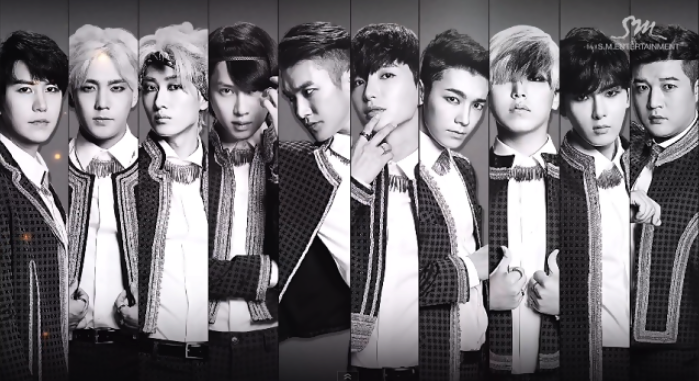 Super Junior made history July 12, 2019 when they became the first K-Pop act to perform in Saudi Arabia.
Super Junior 's welcoming video display from Arab ELF.
SJ are shinning in the sky of Jeddah ?✨ pic.twitter.com/OHXaLJZLT6#SuperJuniorInKSA#SS7SinJEDDAH

Cr. DonghaeArab, ArabSiwonest_pr

— ? moon (@eejwithyou) July 11, 2019
The group—sans Kangin (who announced his departure earlier in the week) and Sungmin—brought their Super Show 7S to the Middle Eastern country and performed in front of an estimated 15 thousand fans. The group performed in Jeddah at King Abdullah Sports City.
When the tour stop was announced, high demand for tickets caused ticketing websites to crash; the show sold out within hours of the tickets being posted.
Social media and Middle Eastern media point to the show being a huge success. With light sticks aglow, Saudi E.L.F showed their support in huge ways by showing off signs and singing along to Super Junior's discography. In turn, Super Junior made attempts to communicate with fans via translators and sharing a few Arabic phrases they learned in order to show a deeper connection to their Saudi fans.
You still can hear them from miles away lol #SuperJuniorInKSA @SJofficial pic.twitter.com/oLjAIgHB0p

— دونفيت ? Don'faith (@sujuI0I) July 12, 2019
Super Junior's sub-units, Super Junior K.R.Y and Super Junior D&E, also performed at the Jeddah Season Festival Saturday July 13, 2019. Another K-Pop act, Stray Kids, also performed at the festival.
"We are the first South Korean band to perform here in Saudi Arabia and I am so proud to be performing here," Siwon said.
Congratulations to Saudi E.L.F for being able to see your favorite group!
—-Olivia Murray
Related Articles