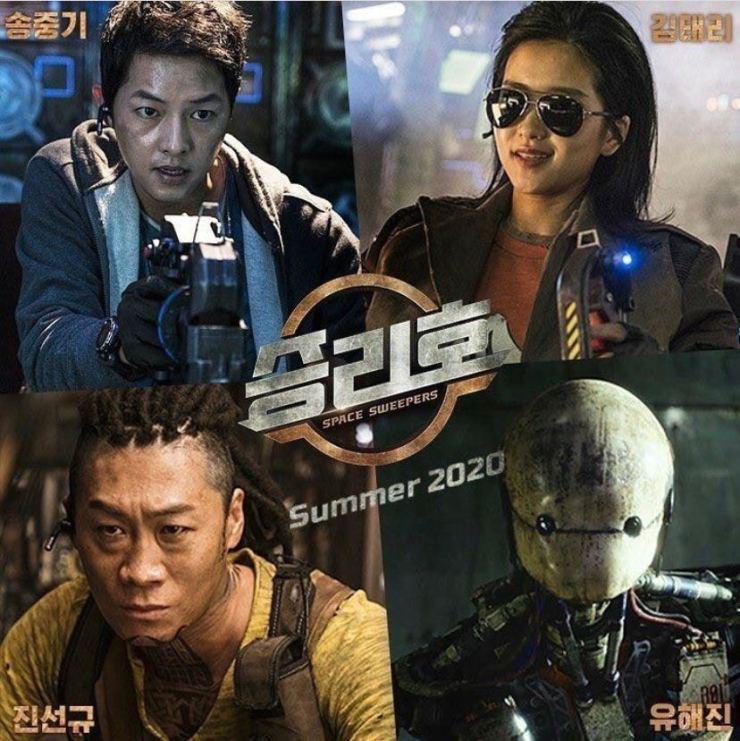 Korean space western film, "Space Sweepers (Korean: 승리호)," drew over 26 million household viewers during the first month of its worldwide release (From Feb. 5) via Netflix.
"Space Sweepers" which stars Song Joong-ki, Kim Tae-ri and Yoo Hae-jin, dominated the streaming service's daily top 10 rankings in 80 countries since its premiere.
The film is the first Korean sci-fi movie that is set in space in the year of 2092. It follows a crew of a junk-collecting spaceship who collect to make profit from selling debris. But they suddenly find themselves stuck in a risky situation when a humanoid called Dorothy is discovered.
Song Joong-ki plays the shuttle's pilot called Taeho, Kim Tae-ri's role is Captain Jang, Actors Jin Sun-kyu and Yoo Hai-jin play the role of Tiger Park and a former military robot respectively. Director Jo Sung-hee had worked together with Song Joong-ki back in 2012, in the box office hit "A Werewolf Boy".
About the success of the film, Song commented, "I don't really know where the data that Space Sweepers ranked first on Netflix charts comes from, but I'm sort of dazed that it's really our film that people are talking about. Last night I talked with director Jo Sung-hee and we both wondered if it was really our film."
Director Jo Sung-hee came up with the film's storyline about 10 years before the film's release, after hearing about the dangers of space junk from a friend.
He said, "It started with the idea of space travelers collecting space junk. I heard about how these fast-moving fragments of space debris are growing and leading to in-space collisions. I realized that this subject has already been dealt with in animations and games, but never in a film. I started writing the script wondering how Koreans, who possess a tenacious mentality, would approach this problem."
Netflix plans to invest up to $490 million to produce original Korean content in the future. In 2020, Netflix had approximately 3.8 million viewers in South Korea, but its revenue more than doubled as the viewership quickly grew amid the pandemic. Netflix is presently the most popular streaming service in South Korea, with over 10 million users and growing.
— J.Chung.
#SpaceSweepers #Netflix #Streaming #moviestreaming #SongJoongki #KimTaeri #YooHaejin #KoreanseriesonNetflix #JoSunghee #Scifi #spacewestern #Koreandrama #kfans #koreanactor #koreanactress #asiandramas #kdramafever #kpopfans #koreantop
Related Articles