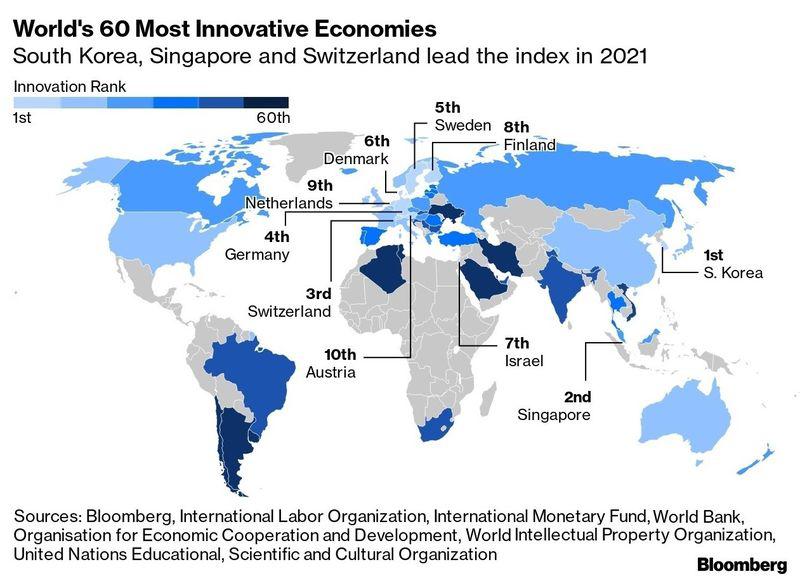 South Korea has again landed first place in Bloomberg's list of innovative countries, which is ranked annually. South Korea is the only country that has been placed in the top spot in seven out of the nine years since the index has been published. The country also scored 90.49 points on a scale from 0 to 100, as the only country with more than 90 points.
The index evaluates various criteria, including research and development spending, manufacturing ability and concentration of high-technology companies.
Bloomberg stated, "The 2021 rankings reflect a world where the fight against Covid-19 has brought innovation to the fore –- from government efforts to contain the pandemic, to the digital infrastructure that's allowed economies to work through it, and the race to develop vaccines that can end it. Much of the Bloomberg data comes from before the virus crisis. Still, it's notable that many countries high on the index –- like Korea, Germany and Israel –- have been world leaders in some areas of fighting the pandemic, whether it's contact-tracing or speedy vaccination."
South Korea's return to the top of the list is much credited to an increase in patent activity – which leads as the world's top, solid performance in R&D and manufacturing.
Professor Lee Kyoung-mook of Seoul National University's Business management commented, "R&D is essential to have a future. It's sandwiched between more developed nations, which still outperform them in technology, and China that is catching up fast relying on lower labor costs."
Germany's losing out of the top spot this year follows a warning two years ago by Juergen Michels, chief economist of Bayerische Landesbank, who expressed that Germany lacked proper strategy for future generation technology.
Although the U.S. and China both influence much of the world's innovation, they're also currently locked in a battle over issues like intellectual property rights. This year, both nations declined in the ranking.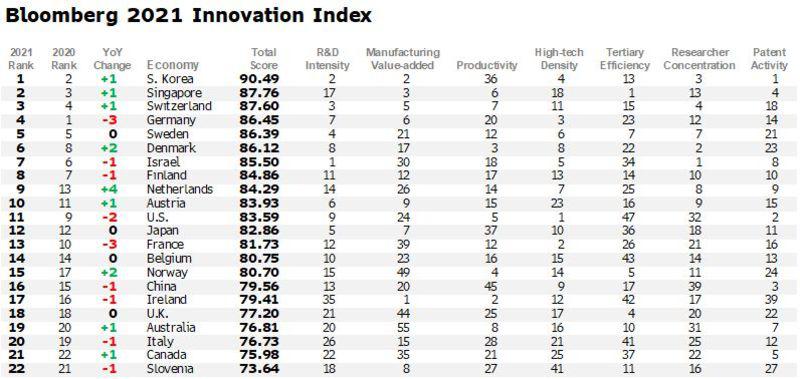 –J.Chung. 
Related Articles