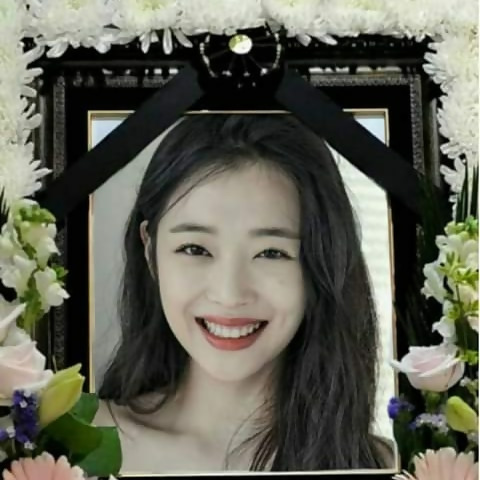 On October 14, 2019, 25-year-old singer and actress Sulli (Choi Jin-Ri) was found dead at her home in Seongnam after her manager could not get a hold of her. Her body was discovered at 3:20pm local time. Sulli's manager last spoke to her around 6pm local time the day prior.
According to the Seongnam Fire Department, when paramedics arrived on the scene, Sulli had signs of cardiac arrest and post-death paralysis (rigor mortis), indicating that she passed several hours before being found.
So far, police have stated there are no signs of foul play in her death. A spokesman said they even checked security footage around her apartment and did not notice any unusual activity. Suicide is speculated in Sulli's passing, but police will not confirm or deny the reports. They have stated that Sulli battled severe depression, which is something she herself has been open about in the past.
"The investigation is ongoing and we won't make presumptions about the cause of death," police official Kim Seong-Tae said.
Police did not find a suicide note at the scene, but they did find writings from Sulli. They have not released the contents to the public.
Following the news, SM Entertainment, released a statement confirming the starlet's passing.
This is SM Entertainment.
We apologize for conveying such sad and unfortunate news.
Sulli has left our side.
We cannot believe the situation now and we are just filled with grief.
For her family who is grieving after the sudden news of her passing, we earnestly request that you refrain from writing speculative articles or spreading rumors. We express our deep condolences.
Friends and fellow celebrities have taken the news hard. Several artists including Amber Liu, Super Junior, SuperM, NCT Dream, Nu'est, and SF9 canceled activities out of respect, while many others, including close friend Hara (who recently received help following a suicide attempt), Gyuri, Ahn Jae Hyun, Kyla Massie, Kevin Woo, DinDin, and AOA's Mina have shared thoughts on social media expressing their shock and grief.
View this post on Instagram
Hara wrote, "In that world, I hope Jin-Ri can do whatever she wants."
Gyuri said, "A beautiful and cheerful person. It's difficult to express how I'm feeling in words. I hope the world will become a bit more tolerant to everyone."
View this post on Instagram
U-KISS' Jun said, "You went through so much… I hope you will not be concerned about anything there and I hope you will be really happy, noona. Rest in peace now."
너무 고생 많았어요..
거기선 아무 것도 신경 쓰지말고 정말 행복하게 지냈으면 좋겠어요 누나.
이제 편하게 푹 쉬세요.

— JUN (@JuN97L) October 14, 2019
Sulli has been open about her depression, anxiety, and panic disorders, and she most recently discussed these issues on Reply Night (also known as A Night of Hate Comments).
"My life is actually empty, so I feel like I'm lying to everyone by pretending to be happy on the outside," Sulli said on Reply Night earlier this month. "I asked around a lot for advice. They told me, 'Everyone has a dark side in their lives, but they live pretending that they don't. Don't think of it as weird.'"
In 2018 prior to the airing of her reality show Jinri Store, Sulli posted about her anxiety issues and social phobia in a now-deleted Instagram post, "Even close people left me. I was hurt by them and felt there was nobody who understands me, which made me fall apart."
Sulli has been the target of Internet trolls and cyberbullying in recent years. Everything about her life from dating to her apparel choices have been criticized by Netizens. In an Instagram story from this year, Sulli asked, "I'm not a bad person. Why are [they] talking bad about me? Tell me one thing I did to deserve this?"
The Busan-born star began her celebrity career in 2005 as a child actress. From there, she debuted in f(x) in 2009 with the song "LA chA tA" before leaving the group in 2015 to focus on her mental and physical health and to turn to acting. She recently appeared in the drama Hotel del Luna and recently made a comeback in the music scene with "Goblin," a track and video about someone with Dissociative Identity Disorder. Her comeback as a singer was met by Netizen backlash.
Sulli leaves behind family and many friends. As per her family's request, her funeral will be private.
"The mourners and family do not want this. We ask reporters to understand with a generous heart. We ask that you cooperate so that Sulli's last journey will be beautiful," SM Entertainment said.
Words cannot express our shock and grief over Sulli's passing. We wish her and her family peace.
If you or someone you love is struggling with depression, there is help.
United States
American Foundation for Suicide Prevention: Call 1-800-273-TALK (8255)
Crisis Text Line: A 24/7 nationwide text-messaging hotline. Text 741741 to talk to a trained counselor.
National Suicide Prevention Lifeline: Call 1-800-273-8255- Available 24 hours every day.
The Trevor Project: Call 1-866-488-7386. Crisis and suicide prevention services available to the LGBTQ+ community.
Trans Lifeline: Call (877) 565-8860.  Crisis and suicide prevention services for trans and non-binary individuals.
Veterans Crisis Line: Call 1-800-273-8255 and press 1 for help. Text 838255 for text-based services. This service aids veterans.
Canada
Kids Help Phone: Call 1-800-668-6868. A 24-hour service for youths 20 and under.
The Canadian Association for Suicide Prevention:  Assistance is available in French and English. However, they are not a crisis center, but they do have links to crisis centers in each Canadian province.
Trans Lifeline: Call (877) 330-6366
Youthspace: This service helps people aged 30 and under. Text them at 778-783-0177. The service is available from 6pm to midnight PST.
For a complete list of suicide and crisis lifelines available in many countries, please visit Wikipedia's list of resources.
—-Olivia Murray
4 responses to "Singer, Actress Sulli Passes Away"
Related Articles