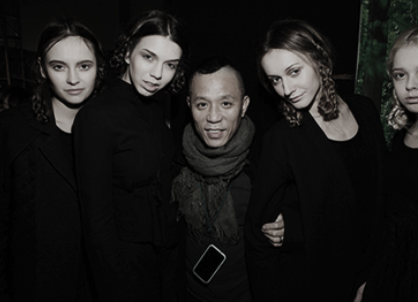 As Korea's first ever Beauty Director and the Founder and CEO of Lovely & Beauwork, Oh Min has also recently been appointed as the head of BOS Beauty Contest which is to be held in November of this year. This beauty contest is open for beauticians from Korea, China, Cambodia and Vietnam.
For this interview, Mr. Oh has shared with us his passion and philosophy when it comes to having the right mindset for success – and what his goals are for the days to come. We like to express our gratitude towards Mr. Oh , especially since this is the second interview that we have had with him, which makes him the only person in KCrush America we've had two interviews.
We wish Mr. Oh and his creative team all the best in all his future endeavors. As this week is Seoul Fashion Week, we expect more fashion-related articles and interviews to be available to our readers. 
Hello, thank you for taking the time out for this interview. What have you been up to since the last time we talked to you?
As you know, I've been working in this field (as a hair designer and Beauty Director) for so many years, and on August 27, 2019, I was made the chairman of BOS Beauty contest and commission. I personally think it's somewhat a pity that beauty contests and competitions nowadays, are corrupted and not evolving in the way they should be. I intend to put in my part, in order to search and find more productive and talented people in the K-Beauty industry.
And what do you mainly require of the beauty contestants?
Back when I was in charge of operating my own beauty education institute, I was asked countless times to have some of my students compete in their beauty contests, but since I was aware of how these contests are in real life, I recall enrolling students to my academy after confirming that they were not going to compete in beauty contests. Later, three of my students asked me several times if they could enter a beauty contest for their own development purposes, so I gave in and gave them permission after making them promise five conditions, stated below. 
Winning an award at the contest should not be your ultimate goal.

You should develop your own work.

Record your work process while preparing to enter the contest.

Do not rely on your connection (or personal acquaintance) with any instructors.

Do not enter the contest using an abnormal route.
I was told by one of the staff members that they received a strange phone call from the organizers of a certain beauty contest, a week the contest was to be held. They phoned in to thank the three of my students for entering and said they would reward two of the three students, and they asked me to prepare which one of to be rewarded which prize. So, I strongly opposed their idea, saying it was beyond me that they could think of picking the winners without even having the contest.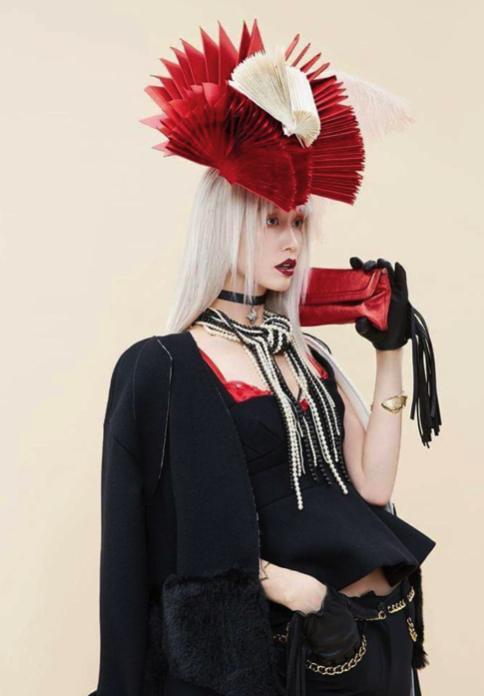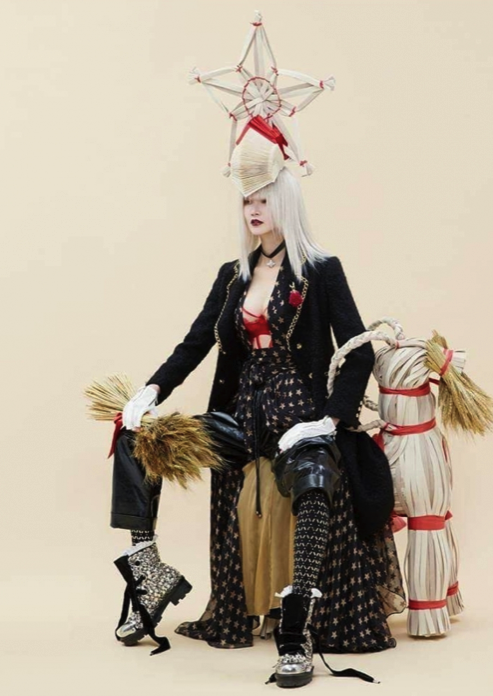 Vogue, Christmas Edition
Which fashion show do you recall as your best work from your 30-year career?
I've worked on over 4500 shows in the last 30 years – took part in the opening of the 2012 London Olympics (viewed by the entire world) with Designer Lie Sang Bong and fashion shows which was praised by the vip guests including the IOC members. We very honored when asked by Victoria and Albert Museum, to donate our Dancheong tiles which were created by me.
Likewise, myself and my team (Oh Min's Creative Team) have worked across 5 continents and 6 oceans – basically, all over the globe. I am currently in charge of the hair styling at various fashion shows including Pret-a-Porter Busan, Daegu Collection, Seoul Fashion Week and all kinds of fashion shows outside of Korea. Each year, I do approximately 200 fashion shows, TV dramas, films, commercials in total, as a Beauty Director with my team members.
Where do you usually get the inspiration for all the shows?
There's a rule that I seek from my apprentices and peers that I work with. I ask them to research and work hard to acquire the necessary information and to think outside of the box in order to fulfill the given tasks. We go to the extremes to challenge ourselves and experience in all aspects that we can – and go beyond just fashion and beauty.
When do you feel the most gratified or rewarded?
Well, I'd say that I am the most rewarded and thankful whenever I see how much my students or juniors have evolved. I always demand that they have to rise beyond myself, Oh Min – so, I feel really emotional and gratified when my juniors come up with something that is far beyond what I could've done.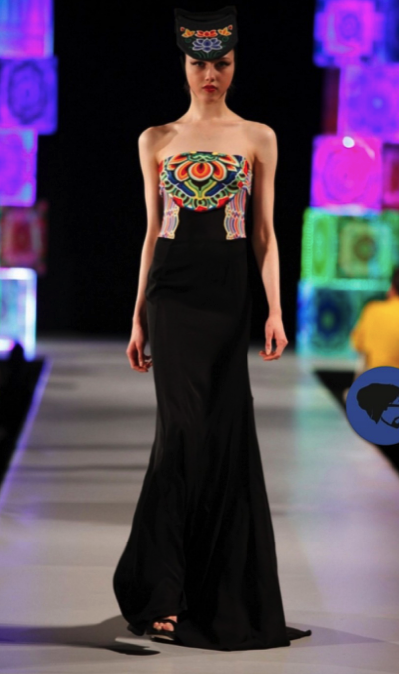 This dress is from 'Over the Rainbow: Dancheong', Lie Sang-Bong's Spring/Summer 2012 Collection.
It is inspired by the Dancheong, the Korean pictorial art used to decorate and protect the wooden structure of traditional architecture.
What would you advise to anyone who wants to get into this business?
My message to the established beauty professionals is this: be true professionals. I've seen beauty salons of mammoth scale, franchises and famed Cheongdam beauty clinics, behaving despicably and breaching the principles of the fashion industry. Often, they service the hair and make-up in fashion shows, perhaps to advertise their institutions, for free. It is a shame to see them slaving themselves with no reward, and at the same time asserting their prestige.
Once, a model came to stand with our team, waiting for her turn on the catwalk. She was a stranger, and when we asked why she did not join her own group, she said that the beauty services rendered for free made her feel awkward. And her team happened to be a big salon with franchise shops all over the country. You might think such a salon would ask for more guarantee, but that was far from the case. The model called her team just hairdressers. The owner of such salons will have all those shows and collections on their sleeve, by hiring out their staff for free. What are they teaching their own staff? When the workers have their own salons, how could they avoid doing the same, the same as their teachers and mentors?
At another occasion, a new fashion designer was so eager to work with us because the free wigs provided for his last show were disappointing, to say the least. When he expressed his surprise and dismay at the guarantee we asked for, I had some strict words with him. If we were to do it for free and he needed diamonds for hair, would we have to offer those for free as well? Where do we draw the line? My point was that everything, from a tiny comb, needed to be paid for, everything from materials, accessories, not only for themselves but their fabricating costs. He did pay for everything and now is a famed designer.
Not to say that I did all those shows for just money. We do voluntary work for free, for example for building habitats for the needy. In professional work, we are not servicing but cooperating, in charge of the whole show as a project.
I tell my staff that they will have to overcome me, who is currently the best in this generation. I also tell them that in the future, they would have to demand 120% of what I do. The inheritance I have for them exceeds the value of my salon itself. The beauty work that I do now is the inheritance, for nobody but myself and my staff. I tell my fellow and junior beauty directors to be true professionals. We are also the provider of many new jobs. If beauty refers to everything beautiful, a beauty director creates, makes decisions, completes and solves the problems of beauty. In other words, a beauty director is a term that encompasses everything to do with beauty, as a master, even a president of everything in the whole world to do with beauty. And I hope to see many others coming forward to dream this beautiful dream of becoming a professional beauty director.
You're a mentor to quite a number of people, but who is your mentor?
Reflecting back on my life, my mentor would be my father. He was a second-generation only son in his family, and he raised seven children by himself, and I think about him a lot when I raise my children.
My father would say that children are reflection of their parents. He'd wake me up at every dawn and say, "Early bird catches the worm" and this is what I always say at the end of every lecture that I do!! When you're lying down asleep, you can only dream. But when you are staying up and actually working, you can fulfill your dreams!!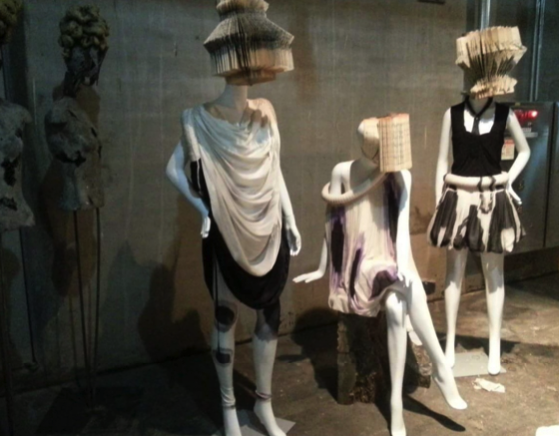 What do you advise to your juniors during fashion shows?
Our team may seem like a spartan-styled organization but it's moderate on all sides. Some call us crazy for working excessively but we've never missed a show ever. I tend to stick by what I say and promise, and for all the blunders that my staffs make, I take full responsibility. I never ask the staff to take care of any mistakes they've caused. This is because we don't make the same mistakes and I do not consider first-time mistakes, as a mistake. There's something that I always tell my team members.
I tell them to work, not in front of me, but where I don't see them. Which means, they should enjoy what they do. In reality, I know my team members like to find what to work on and they're experts at what they do. I also advise them to keep studying and researching. We're the best at what we do, when it comes to fashion, so I tell them to work harder on something unrelated to fashion. That's how we can go beyond and further from where we stand. There's something that I want to tell my juniors as well. Failure is something that we can all experience, and the other thing is, repetitiveness is a pain we all go through and only we don't know we're improving. These are the kind of things that I tell my juniors all the time. I tell them to enjoy the wait too. Your door to success is always waiting for you.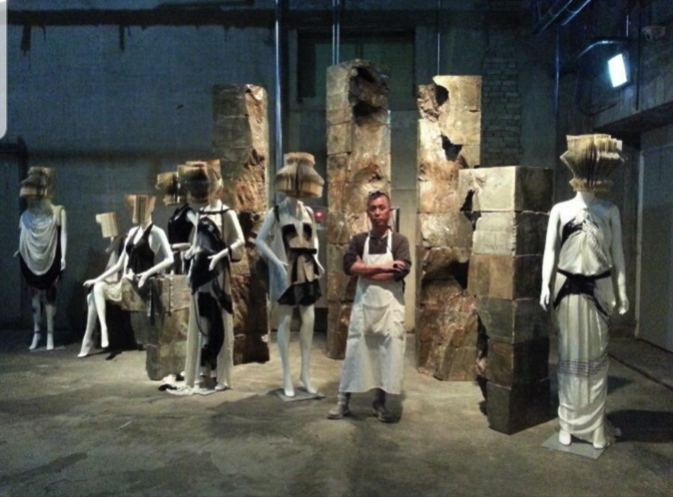 Thank you very much for this interview. Lastly, let us know your future plans and goals.
My line of skincare products is coming out this season of Autumn. Oh Min's perfume series is coming out at the end of this year. My new fashion brand of sunglasses, bags, shoes, accessories and other fashion goods is in plans too. My second line of sunglasses are being prepared to launch soon – the first collection received unbelievably well from the public and got sold out.
The beauty artist that I admire the most is Paul Mitchell. He developed diverse products in many different categories and was such a special artist. Even parasols, umbrellas, shampoos were designed and created in his name. I also started off my career as a beauty director but I am currently developing all kinds of goods. It's already been over 10 years since I changed my work title to Beauty director.
That's why when I released my line of sunglasses, the consumers didn't find it that strange or unexpected. A beauty director is someone who manages and watches over the whole show and work, from head to toe, and develops and introduces a new trend for the people. Generally, if I were still working as a hair artist or makeup artist, I don't think it would've been easy for me to tell a story between artists and release diverse line of collections.
My current dream is what my late wife wanted when she was alive. I want to build a museum in my own name, where I'd exhibit all my countless past work and data. An example would be, the Dancheong tiles that was donated to the Victoria and Albert Museum in London. The two pieces out of the 6 tiles were given to the museum, one is with Designer Lie Sang Bong and the remaining 3 pieces are currently with me. I own so much that could later be displayed at my museum, and I would love to dedicate the opening to my late wife.
Only the people who do their utmost deserve to see a beautiful future. The harder work you've put in right now, is really what is going to brighten up your tomorrow.
Rookie actors in films or TV dramas, tend to work hard to show their physiques but real stars show their souls. If you regard yourself a professional, you need to spend the time working to show your soul in what you do. This is how a professional should operate. And we're truly all professionals. I wish you would work really hard on what you do, so you'd want to do the same even in the next lifetime. You have to push harder to be respected and become the best in your field. We're all in this together.
– J. Chung.
#KoreasFirstBeautyDirector #OhMin #fashion #koreanfashion #koreanbeauty #SeoulFashionWeek #CEOofLovelyandBeauwork #OhMinPerfume #OhMinSunglasses #OhMinHairDesigner #LieSangBong #AllEyesOnKorea #2012LondonOlympics #DifferentDreamKDrama #beautydirector #kcrushinterview
3 responses to "Interview with Korea's First Beauty Director, Oh Min"
Related Articles