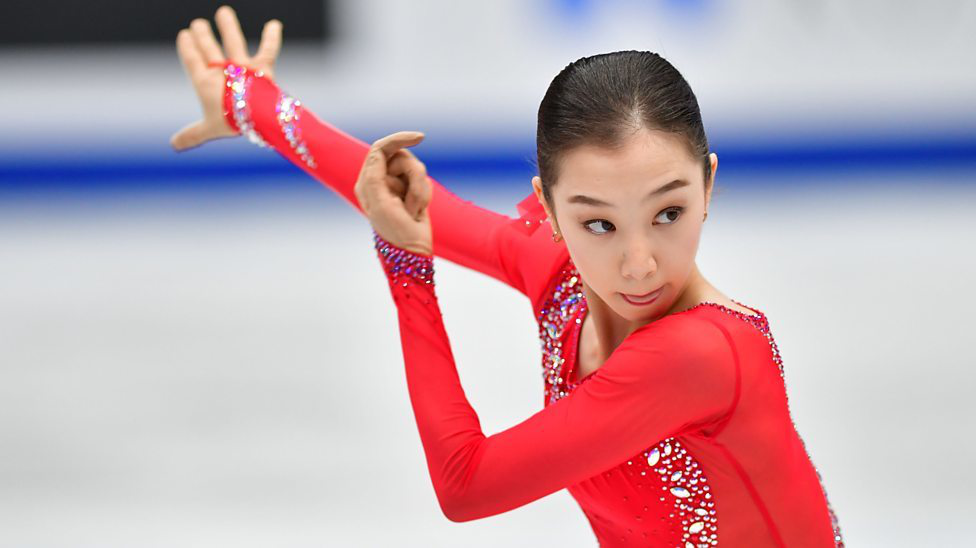 The 2018-2019 figure skating season essentially wrapped up this weekend with the completion of Worlds. This year's competition was plenty buzzworthy with Nathan Chen taking home his second consecutive World title (the first American to do so since Scott Hamilton did between 1981 and 1984) ahead of Japan's Yuzuru Hanyu; China's pair skaters Sui Wenjing and Han Cong skating a to a record-breaking free skate and overall competition score; Russian phenom Alina Zagitova took home her first world championship; America's Vincent Zhou landed a surprise third-place finish ahead of Japan's Shoma Uno; and Russia's Evgenia Medvedeva took home a surprise bronze to wrap up a season of hardships and fresh starts.
In the middle of the "big-name" storylines stands tiny 19-year-old Elizabet Tursynbaeva. The 4 ft 10 ½ inch Kazakhstani quietly put together a winning season since her coach-switch from Brian Orser (coach to Yuzuru Hanyu and, now, Evgenia Medvedeva) back to Eteri Tutberidze (Alina Zagitova's coach and Medvedeva's former coach). This season, the Moscow-born athlete has won five silver medals on her pursuit to the World Figure Skating Championships; during the Grand Prix, she placed fifth and sixth at Skate Canada and Rostelecom Cups, respectively.
At Worlds, she earned another second place, but before standing on the podium to collect her silver medal, Tursynbaeva electrified the Saitama, Japan crowd by becoming the first senior-level female skater to land a quadruple jump in competition, cementing her place in figure skating history.
On Friday, Tursynbaeva performed her "Otoño Porteño" long program. Prior to the event, commentators and former figure skaters Johnny Weir and Tara Lipinski hinted that Tursynbaeva had "something very special planned" for her free program. Within the first 45-seconds of her program, she attempted—and landed—her quad Salchow to the roar of the Japanese crowd.
History! #Tursynbaeva #WorldFigure #Quad pic.twitter.com/00FIuUifF9

— ISU Figure Skating (@ISU_Figure) March 22, 2019
While some of the Russian junior-level ladies have attempted and landed quad jumps during Russian Nationals and during their international junior competitions, a senior-level woman has not landed one until Tursynbaeva. She has attempted a quad before, but one was turned into a triple and the other was unsuccessful.
"I can't believe I landed it," Tursynbaeva said following the ladies event. "It was good in practice this morning. I couldn't do it at the last two competitions, so I was really glad to be able to do it here."
However, Tursynbaeva's quad Salchow wasn't the only highlight of her World Championship experience. With her silver medal, she became only the second skater from Kazakhstan—and the first woman—to land on the World Championship podium. Her fellow countryman, the late Denis Ten, was the first Kazakhstani skater to do so in 2013 and again in 2015 when he placed second and third, respectively.
Now known as a trailblazer on the senior women's circuit, the sky's now the limit for Tursynbaeva. Now it's time to see what the 2019-2020 season will bring!
—-Olivia Murray
Related Articles