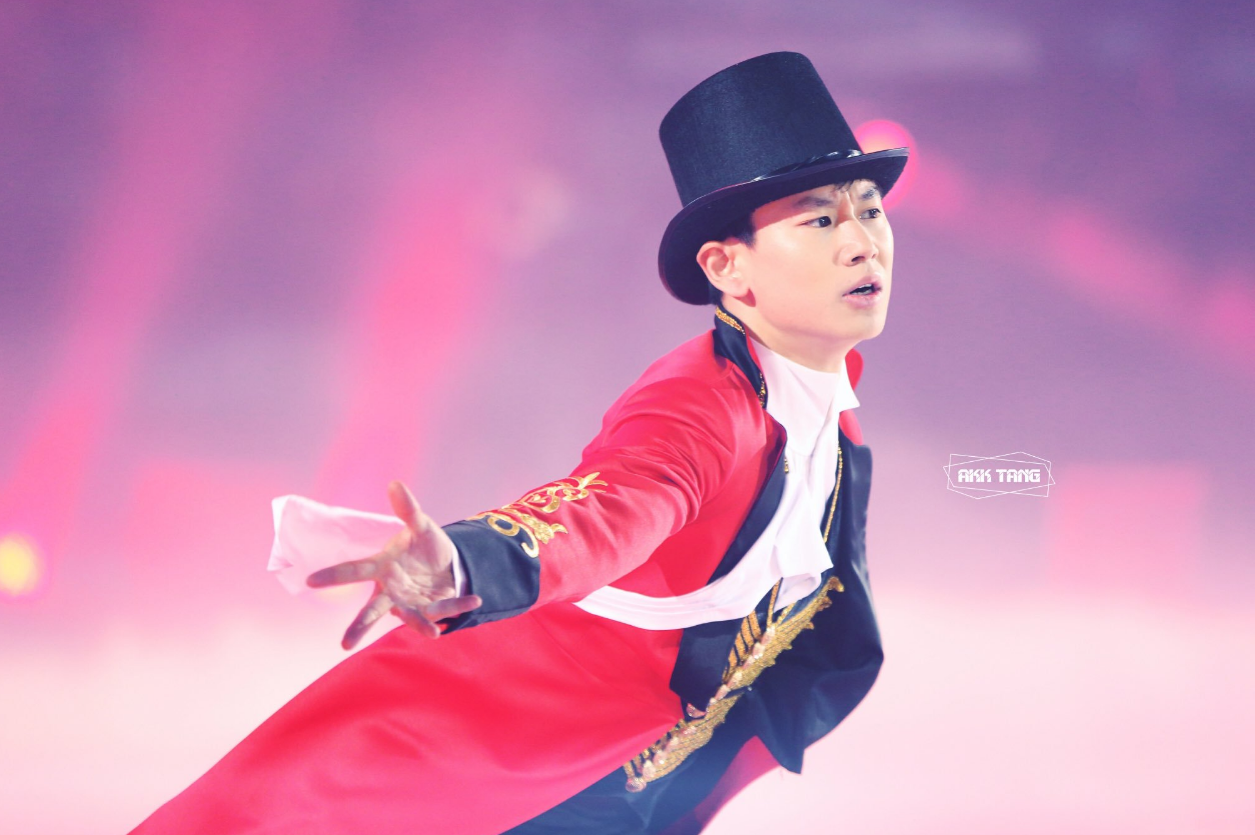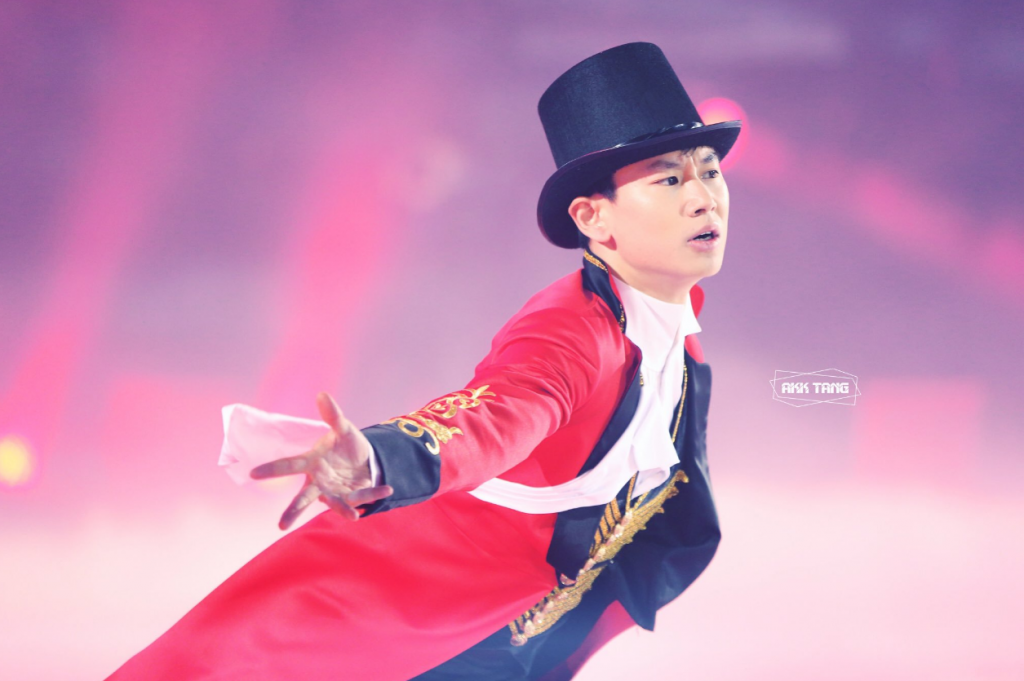 Denis Ten performs "The Greatest Showman" during his Denis and Friends show in June 2018. Photo provided by @akk_Tang on Twitter. Thank you for allowing us to us to use your photo.
Almaty, Kazakhstan: On Tuesday July 19, 2018, Olympic figure skater, Denis Ten, succumbed to his injuries following a stabbing in Almaty, Kazakhstan. The 25-year-old had many accomplishments throughout his career which made him one of the sport's most celebrated athletes.
Ten has the distinction of being Kazakhstan's first Olympic medalist. In 2014 during the Sochi Olympics, Ten earned the figure skating bronze medal, standing on the podium alongside Japan's Yuzuru Hanyu (gold) and Canada's Patrick Chen (silver). He also holds the distinction of being the first Kazakh skater to medal at the World Figure Skating Championships, Four Continents Championship, and the Asian Winter Games. During his 2008-2009 Junior season, Ten became the first Kazakh skater to win an International Skating Union-sanctioned event.
Ten's tragedy is a sad reminder that no one is immune to violence.
According to Kazinform, the stabbing incident occurred at 3pm local time when Ten tried to stop two men from stealing his car mirrors. The men stabbed Ten in the thigh before running off. According to reports, Ten lost three liters of blood and passed out at the scene before someone called for an ambulance.
Witnesses at the scene state that three men were fighting before "one fell down." A woman at a shop and a man who exited a vehicle tried to help Ten.
Ten underwent surgery to repair the damage, but he succumbed to his injuries three hours later.
"Unfortunately, he is not with us anymore," said Yernar Akimkulov, spokesman from the Ministry of Healthcare.
In a Facebook message translated by Kazinform, Kazakh Minister of Culture and Sport Arystanbek Mukhamediuly said:
Denis Ten is an incredible figure skater, the legend of our sport, our pride. He passed away despite the best doctors were fighting for his life. He was only 25. It is a horrific and unfair tragedy. This is a huge loss for his family and for all of us who knew, loved and respected him genuinely. […] And today our "golden boy" is gone as a result of the knife attack… It would be a miracle to save Denis. We believed in this miracle till the bitter end. Unfortunately, it didn't happen. I would like to extend my heartfelt condolences to his family. This is an unthinkable tragedy and irreparable loss.
Suspects Captured
On July 20, 2018, one of the suspects in Ten's murder was apprehended. Nuraly Kiyasov, who hails from the Zhambyl region, was detained and confessed to the crime.
"[Kiyasov] confessed his guilt in the presence of an attorney," said Prosecutor Berik Zhuyrektayev in a televised statement.
Following an All-Points Bulletin, the second suspect, Arman Kudaibegenov, a native of the Kyzylorda region, was also detained. Both men are expected to be investigated fully and face life-imprisonment.
A Bright Light
Denis Ten, who was twice ranked the third best figure skater in the world (2014-2015 and 2015-2016 seasons) by the ISU, was a throwback to a time when artistry dominated figure skating. He exuded elegance on the ice with his powerful performances, and he was always a classy figure even when injuries nagged some of his seasons.
According to his fellow figure skaters, Ten was a kind, charismatic, and lovely person on and off the ice. These traits were often seen during his interactions with fans at ice shows and on social media. Ten always made it a point to not only welcome Kazakh fans into his world, but fans from the international community. Often, he would ask fans to reach out to him, send him messages, and even email him directly to communicate and share fan mail and videos. He also took time to respond to Twitter messages, a rare kindness in the digital age especially for celebrities who are often too big and too important to respond to the "little person." Ten was never "above" anyone, and the fact that he took time to correspond with fans definitely speaks volumes about who he was as a person.
His fellow skaters also had plenty to say about the kindness and joy that embodied Ten, making his loss more impactful and tragic.
On social media, those who've trained and performed alongside Ten shared their condolences.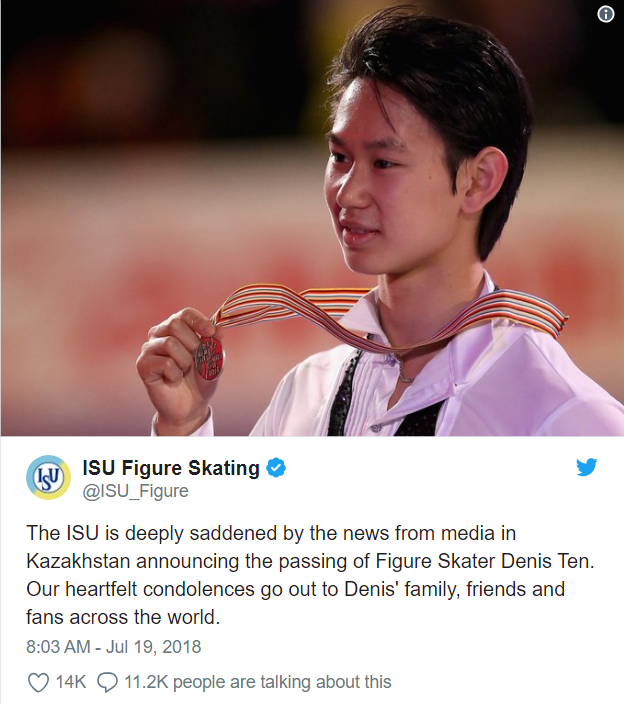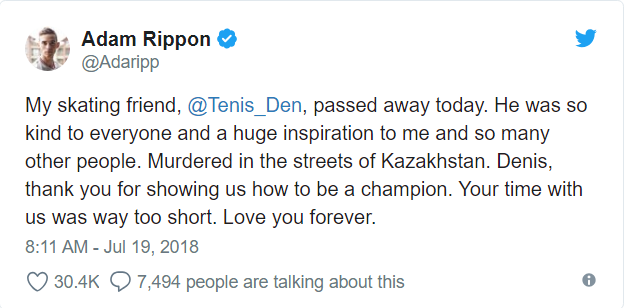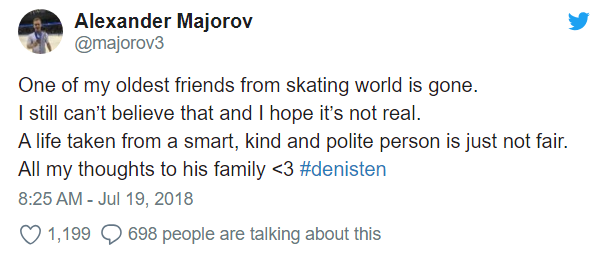 In Kazakhstan, Ten was known as the "Golden Boy." He is often credited for the rise of sports in Kazakhstan and inspiring other Kazakhstanis to engage in sport. Over the years, Kazakhstan has developed world-class athletes in not only Denis Ten, but MMA fighter Nurzhamal Sadykova, freestyle skier Yuliya Galysheva, figure skater Elizabet Tursynbayeva, and short-track speed-skater Denis Nikisha among many other athletes who compete on the global scale.
Following the tragedy, Kazakhstan's Head of State, Nursultan Nazarbayev, personally condoled the Ten family, further accentuating the impact Ten had on his country and countrymates.
In a statement, Aidos Ukibai, the Kazakh President's Press Secretary, said,
With deep sorrow and much regret, the Head of State learned the news about the tragic death of Denis Ten, young, gifted, with a lot of energy, new plans and hopes, beautiful man who was respected and loved in many countries of the world and especially in his Homeland, Kazakhstan. The President immediately sent a telegram of condolences to the family and friends of the athlete, who, over the course of his short but bright life, did a lot for the national figure skating development and the rise of the Kazakh sport as a whole. Moreover, Nursultan Nazarbayev personally expressed his sincere condolences to Denis Ten's parents, who brought up a wonderful son, a true patriot who set a worthy example for our youth. The Head of State said that the untimely death of Denis is a grievous, irreparable loss for his family and friends, and for the entire country. Expressing the words of support and sympathy for the parents of the figure skater, the President of Kazakhstan assured them that the perpetrators of the crime will be brought to justice
Ten's personality and good nature not only earned him fans within his own country, but worldwide where his untimely death has impacted many. Kazakhstani embassies have opened their doors to mourners to sign condolence books and lay flowers in his memory.
In South Korea, The Ambassador of the Republic of Korea in the Republic of Kazakhstan, Kim Dae-sik, also expressed his condolences to Ten's family and friends. In a memo, Kim said, "The news about the sudden death of prominent figure skater Denis Ten shocked me and all the staff of the Embassy of Korea in Kazakhstan. Words cannot express the sorrow we now feel. We extend our sincere condolences to the relatives and friends of Denis Ten. Being a prominent talent, he was also a good-natured person who always helped and cared for his family."
Humble Figure Who Was Larger Than Life
Ten, who is of Korean heritage, was the great-great-grandson of Min Geung-ho, a Korean independence fighter general who helped Korea fight for independence from Japan.
Ten was more than just a figure skater. He was an aspiring film director, a passionate photographer, a soon-to-be MBA-holder at the Business School of the Kazakh-British Technical University, and the official ambassador for the Olympic Bidding Committee for "Almaty 2022." In 2002, he was also part of a choir that won the silver medal at the World Choir Games. Growing up, he was also active in tennis, acrobatics, swimming, Taekwondo, and karate.
Often hailed as a "bright example to young Kazakhstani patriots," Ten held master classes for young up-and-coming skaters to teach them the craft. He also had his own ice show, Denis and Friends that was held annually since 2014. Ten, who has fan clubs all over the world, was considered a "friend to the world." Ten's warmth and contributions to figure skating and his country were even noticed by Japanese Prime Minister Shinzo Abe, who called Ten the "symbol of friendship" between Japan and Kazakhstan.
Six days prior to his death, Ten revealed that he submitted an entry to director Timur Bekmambetov's Screenlife Project competition. His film idea featured a relationship between a young woman who is hearing-impaired and a young man who is speech-impaired. Ten's fans have asked Bekmambetov—known for his films Ben-Hur (2016) and Wanted (2008)—to make Ten's movie dream a reality.
"This is an enormous tragedy," Bekmambetov said. "We will try to make his ideas a reality, so that we can dedicate a film to the talented Ten."
To say Ten lived a colorful life is an understatement.
Memorials and Civil Funeral Held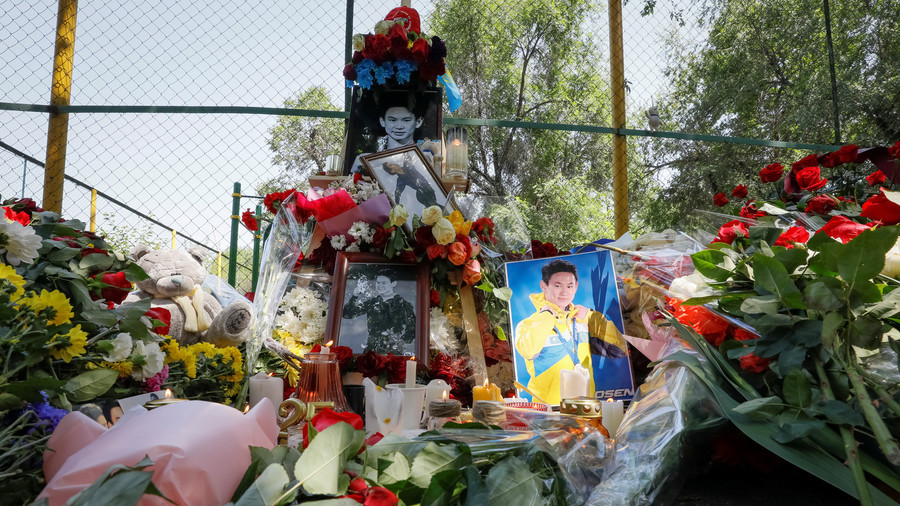 In Almaty, Ten's home city and the place of his passing, citizens want to honor his memory by arranging a crowd-funded memorial at the Medeo High-Mountain Skating Rink.
In a Facebook post, Aziza Utegenova, an advertising agency director said, "What can we do for Denis? I can arrange a crowdfunding. Denis should remain in the history of Almaty. It cannot be otherwise! Our hearts are filled with sorrow! The hero passed away. Young. Handsome. Talented. We need a place to remember everything that he gave to his country! He deserves such a present! We did not save him, let's at least preserve the memory of him. Let's not wait. Let's install a memorial commemorating Denis, not somewhere but at Medeo!"
Aigerim Niyazbekova, Marketing Director at the Medeo Corporation, said, "We absolutely support this idea. The only thing is, it is a state-owned structure, a property of Almaty city. At the moment, we are negotiating with the City Hall. As soon as this initiative is approved, we will decide on the location."
Meanwhile, Almaty and Astana canceled all entertainment events July 20-22, 2018 to pay respects to Ten. Gakku TV and Toi Duman will broadcast shows in black and white due to Ten's passing, and radio stations Gakku FM, Love Radio, and Dacha FM canceled their entertainment programs as well.
At 10am on July 21, 2018, Ten's civil funeral took place at the Baluan Sholak Sports Palace in Almaty. In Astana, a "mourning rally" was held at the Barys-Arena. Several well-known Kazakhstani athletes and dignitaries attended the rally, including the Ambassador of Japan, Ichiro Kawabata.
We at Kcrush extend our deepest condolences to Ten's family, friends, and countrymen during this tragic time. He was a young talent taken too soon.
—-Joelle Halon
Related Articles