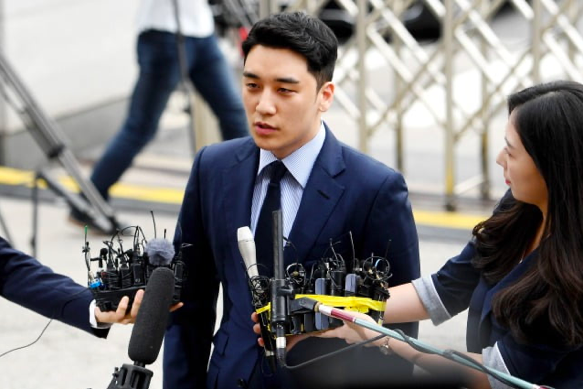 Disgraced businessman and former member of K-pop boy band BIGBANG Seungri, whose real name is Lee Seung-hyun, has just been sentenced to a three-year imprisonment by a military court on nine charges, including prostitution mediation, embezzlement, assault, and overseas gambling.
He was also ordered to pay 1.15 billion won ($1.34 million) in restitution.
The 30-year-old was trialed at the military court for the past 11 months due to serving in the South Korean military since March of last year following his indictment on multiple charges related to a sex and drug scandal at Burning Sun, a now-closed nightclub in Seoul which he was affiliated with.
After being indicted for organizing sex services multiple times for foreign investors from December 2015 to January 2016 to receive investment for his nightclub in return – Seungri was also charged with misappropriating money from his club funds and gambling in Las Vegas from 2013 to 2017 for breaching the foreign exchange transaction act.
Seungri at first denied nearly all the charges against him during the trial, and stated that his business partner was actually responsible for the prostitution and he did not visit the U.S for purpose of gambling. However, his phone records easily proved otherwise.
Back at the trial held on July 2, the military prosecutors had requested for a five-year prison term and a fine of 20 million won for the former idol, since he showed no remorse and blamed others despite enjoying large benefits from his crimes.
"It is hard to see that the defendant was not aware of the financial payments paid to the women for sex," Judge Hwang Min-jae said. "It seems that he carried out systematic sexual prostitution."
Seungri was seen shaking his head in disbelief as the judge announced that he was found guilty on each of the charges. He is scheduled to be discharged from the military next month, but it is still to be seen how that will play out.
Seungri was well known for being the youngest member of the BIGBANG, a successful K-pop boy band that boasted of a huge fan base and sold over 150 million records worldwide.
Since embarking on various lucrative business ventures, the former entertainer-turned-entrepreneur would often describe himself as the Korean Gatsby for his lifestyle – up until the Burning Sun scandal broke out at the end of 2018 which not only ruined him but many others in the process – most notably, Yang Hyun-seok, the founder and former CEO of YG Entertainment.
– J.Chung.
#Seungri #BurningSun #kpop #kpopidol #kpopboygroup #BigBang
Related Articles