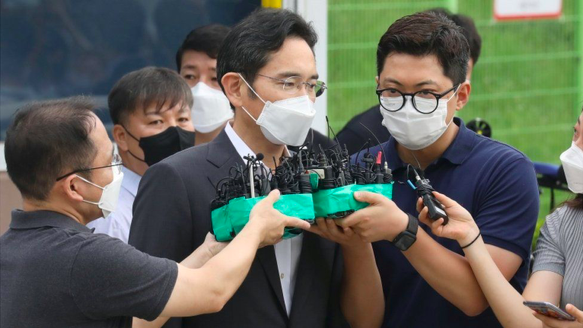 Lee Jae-yong the Samsung Electronics heir and Vice Chairman was paroled this morning on August 13, after serving a prison term for embezzlement and corruption for 207 days. Lee served 18 months of the two-and-half-year prison sentence.
As soon as Lee exited the main gates of Seoul Detention Center in Uiwang, he stopped briefly to apologize to the crowd by saying, "I apologize for making people worried. I am aware of the concerns, criticism, worries and big expectations towards me. I will do my best."
The business tycoon appeared to have gained more grey hairs and is said to have lost a lot of weight – 13kg (approximately 28 pounds) since serving his jail sentence. He left for his estate in a vehicle waiting for him, then is reported to have held a private business meeting.
A large crowd of people gathered outside, loud shouts and chanting could be heard either in support or opposition of the Samsung head's early release.
Lee was among 810 prisoners released on the occasion of Korea's Liberation Day, this Sunday on August 15. Vice Justice Minister Kang Sung-kook decided to release the billionaire businessman in a meeting on Monday.
The provided statement from the ministry said, "We included Samsung Electronics Vice Chairman Lee Jae-yong on the list as we considered the national economy and global economic circumstances due to the COVID-19 pandemic. We also considered many factors, including public sentiment and his attitude in prison."
The Seoul High Court convicted Lee for embezzling 8.7 billion won ($7.4 million) from corporate funds to bribe former South Korea's President Park Geun-hye in 2015. That scandal led to Park's impeachment in 2017.
Lee's parole conditions include five years of business restrictions, it is still unclear if he will be able to run the company unless he gets an exemption.
Lee would need to receive approval to make any trips abroad. Since Lee is also under investigation for fraud and stock manipulation, he could end up in prison again if found guilty.
Samsung currently leads the global memory chip market and is set to be the top logic chipmaker by 2030. It plans to further expand cutting-edge semiconductor technology and build additional new chip plant.
Samsung most recently released a new series of foldable smartphone products to gain more appeal and offer affordability. Its smartphone shipments were 60 million units in the second quarter, in comparison to 70 plus million units in the previous quarter. The fall on the numbers is said to be due to suspensions at factories in Vietnam and the global pandemic.
– J.Chung.
#Leejaeyong #Jylee #Samsung #Korea #KoreaNews # KoreasLiberationDay #ViceJusticeMinister #KangSungkook #memorychipmaker #logicchipmaker #foldablecellphone #electronics
Related Articles