[UPDATE – 6-16-21] Woo!ah! and GWSN have been added to the JRC's lineup. Heize will not be in attendance because of unforeseen circumstances. [UPDATE]
Livestreaming from the famed Yes24 Live Hall in Seoul, this event will be one of the biggest K-Pop festivals in the world and undoubtedly the biggest K-Pop virtual festival in the Western world.
Tickets Available At: sessionslive.com/joyruckusclub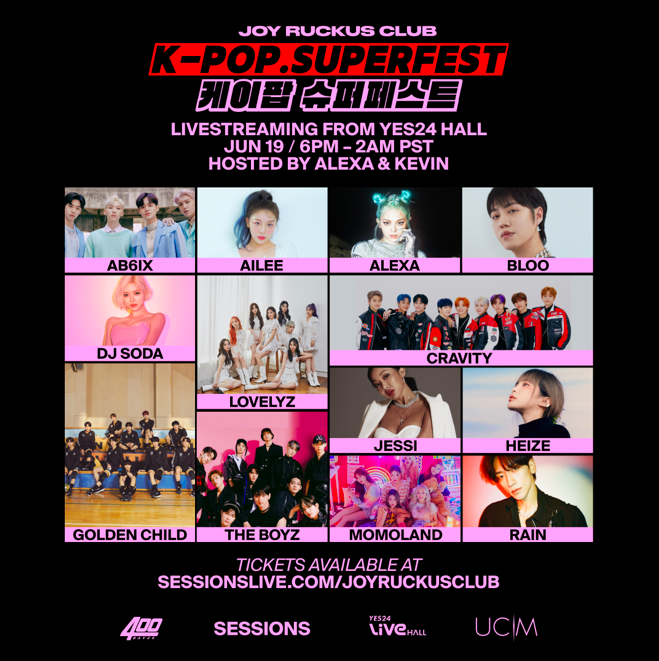 (Download hi res flyer Here)
Following this week's announcement of I Hate Being Hated, sessionslive.com/ihatebeinghated, Sessions is thrilled to announce another new collaboration with Joy Ruckus Club, the largest Asian music festival in the world, to present K-Pop SuperFest on Sunday, June 19, 2021 at https://sessionslive.com/joyruckusclub at 9PM ET. The one-day festival is the first of its kind for Sessions, and features performances from the premiere K-Pop superstars. The exciting line-up includes 11-member K-pop group The Boyz, legendary South Korean pop star Rain, powerhouse vocalist and chart topping singer/songwriter Ailee, and one of K-Pop's most exciting rapper and singers' Jessi. They will be joined by boy band AB6IX, American breakthrough girl group Momoland, singer and rapper Heize, boy bands Cravity and Golden Child, girl group Lovelyz, rapper Bloo, and DJ Soda. K-Pop sensations AleXa and Kevin (The Boyz) will host the global event.
Even as a one-day festival, with livestream filming taking place at the famed Yes24 Live Hall in Seoul, K-Pop SuperFest will be one of the biggest K-Pop festivals in the world and undoubtedly the biggest K-Pop virtual festival in the Western world.
The founder of Joy Ruckus Club, Kublai Kwon made his name as a pioneer of the Asian American music scene. His first cousin is the late great Shin Hae Chul, who is Korea's first K-pop superstar and creator of the K-pop music genre. According to Kwon, this new festival honors his legacy by highlighting the superstars of K-Pop today.
"Sessions' growth is rapidly accelerating across Asia," said Sessions co-Founder Tim Westergren. "The K-Pop SuperFest represents another milestone as we bring even larger events to fans across 194 countries and 18 languages. Sessions' unique combination of gamification and marketing is driving attendance and revenue for artists at an unprecedented level, and our partnership with Kublai and Joy Ruckus Club continues to deepen."
Event t-shirts, NFT videos, signed posters, and virtual 1-on-1 meet & greet opportunities with artists will be available in the festival's and artists' stores on Sessions. This is the first time that Sessions will be promoting a K-Pop only festival.
Complete Lineup
AB6IX
Ailee
AleXa
Bloo
Cravity
DJ Soda
Golden Child
Heize
Jessi
Lovelyz
Momoland
Rain
The Boyz
About the lineup:
AB6IX
Four-member K-pop boy band AB6IX have been superstars even before their debut in 2019. Park Woo Jin and Lee Daehwi appeared on the K-pop audition show Produce 101 and joined the highly successful K-pop boy band project Wanna One. Kim Donghyun debuted in the duo group MXM, releasing two EP albums and a full album over the two years. Jeong Woong has been known as a "Super Trainee" in the K-pop scene. The quartet recently released their fourth EP Mo' Complete: Have a Dream.
Ailee
Born in Colorado and raised in New Jersey, Korean-American singer-songwriter Ailee has been a staple in the K-pop scene since moving to South Korea in 2010. Following her debut in 2012, with the single "Heaven," the powerhouse vocalist has been on top of the charts and amassing numerous awards since. Her 2017 original soundtrack, "I Will Go to You Like the First Snow," became the most streamed K-pop song of the year and the highest selling soundtrack in South Korea of all time. In 2019, after eight years with her former label, she started a new company called Rocket3 Entertainment. The singer recently released her 6th EP Lovin'.
AleXa
The daughter of a Korean adoptee, AleXa grew up in Tulsa, Oklahoma. A lifelong dancer, AleXa competed and won the talent competition Rising Legends. Afterwards, AleXa signed to ZB Label and competed on the South Korean audition show Produce 48. In 2019, she made her multilingual debut with "Bomb." In addition to her K-pop prowess, AleXa continues to expand her entertainment empire as the co-host of the People's Choice Award winning podcast "How Did I Get Here?" with Jae of Day6, a YouTube channel titled AleXa 360, and a forthcoming acting debut.
Bloo
Born in South Korea and moving to the United States as a child, 26-year-old hip-hop artist Bloo is undoubtedly influenced by American hip-hop. He co-founded the hip-hop label MKIT Rain with fellow rappers Nafla and Loopy. The trio moved back to Korea in 2015 and in 2016, Bloo debuted with the single "Drive Thru." Right out-of-the-gate, his distinctive vocals and jazzy styles made him an artist-to-watch. The rapper has released three EPs since then. His 2017 single "Downtown Baby" reached the top of the South Korean charts in 2020 after singer Lee Hyori performed it on a variety show.
Cravity
As the first boy group to debut under Starship Entertainment since K-pop powerhouses Monsta X, Cravity, (also standing for Center of Gravity) have been destined to make a splash on the K-pop scene. In 2020, they released their debut EP Season 1. Hideout: Remember Who We Are. The album debuted at the top of the South Korean album charts and made them one of the best-selling rookie groups of the year. At the 2020 Soribada Awards, Cravity won the New Artist Award.
DJ Soda
South Korean DJ, Soda embarked on her journey to become a world star DJ in 2013. Her background in musical acting has led to her signature stage move, the viral "Flute Dance." She also has a presence in the modeling world and the face for a variety of global brands. Heavily influenced by hip-hop and fashion, DJ Soda is capable of captivating audiences worldwide complete with her charming and enigmatic personality. This has led to her playing some of Asia's top music festivals.
Golden Child
10-piece K-pop boy band Golden Child debuted in 2016 with their EP Gol-cha! and funky single "Dam Da Di." This marked the first boy group to debut under Woollim Entertainment in seven years since K-pop legends Infinite. Known for their EDM and bass-heavy musical style and complex choreography, the band has amassed a loyal following since debut, releasing four more EPs and one full-length album.
Heize
South Korean singer-songwriter, producer, and rapper Heize blends R&B, soul, hip-hop, delicate vocals, and crisp songwriting to craft the most comforting of music. After releasing her self-titled debut EP, the multi-talented star came into prominence after competing on the reality competition Unpretty Rapstar in 2014. She's been a force in the industry and has topped the South Korean charts since then. She released the critically acclaimed LP Fine in 2019. Heize finished 2020 with the ultimate power move by signing with P Nation, an entertainment company founded by Psy. She recently released her seventh EP, Happen under the new label.
Jessi
Born in New York and raised in New Jersey, Korean-American singer and rapper Jessi wasn't made overnight. In 2015, Jessi starred on the reality show Unpretty Rapstar which catapulted her to superstardom. She's released a slew of singles since then and established herself as one of K-pop's most exciting artists. In 2019, Jessi became one of the first artists signed to P Nation, an entertainment company created by Psy. In 2020, she released her first album Nuna under P Nation which spawned the hit single "Nunu Nana."
Lovelyz
Formed in 2014 by Woollim Entertainment, eight-member girl group Lovelyz is your quintessential K-pop girl group. Living up to their name, the group curates cute and fresh concepts that make for the most infectious of music. Since their debut album Girls' Invasion, the band has released two studio albums and seven EPs. The group competed on the 2019 reality series Queendom and released their single "Obliviate" off their seventh EP Unforgettable in September 2020.
Momoland
Under MLD Entertainment, K-pop girl group Momoland formed on the 2016 reality show Finding Momoland. They released their debut album Welcome to Momoland later that year. The six-member piece has released a total of six EPs since then. In 2018, the group released the wildly successful, "Bboom Bboom," peaking at number two on the South Korean song charts. The group is set for a breakthrough in the American market after signing with ICM Partners in 2020. They most recently released their album Ready Or Not and single with the name title.
Rain
Legendary South Korean pop star Rain released his debut album Bad Guy in 2002 under JYP Entertainment. In the next few years, he went on to become one of the biggest and most influential stars in Asia and around the world. In 2015, he created his own agency called RAIN Company. Most recently, he reunited with his mentor Park Jin-young on the collaboration "Switch to Me" off his third EP Pieces by Rain.
The Boyz
11-member K-pop group The Boyz was formed in 2017 under Cre.ker Entertainment. Later that year, they released their debut EP The First and lead single "Boy." In 2018, the rookie group then went on to release their second and third EPs, leading to their winning of numerous awards. In 2020, they released their first studio album Reveal and single of the same name. In another milestone, the group won the South Korean reality show Road to Kingdom securing a spot in its sequel Kingdom: Legendary War. They released their fifth EP Chase and its lead single "The Stealer" in September 2020.
About Joy Ruckus Club
A humanitarian-oriented, virtual concert series, founded by Asian Americans, and led by artists of Asian descent from all over the world, Joy Ruckus Club is a revolution in pan-Asian music. Not silent, not complacent, not foreign, Joy Ruckus Club is a society of woke Asians who are in solidarity with all truthfully progressive movements of the oppressed and conquered.
About Sessions
Sessions is co-founded by digital music pioneer and former Pandora founder Tim Westergren and fellow entrepreneur and long time developer of virtual games Gordon Su. Sessions is the only live streaming solution providing all of the necessary components for musicians to succeed: audience development, fan engagement, and state of the art monetization drawn from the most advanced techniques of virtual gaming. Sessions is creating a space to bring artists and fans together for intimate live experiences 24/7. In less than a year after its public launch, Sessions is attracting thousands of artists to its live video streaming service. Available in over 194 countries and 18 languages, Sessions offers musicians anywhere in the world, at any stage of their career, an unprecedented opportunity to develop a global audience and earn substantial and sustainable revenue.
From pop and hip-hop to country and classical, there's an artist for every music fan in Sessions. Since the start of 2021, Sessions has expanded the platform's focus from just musical performances to staging various cultural events including "Alaska's Drag Queen of the Year 2021 Pageant" this March and Joy Ruckus Club 3, featuring over 180 Asian American artists from around the world making it the largest ever Asian American virtual music festival. Available online and on all mobile devices worldwide, artists and fans can play more, earn more, experience more in Sessions.
Related Articles