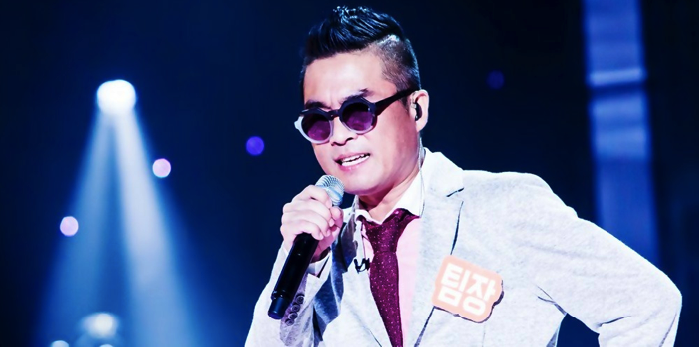 The YouTube channel Garo Sero Institute talked with another alleged victim claiming 51-year-old singer, Kim Gun-Mo, assaulted her while she was a bar manager.
Previously on the show, a woman came forward and stated Kim Gun-Mo sexually assaulted her.
On December 10, 2019, Garo Sero Institute hosts, lawyer Kang Yong-Suk and former reporter Kim Yong-Ho, sat down with the second alleged victim as she discussed what happened with Kim Gun-Mo.
According to the second woman, her assault took place on January 10, 2007. At that time, the woman stated she was a manager at an adult entertainment establishment. With her incident, the alleged victim said Kim Gun-Mo visited the establishment with a woman.
The second alleged victim said, "Kim Gun-Mo's partner was a year older than me, and she said to me, 'Why are you speaking informally to me?' and we got into an argument. We went into an empty room and were arguing, but Kim Gun Mo opened the door and came in swearing at me and saying, 'You're too loud. Didn't I say that you're too loud?' He grabbed my hair, knocked me down, and punched me."
"I tried to avoid getting hit, but because he was strong, I couldn't fight back," the woman continued. "When I was getting hit, I thought he didn't seem like he was someone in their right mind, since people don't hit others like that just because they're being loud."
The woman said her eye swelled and her nose was bleeding. In addition to punching her in the nose and eyes, she alleges that Kim Gun-Mo also punched her in the stomach. Kim, Kang, and the woman presented medical records backing her statements.
When asked why she didn't report the incident to the police, the woman stated Ki Gun-Mo and the business owner threatened her. She said the incident and rumors about her impacted her ability to find work.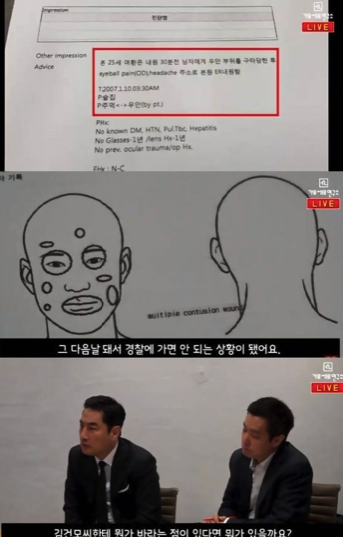 The alleged victim said, "Because someone opened the door, I was able to escape and take a taxi to the hospital. The rumors spread so I couldn't find a place to work… Still, I had to eat so I worked at a bakery and a comic bookstore."
According to the show hosts, MBC tried to investigate the incident when it occurred, but due to Kim Gun-Mo's intimidation, the woman did not speak to reporters. Kim and Kang were unable to obtain reports about the investigation.
"I gathered the courage to come forward after hearing the story of the first victim who experienced sexual assault at the hands of Kim Gun-Mo," the woman said when asked why she came forward. "I don't know who she is, but I want to stand by her side. I don't want Kim Gun Mo to appear on TV anymore."
Meanwhile, on December 9, 2019, the first accuser appeared on Garo Sero Institute and talked about her experience. She explained why she came forward now.
"My family didn't even know about the incident," the woman said. "Without knowledge of my feelings, they enjoyed watching My Ugly Duckling. But he kept appearing while wearing the T-shirt he wore when he raped me, and it was painful because he kept appearing on TV."
She addressed what she wants from Kim Gun-Mo.
"I've never wanted money. I want a sincere public apology," the first alleged victim stated. "I never want to see him on TV again."
I didn't have the time to think at the time and personally tried to forget about it. I'm still young, so I could meet a good person in the future and get married. To be honest, I didn't have courage," she added regarding why she didn't report the incident.
Kim Gun-Mo and his representatives continue to deny the allegations.
"Regarding the suspicions of sexual assault, our statement that they are false has not changed," a representative said. "We will discuss with our lawyer and take legal action. His image has been greatly tarnished."
Kang filed formal charges under his law firm, Next Law, for rape to the Seoul Central District Prosecutors' Office  on behalf of the first alleged victim on December 9, 2019. Meanwhile, Kim Gun-Mo plans to continue his activities as scheduled.
On December 9, Kim Gun-Mo held his 25th anniversary concert.
Photo credits: Soompi, Allkpop
—-Olivia Murray
Related Articles