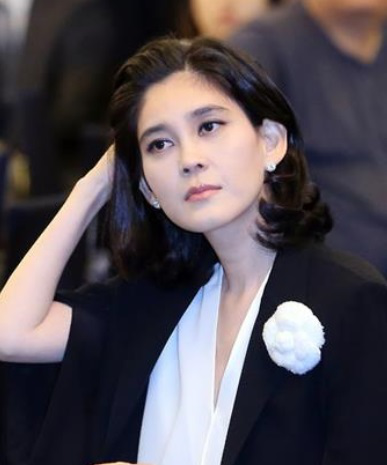 Lee Boo-jin (born in 1969 or 1970, the exact birthdate is not available) is a South Korean businesswoman, the president of Hotel Shilla – one of Korea's top duty-free operator, hotels and conference centers and the most likely successor to Lee Kun-hee, the billionaire chairman of Samsung Group and also the wealthiest conglomerate in Korea.
Her mother Hong Ra-hee is also a billionaire businesswoman and philanthropist who is the director of the Leeum, Samsung Museum of Art. The Lee family currently rank among the Forbes richest people in the world with an estimated net worth of $70.2 billion.
Not much is known about the Samsung's heiress, Lee Boo-jin's personal life other than what is considered basic or generally important businesswise.
When Lee Boo-jin was born, she was initially given the name Yoo-jin but at the tender age of 3, she fell ill and it was advised that she should get a name change in order to survive. "Boo-jin" is an uncommon name, so some speculate what the meaning is – the character "Boo" refers to wealth.
She currently has one older brother, Lee Jae-yong and a younger sister, Lee Seo-hyun by three years. (Their youngest sister Yun-hyung took her own life at the age of 26, in 2005 while studying in Manhattan, New York.)
Lee majored in French at Daewon Foreign Language High School and majored in Child Development and Education at Yonsei University, and earned an MBA from Massachusetts Institute of Technology in Boston in later years. After working at her father's company, Samsung for 15 years, Lee was quickly promoted to be the company's first ever CEO.
In November 2017, her net worth was estimated at approximately $2.1 billion and was listed as the 93rd most powerful/influential woman in the world by Forbes. Out of her siblings, Lee is said to take after her father's appearance and way for handling business the most, which got her the nickname, "Little Lee Kun-hee."
Back in 1999, Boo-jin met her future husband Im Woo-jae, while doing volunteer work and the two quickly became romantically involved. Im was quickly dubbed as "Mr. Cinderella" by the press due to his ordinary background as an "employee of a security service affiliate of Samsung Group."
Most conglomerate families prefer (to this day) to undergo arranged marriages within their clique, so when it was announced that Lee Kun-hee's oldest daughter was going to marry an average salaryman with no particular assets to showcase, it obviously drew a lot of media attention.
The couple eventually got married and Im was later enrolled into MIT and gained an MBA, and worked as the advisor and then was promoted as the vice-head of Samsung Electro-Mechanics in 2011. The couple has one son together.
From the outside, it seemed that the couple was happily married with no sign of any trouble in paradise. However, in 2012, Boo-jin filed for divorce over the custody of their only son, and this trial was to continue for quite a few years. The reason for filing for divorce was not known to the public, but there have been claims that the two have had disagreements due to personality differences for a while.
Im initially insisted that he'd never agree to a divorce in order to protect the family and that he was all at sea with what was going on. He came forward for the first time to rectify that the story of him being an average employee at Samsung prior meeting his ex-wife was a fabricated tale made up by the PR team, and that he was actually a private security guard for Samsung's Chairman, Lee Kun-hee. Because Boo-jin suffered with health issues, (Charcot–Marie–Tooth disease is said to run in Lee's family) she began relying on him that naturally got them to start dating and that it was she – who had been the one to ask him to marry her. He expressed that he had no intention to take the relationship further but was encouraged (or ordered) by Lee Kun-hee to marry his daughter. Im also exposed the fact that his parents were never even able to meet their grandson until recently.
We all know how the news and the media can report on untruthful accounts, so we don't know whose side of the story to believe. Due to Lee Kun-hee's sickness since 2014, it disenabled him to speak publicly on the matter, although he'd never discuss private family affairs to be shared out with the media, even if he was well and able.
In a court ruling in July 2017, Lee Boo-jin was ordered to pay her ex-husband, $7.6 million, as part of the divorce settlement with Lee owning the full custody of their son. Im counter-sued by demanding $1.1 billion as a division of assets, claiming that he deserved half of his ex-wife's wealth since he contributed to a lot since he married into the Samsung family. The court approved the divorce and ordered Lee Boo-jin to pay her ex-husband the initially-stated sum of $7.6 million in alimony and granted sole custody of their child to Lee and visitation rights once a month to Im.
It's a nearly impossible task to gain reliable resource about what Korean conglomerates get up to, since they keep things extra discreet – they are very aware that their actions can either make or break their business careers, affect stock prices, and in worse scenarios, get them into legal issues. (Recently, Lee Kun-hee made headlines again for tax evasion which is not something new in his case.)
In a conservative country like Korea, business moguls and their family members appearing on reality programs, YouTube channels or other types of social media open to the public that some millionaires in other countries engage in, will never happen any time soon. If not, ever. Since they are not considered celebrities, they do not seek to be treated as such to the public.
We know it takes years to build a good reputation for a stable or successful company but it also takes a short amount of time to lose all that reputation.
Samsung started off as a humble trading company in 1938, and over the last 30 years, it has turned into an international magnate not just for dealing with electronics and appliances, but almost any businesses that money can be made out of – including, real state, shipbuilding, construction, vehicles, food processing, textiles, insurance, securities, publication, hospitals, department store chains, amusement parks and the list goes on.
Until the 70s, Samsung was not the top dog in the race, in comparison to the bigger companies in South Korea, but they've used their opportunities wisely and its revenue is equal to 17% of South Korea's $1,082 billion GDP. When many of their rivaling companies went to ruins or failed to flourish during the Korea's financial crisis in 1997, Samsung was one of the few that held up and managed to actually expand. The company hires so many individuals and affiliated companies, so some say that the well-being of the company, is actually the financial status of South Korea in a nutshell.
It is needless to empathize that hard work and along with sound leadership has brought Samsung where it stands today and I'll wrap this article here in hope that the company would make wise calls and continue the good works.
— J.Chung.
Related Articles