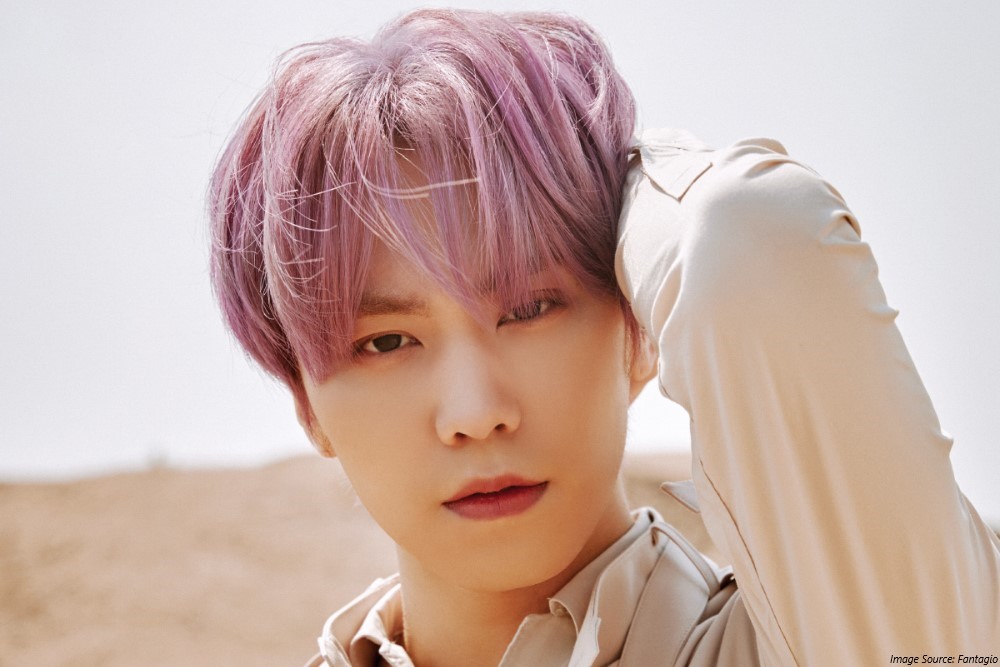 It's official: Rocky selected to leave ASTRO and his label, Fantagio. Rocky's Fantagio contract expired after 14 years with the agency.
The singer, who has been on hiatus from the group since November 2022, confirmed his departure from the group February 28 by releasing a letter to fans.
Hello, this is Rocky.

I'm greeting fans for the first time in a while. Firstly, I want to apologize for not being able to bring good news, but I thought it was right to let AROHAs be the first to hear this news so I'm writing a letter here.

I will be leaving Fantagio, who I have been with for 14 years and will end my activities with ASTRO. The time promoting as ASTRO's Rocky was very precious to me.

My members, who have been with me during those times and especially AROHAs, my biggest strengths, I thank you all sincerely.

Thanks to your overflowing love and encouragement, I could grow and learn a lot.

No matter where I am, I will not forget the memories I made with the members and AROHAs and cherish them carefully.

AROHAs, thank you for everything till now.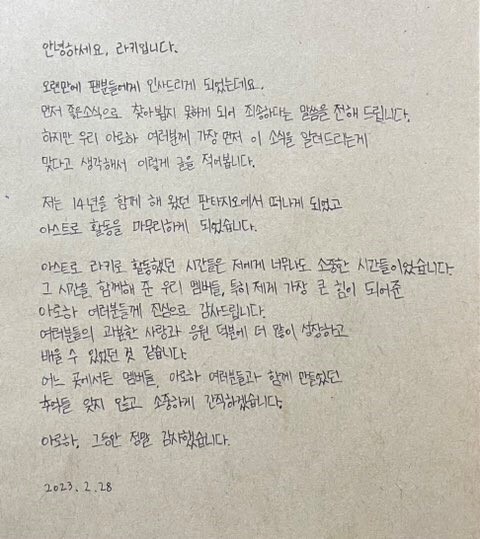 Fantagio also released a statement confirming the news.
Hello.

This is Fantagio.

First, we would like to sincerely thank all the fans who give ASTRO their love and support.

After a deep discussion with Rocky, who has been with us as a member of ASTRO for the past seven years, it has been decided that he will be ending both his exclusive contract with our agency and his activities as a member of ASTRO.

We thank Rocky for doing his utmost for a long time as a member of ASTRO, and we will be sincerely rooting for Rocky in the future.

We also thank the many fans who have supported and watched over Rocky, and we ask that you continue to give Rocky your unchanging interest and support as he makes a fresh start.

ASTRO will continue on as a five-member group in the future, and together with Fantagio, the members will be focusing on unit and solo activities for the time being. We plan to actively give them our unsparing support so that [the members] can be active in a wide variety of areas.

We ask that you continue to give the ASTRO members lots of interest and support.

Thank you.
Meanwhile, JinJin, Cha Eun Woo, Moonbin, and Sanha renewed their contracts in December 2022. MJ, however, has yet to renew his contract as he is currently serving in the military, but he is expected to discuss his contract once he's discharged.
We wish Rocky and the rest of ASTRO luck on their future endeavors!
—-Olivia Murray
#Rocky #ASTRO #RockyLeavesFantagio #Fantagio #kcrush #kcrushnews #kpop #kpopsinger #kpopmusic #kcrushamerica #Rockycontractexpires
Related Articles