Former Singer
On December 7, 2016 at 4:42pm local time, Pakistan International Airlines (PIA) flight PK-661 crashed in the mountains near Havelian, Pakistan, about 64 miles away from Islamabad. The plane, which was carrying 42 passengers, five crew members, and a ground engineer, was en route to Islamabad from Chitral, Pakistan. All 48 people on board perished.
Prior to the crash, the pilot reported losing power over one of the two engines on the plane. The pilot reportedly made a mayday call the National Disaster Management Authority said. Witnesses on the ground report seeing the plane "plummeting" prior to hitting the mountains.
PIA chairman Azam Sehgal said, "We were confident that the plane could land with one working engine. This is a tragedy. We are not absolving ourselves of any connection to this incident. We accept that it was our aircraft, and these were our passengers, and what happened is very sad."
Video and images taken from the crash show debris and the surrounding area on fire.
"All of the bodies are burned beyond recognition," said government official Taj Muhammad Khan.
Sehgal added that an investigation into the crash will occur soon, but that the focus is "to retrieve dead bodies from the wreckage, transport them to Islamabad, and hand them over to their families."
The fire and terrain are making recovery efforts difficult.
Havelian police official Kurshid Tanoli said, "The nearest village to the site is Batolani and is deep in the hills. Vehicles and ambulances can only go to Batolani and then it is a 30-minute walk."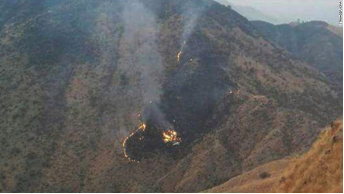 However, helicopters and 500 troops were deployed to the area where 40 out of the 48 bodies have been recovered at the time of this writing. The victims' bodies are being transported to Ayub Medical Complex Abbottabad for DNA testing so family can be notified.
Junaid Jamshed Among Dead
Authorities confirm that among those who perished is evangelical Muslim cleric, fashion designer, and former pop star and actor Junaid Jamshed. His agent, Arsalan Khan, confirmed the news.
Background and Career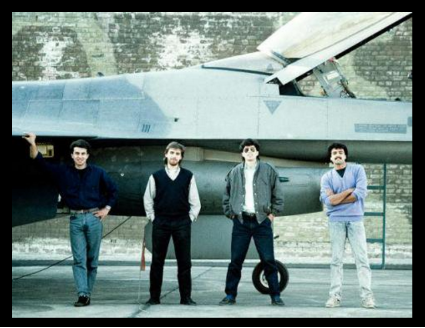 Jamshed was a member of the 1980s and 1990s group Vital Signs. The group was among Pakistan's most well-known. In 1987, they released "Dil Dil Pakistan," which is considered Pakistan's unofficial national anthem. Vital Signs are credited as the group that helped develop Pakistan's Rock scene. Following their second album, Vital Signs 2, in 1993, the group toured the United States.
Prior to his music career, Jamshed began earning a Bachelor of Science degree in mechanical engineering from University of Engineering and Technology (UET) in Lahore. He graduated in 1990 while he was a member of Vital Signs. He was a civilian contractor for the Pakistan Air Force (PAF) and briefly performed aeronautical engineering duties for PAF's science command division before resigning to continue his music career.
While still a UET student, Jamshed performed Rock music at different universities before joining his university's rock band Nuts and Bolts in 1987. While performing at the Flashman's Hotel in Rawalpindi, future Vital Signs bandmates, Rohail Hyatt and Shahzad Hasan, asked him to join the group as the lead vocalist.
In the 1990s following Vital Signs' disbandment, Jamshed performed as a solo artist. His 1999 album, Us Rah Par, became a best-selling album that produced several hit songs including "Us Rah Par," "Na Tu Ayegi," "Aankhon Ko Aankhon Ney," and "O Sanama." In 2001, his final album, Dil Ki Baat, also experienced commercial success.
Post-Music Life
Following his last two albums, Jamshed experienced financial difficulties between 1999 and 2001. In 2001, Jamshed filed for bankruptcy following the 9/11 terrorist attacks after his Western concert tour failed. Jamshed attempted to go back to his engineering career but did not succeed. He later opened a fashion-design company with a friend and soon opened the clothing store J. (J-Dot). 
In 2004, Jamshed announced he had devoted his life to Islam and renounced music. Even though he abandoned music and once considered it haram, Jamshed continued to perform religious music or nasheeds on occasion until his death.
Controversies
While serving as a cleric, Jamshed was not a stranger to controversy. In 2015, he was blasted for sexist remarks when he stated, "Allah dislikes that any woman should be named [in the Quran]." He later clarified the comments.
Prior to aforementioned, Jamshed was accused of blasphemy that led several Sunni Muslim organizations to file First Information Reports against him. In the reports released by The Economist, Jamshed mocked one of the Prophet Muhammad's wives. On Facebook, Jamshed apologized after Pakistani police were involved in the case. Jamshed fled to the United Kingdom following the controversy, but he soon returned home to Pakistan. While he managed to escape the controversy relatively unscathed, there were still people who vehemently disliked him for his comments. As recently as March of 2016, Jamshed was assaulted at the Islamabad Airport.
Jamshed was also the subject of frequent satire due to what many deemed as conflicting interests and interpretation of the Quran.
Despite his controversies, Jamshed had his share of achievements while serving as a cleric. He spent a significant amount of time as a philanthropist who focused on maternal health. Through his work with Muslim Charity, five hospitals that focus on maternal health have been erected around Pakistan. The charity efforts also extend worldwide.
In addition to maternal health, Jamshed zoned in on trying to improve literacy rates in his country via an exchange program where rundown mosques are refurbished and village imams receive housing in exchange for teaching the Quran to children. In 2013, Jamshed said, "The idea is to get these kids off the streets. We make them realize that they have a responsibility towards themselves. With mentorship, they realize that education is their path to a better life. Our aim is to produce peaceful and responsible citizens."
In 2007, Jamshed was awarded the Medal of Excellence by the Pakistani president.  In 2016, he was named one of the world's most influential Muslims.
Death
The Guardian reports that Jamshed was a follower of Tableeghi Jamaat, an "ultraorthodox Islamic sect which preaches that Muslims should replicate the life of Muhammad and tells them it is their duty to travel the world converting non-believers to the one true faith."
Staying true to the belief, Jamshed was in Chitral for a 15-day preaching tour. He and his youngest wife, Nahya Junaid, were returning to Islamabad to deliver the Friday sermon at the Parliament mosque when the plane crash occurred. On December 4, 2016, Jamshed updated his Twitter with an image from the mission trip calling Chitral "Heaven on Earth."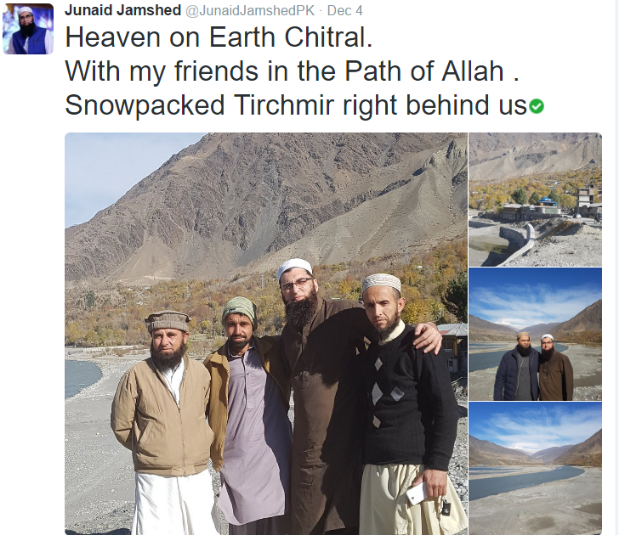 There are conflicting reports regarding how many wives Jamshed had with some sources stating he had three while others claim two. He is also survived by his three sons and one daughter.
—-Joelle Halon
Related Articles