K.A.R.D (pronounced, "Card") is a Korean co-ed group formed by DSP Media, consists of four members: J.seph, B.M, Somin and Jiwoo.
The letters of K.A.R.D each represents a card to a specific group member, which is a pretty interesting concept. Like hidden cards, there will also be featured hidden acts to associate with the group from time to time.
Here's a brief introduction to the K.A.R.D members:
J. Seph (제이셉) the rapper and dancer of the group,was born on June 21, 1992 in South Korea. He was featured in Goo Hara's single, "Choco Chip Cookies" and appeared inKARA's "Mama Mia" music video. He represents the letter A, the Ace card.
B.M, who is in charge of the rap making and choreography, was born on October 20, 1992 in Los Angeles and is a former K-pop Star contestant. He featured in KARA's member, Goo Ha-ra's "LA LA LA" single and was her dance partner for her album's title track "Choco Chip Cookies". He represents the letter K, the King card.
Jeon Somin (전소민) was born on August 22, 1996 in Korea. She is also a former two girl groups, Puretty and April, and took part on the Kara Project where she finished in second place. She represents the letter R as in BlackJokeR.
Jeon Jiwoo (전지우) was born on October 4, 1996 in Korea and was previously a trainee from FNC Entertainment, but recently joined DSP Media.
She represents the letter R in ColorJokeR.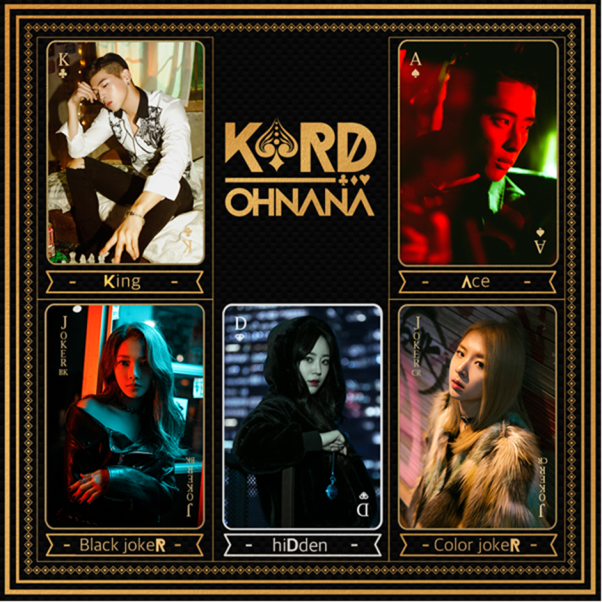 On November 30, 2016 DSP Media released K.A.R.D's first teaser announcing the group. On December 1, the agency revealed the first two members, B.M and Jiwoo. The next day, J. Seph and Somin were additionally introduced.
DSP Media revealed performance videos of Jiwoo and J. Seph on December 6.
The same day, the album titled; "K.A.R.D Project Vol. 1" was released and DSP Media stated would hold a debut showcase "Debut Party" on December 12, especially for exclusive fans at Queen Live Hall.
Debut single: Oh NaNa
On December 8, Kara's Youngji was announced to be a hidden/guest member for the debut single, Oh NaNa. (For your information, hidden members are artists that are featured in the songs and participate in promotions, without being completely part of the group. They represent the letter D in the group.)
K.A.R.D's debut single "Oh NaNa," mostly has a sound infused with hip-hop and upbeat catchy tune, showcasing the female vocals, was produced by the Producer, Nassun and BM. Along with J. Seph contributing to its lyrics. Producer, Nassun featured as a cameo on their music video.
We must conclude by adding that we wish the group members the best of luck in their new venture.
— J. Chung.
Related Articles