The East Light is a funky rock, pop and electronic band from South Korea, which made its long awaited debut with their 1st digital single, "HOLLA" on November 3rd of 2016.
The debut single, "Holla" (composed and produced by Midas-T) is combination of funky rock and pop that defiantly showcases The East Light members' ability in handling instruments and live performance.
The six-members (their ages range from 14 to 17) are signed under Media Line Entertainment and all the members already have had a debut in their own way; whether through participating in audition programs, featuring movies and TV shows.
The East Light was created by the legendary composer and producer in Korean pop music – Kim Chang-hwan – who is famous for being the mastermind behind countless hits by Korean contemporary pop artists since the 90s. Kim is also the Executive producer and director of Midas ENT and the CEO of Media Line Entertainment.
The East Light is officially a six-member band, but due to the fact that WooJin Lee is only 14 years old currently; he does not currently participate in all their promotional activities. (However, we were able to attain an interview from him as well.)
The members of The East Light seem to have several things in common: They are all teenagers, still at middle or high school. They began showing genius for music and have gained recognition as prodigies at early stages of their careers.
Seokchul Lee (17) is the leader and drummer of The East Light with a very impressive musical background.
You may recognize Lee from the film, "My Boy (2013)" where he played the leading role of a child prodigy drummer, who had issues having to deal with anger management. Since 2015, Lee has been featured on Immortal Songs: Singing the Legend and performed alongside the Korean military orchestra and various orchestras; based both domestic and abroad.
The band's vocalist, EunSung Lee (17) got his first appearance on TV since 2011; as a contestant on SuperStar K and later The Voice Kids in 2013, where he received high accolades for his angelic voice.
SeungHyeon Lee (15) is a bass guitarist of the band, who has a record of winning awards at various music competitions, since the tender age of 6.
Lee has also performed with the Korean Chamber Orchestra, appeared on TV shows like, Immortal Songs: Singing the Legend and 7080 Concert with Jang Hyunchul.
The East Light's guitarist and composer, JunWook Kim (15), like the rest of his band mates, has been known to be a musical genius since he was in Elementary school. Kim was famed after winning the Grand Prize at the Yamaha Asian Beat Acoustic Grand Final in 2014, by performing a piece he had composed himself.
SaKang Jung (15) was also recognized for his talent in music after appearing on singing contests and TV audition programs including, SuperStar K Season 3, The Voice Kids, SNL Korea, and Immortal Songs: Singing the Legend.
And last but never the least, WooJin Lee (14) is a vocalist who has appeared in singing programs for kids, Cantabile and The Voice Kids. Lee also has experience acting in the movie, Precious Love, released in 2013. 
As mentioned above, because Lee is still in Middle school; he will be joining the band to participate in their activities as soon as he is old enough.
A KCRUSH Interview with
The East Light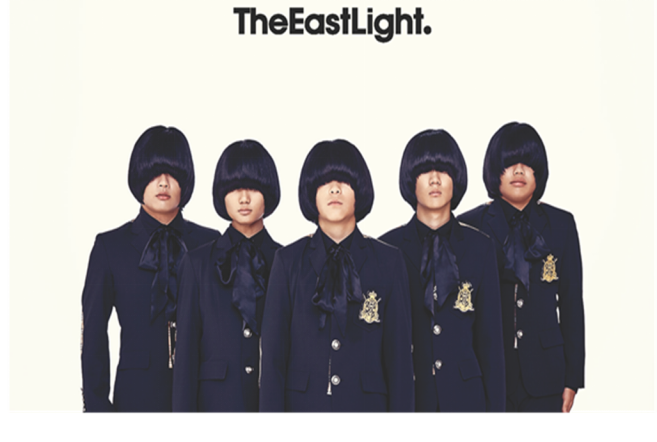 Hello! Could you introduce yourselves to our readers at KCRUSH?
SeokChul: Hello, my name is Seokchul Lee, and 17 years old. I'm the leader of The East Light and in charge of the drums.
EunSung: My name is EunSung and currently 17 years old. I'm the vocalist of the band. 
SeungHyeon: This is SeungHyeon Lee, a 15-year-old bass guitarist of The East Light.
JunWook: Hi, I am JunWook Kim and 15 years old. I am the guitarist and also compose for the band.
SaKang: Hello, I'm SaKang Chung and aged 15. I am the vocalist of The East Light. It's nice meeting you all!
WooJin: Hello! I am the vocalist and the youngest member of The East Light, aged 14.
Please tell us how you initially started music and playing the instruments.
SeokChul: I was able to get into various types of music from a young age through my parents' influence. After being captivated by a drum performance by Roger Taylor from the band, Queen, I wanted to be a drummer and perform solo in front of a large audience; so I started learning the drums at age 6.
EunSung: I used to take lessons at the piano academy since I was a second grader in elementary. And one day, my piano teacher asked me to sing and complimented on my voice that got me to train on my voice as well music in general.
SeungHyeon: I got myself into music at 6 years old; after watching a video of Marcus Miller, who was playing solo on the base guitar.
JunWook: I was bored at home and wondering on what to do, when I found a guitar rotting away in the storage. I felt at that moment, that I found my other self. That's how I started getting into playing the guitar.
SaKang: When I was younger, because both of my parents worked; I used to get into a lot of trouble and come home injured or would come home at late hours. So I got permission from my parents to attend a music academy and started music from then onwards.    
WooJin: By chance, I got to watch Justin Bieber perform and was mesmerized by the performance and decided to pursue a career in music; in hope to become a great musician like him.
What kind of songs or albums are you listening to these days? Who would you say are your biggest influences in music?
SeokChul: Travis Barker has influenced me when I was learning the drum in terms of his performances, producing and DJing and I am still learning about him today. He's my idol!
EunSung: The artists that I like are the duo, TWENTY ØNE PILØTS.
The song I listen to most often these days is "Epilogue: Young Forever" by BTS.
I relate to the lyrics so much and it deeply impacts me emotionally, so I listen to it often.
SeungHyeon: The artists I admire are Victor Wooten, Stanley Clarke and Marcus Miller. "Run For Cover," "Thunder," "What Did He Say?" are some of the songs I listen to the most.
JunWook: I'm a fan of The Chainsmokers and frequently listen to their song, "Closer."
SaKang: I like Bruno Mars. I think his songs suit my voice tone; I'd like to think of him as my role model.
WooJin: "Let Me Love You," "Cold Water" and "Nothing Like Us" by Justin Bieber. 
Where would you want to perform the most in the world?
SeokChul: Our CEO named us, The East Light to mean for us to become the light of the whole world, so our wish is to perform wherever we can.
EunSung: I'd love to perform in America, during the halftime of the Super Bowl.
SeungHyeon: U.K's Wembley Stadium and Santiago Bernabéu Stadium in Spain.
JunWook: I don't have a specific location in mind, but my dream is to have a world tour.
SaKang: I want to go busking in the streets, packed with people in New York. 
WooJin: I would love to perform at the Times Square, New York.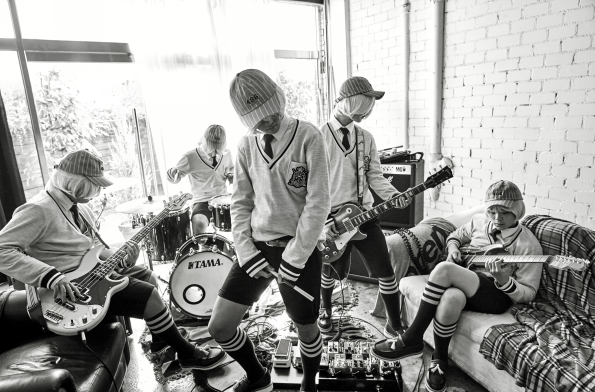 Who do you admire the most in your life?
SeokChul: My parents who initially supported me to start music in love. And our CEO, Chang-hwan Lee producer who gave me the help I needed to develop my music to the next level.
EunSung: I really admire Michael Jackson. His performances are timeless and his songs and his dance moves make me want to be like him.
SeungHyeon: Cristiano Ronald! The next things I like after the bass guitar is… soccer and soccer video games.
JunWook: I admire the producer and artist, Babyface. He has the ability to project all genre of music into his own unique style, and practically took over the Billboard charts with his work.
SaKang: Pharrell Williams. He seems to look good in whatever he wears, even though he isn't very tall. His sense of style and wit is similar to mine, I think.
WooJin: I admire my mother who is a vocal trainer.
How many hours a day do you practice and train? Do you have a special method for dealing with stress?
SeokChul: On school days, I usually practice for about 6 hours.
For weekends, I come to the studio early and start working on some productions and practice. I don't think I have particular way of solving stress.
EunSung: I practice from 3 to 4 hours on weekdays when I have school to attend.
On weekends, the practice goes on for about 10 hours each day. When practice is over, I like to play games and that's how I get rid of stress. 
SeungHyeon: The hours of practice really depends on the schedule. The way I deal with stress is to play soccer, video games or listen to music!
JunWook: I think I practice over 5 hours a day. A really great way to relieve stress is to listen to music at dawn.
SaKang: About 3 hours or so of practice for me. I have a really positive and active personality so I don't get stressed out often but if I ever do get any stress, I relieve it by chatting to my closest friends over the phone.
WooJin: I practice for about 6 hours per day. For me, the way to relieve stress is to listen to EDM extremely loud!
What do you like to eat or drink the best?
SeokChul: My favorite food is hard-boiled mackerels my mother makes ~ I can always eat two bowls of rice with my mother's boiled mackerels.
EunSung: I really like to drink coke. I normally drink a cup or two after I had a meal.
SeungHyeon: I like hamburgers and would love to try out the ones sold in the U.S.
JunWook: I like Chicken Galbi! There's a Galbi restaurant near my home where I often go.
SaKang: My favorite food is pizza. It's so delicious and has every right to be considered the top food. I really want to try the pizzas in the States as well.
WooJin: Spicy stir-fried pork with vegetables and Banana milk for me.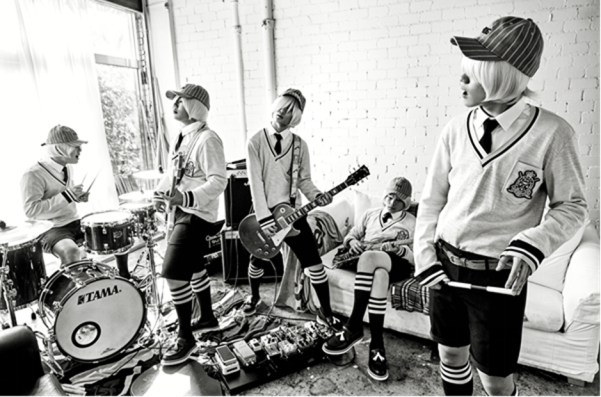 Please describe what your ideal person would be like.
SeokChul: My ideal would be someone with chubby cheeks, pale skin and overall who is just cuteness overload!
EunSung: I like someone who makes me feel good and who has an attractive and pretty smile. 
SeungHyeon: My ideal is a pretty female who has a beautiful physique.
JunWook: Someone who brings a smile on my face when I'm looking at her.
SaKang: I think my taste in what I consider my ideal keeps changing as I get older. I used to like girls who are just pretty, but now my ideal is someone who understands me, who is patient with me, contacts me often, plus cute at pushing and pulling the relationship.
WooJin: I like females with waved brown or dark hair, with long arms and legs.
Are there hobbies or any special skills that you own other than music?
SeokChul: I've always loved music since I was a child, so my hobby is digging deeper into music.
EunSung: My hobby is playing video games; I play games to the extreme.
I like to play games like Winners on PlayStation.
SeungHyeon: I collect soccer boots, soccer uniforms, soccer player figures and Real Madrid soccer player's cards.
JunWook: I love watching movies. From my experience, movies help me to unload unnecessary stress and motivate me to gain inspiration.
SaKang: I play many instruments. And I am also very good at noticing certain traits in people's speech and characteristics. So I try mimicking our company's producer or other Sunbaenim artists' voices in front of the members which helps to brighten up the atmosphere.
WooJin: My hobbies are watching movies! I am very interested in acting so I tend to watch movies frequently.
What would be the most precious belonging that you own?
SeokChul: The set of drums that my father got for me! It's my No. 1 treasure!
EunSung: The most precious belonging I own is my pillow, I have in the house. It's because I love to sleep and I've had this pillow since I was very young. I can fall asleep really well with this pillow.
SeungHyeon: My bass guitar, soccer boots, uniforms, soccer player figures! I love soccer so much!
JunWook: My mobile. I can listen to music and communicate with people with it, so it's something you can do everything with!  
SaKang: A photograph of my family! Whenever I feel sad or down I look at the photo, I can get over the gloom.
WooJin: My first ever piano! I have it at my house ~ I normally use my first piano when I have to practice.
How do you communicate with your fans?
SeokChul: We each have our own Social networking service where we connect with our fans through messaging.
EunSung: I communicate with the fans by reading out their comments and give them shout-outs from our V Live broadcasts.
SeungHyeon: We communicate with our fans by commenting and messaging via Social networking.  
JunWook: We communicate a lot with our fans via SNS! Please come and join us!
SaKang: I was the one who used to do most of the communication with our fans and was able to reply to everyone's comments before, but I got tired after a while when we got busier with our work.
I didn't want to upset our fans by not replying to all of their comments, so I don't comment one-on-one as I used to nowadays.
WooJin: We use SNS messaging or online bulletins to connect with our fans.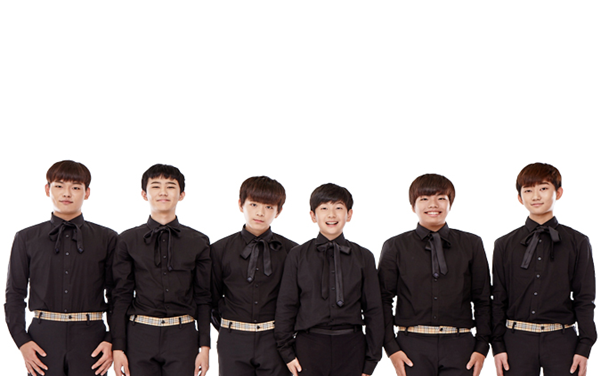 Thank you for such an interesting interview. We wish you all the best with your new single, "Holla" and look forward to more music! As we are nearing the end of this year and soon to be starting the year, 2017 in a couple of weeks, our last question is…what are your hopes and plans for the New Year?
SeokChul: Our goal for The East light is to showcase great music to many people through working hard on our activities and craft.
EunSung: We want to get invited to perform abroad in 2017!
SeungHyeon: I hope my favorite soccer players get to become our fans!
JunWook: I wish that a lot of people would gain positive energy from our music.
SaKang: We hope to gain more fans in Korea and abroad; later tour and do live performances around the world.
WooJin: We really want to get on the Top 10 on the Billboard Charts.
— J.Chung.
8 responses to "Blazing a new light in the East for K-pop "THE EAST LIGHT""
Related Articles