A New Shining Star Emerges
J. Chung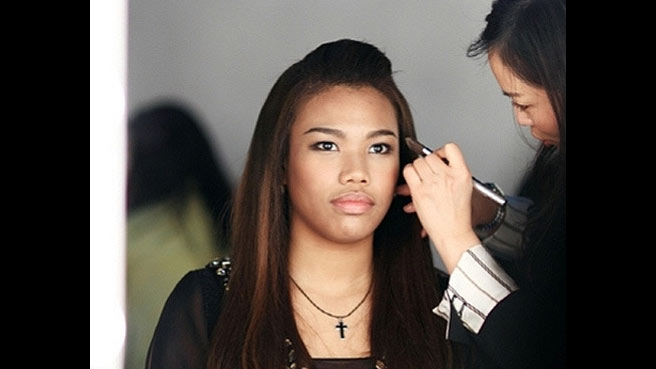 Most of you would recognize and know Lee Michelle from the audition program K-pop Star back in December 2011. She certainly is the kind of person who sticks to one's memory a long time.
Michelle took the stage away with her singing (Although some of the judges had to put in a few harsh words to criticize) when she sang Aretha Franklin's 'Chain of Fools' for her first audition. She certainly had a different level of volume to her voice that made her stand out from a crowd, which is practically her trademark: Her ability as a singer.
Michelle was born on 9th of September 1991 in Paju, South Korea to a Korean mother and an African American father and her parents divorced just before Michelle was born. Michelle has one brother and three sisters (two of them now live in America) and she's the youngest member of the family.
Michelle must have had a lot of hardships while growing up in Korea. Growing up is hard for anybody, but being an interracial child in Korea must have been more than challenging. On top of that she had to experience poverty and would frequently go to school on an empty stomach.
But amidst of all her troubles, Michelle knew she loved to sing from an early age. She recalls her childhood saying she can never forget listening and singing to Mariah Carey and Toni Braxton's cassette tapes her mother owned and trying to match the singing pitch with her sister.
K-pop Star gave her a chance to have a shot in a singing career she expressed that she found the kpop Star experience exciting and really enjoyed herself and was able to sing as much as she wanted to.
After K-pop Star, Michelle was signed to YG Entertainment as a girl group Supearls' member along with her Kpop Star peers Lee Jung Mi, Lee Seung Joo, and Lee Ha Yi, but later in 2013 it was reported that the Supearls had disbanded for some unknown reason. The real reason behind the disbandment is not told by either any of the former band members or YG Entertainment, so we have no way of knowing what happened exactly except there was some kind of dispute. Since leaving YG Michelle has kept herself pretty busy singing in live stages in Hongdae areas and performing gospel songs at her church.
In March 2013, Michelle signed to her current label DIMA Entertainment, to finally undergo training to become a solo artist officially, as we wished she'd done years ago. And this isn't just my personal opinion, she has fans from all over the globe who have been waiting for her to emerge as a solo artist since day one.
Lee Michelle's first digital single, 'Without You' has been out since 21st March. The song's lyrics might not be what everyone could relate to, but nevertheless her voice is so beautiful and soothing to listen to. Like the lyrics to the song, she is beautiful and meaningful and she certainly knows it.
The music video also made a massive impact on the viewers. I took the time to watch some of the reaction videos from the fans and many of them got very tearful and some even cried out loud. How one person's work effects and tells stories of others is amazing.
The child actor who appears in her music video is of mixed race like Michelle and she plays a part. And, she draws, writes and colors banned racist words on the wall and later… well for those who haven't yet watched the music video please take the time to check it out.
And don't get me wrong. 'Without You' is not about misery and loneliness but Michelle releases her emotions she's had for so long, overpowering her weaknesses and standing up to everything that was hurting her in life. Michelle has said in one of her interviews how she doesn't like to express and show her emotions because she knows she'll be in pieces if she does. She says shed a lot of tears after she watched her music video. I hope they were happy tears because she made her fans thankful and happy hearing her song.
When I first saw the title I wondered who the "You" from 'Without You' really was, but after seeing the MV I came to the conclusion that it does not matter at all. The lyrics are about yourself and overcoming your fears, obstacles and everything that hinders you.
Lee Michelle is an inspiration for the people who are from mixed or diverse background and she takes pride in giving her hope for others. No one should be alone and the world still has a lot of educating to do.
Everyone needs to know they are beautiful and loved, I really love the fact that Michelle is doing something great to make an impact and she's speaking out for herself and others which is something vital for the Korean society. And, of course, for the rest of the world.
I had the pleasure of interviewing Lee Michelle, although I wasn't lucky enough to meet her face-too-face since she was so busy. I contacted her management and, because I needed an interview within three days, they were decent enough to reply within the time limit with Michelle's answers via email. I could feel she was such a warm and humble person through merely reading her words and I was very touched. For some of you who are wondering, her Korean is perfect as any Korean you'll meet. And, her English is very proficient. She is definitely a full package to become a successful singer. She is so grown up for a 22 year old with such a modest and caring personality and she's bound to shine like a star.
Hope you guys all enjoy the short interview from Lee Michelle and wish Michelle a great career.
Related Articles