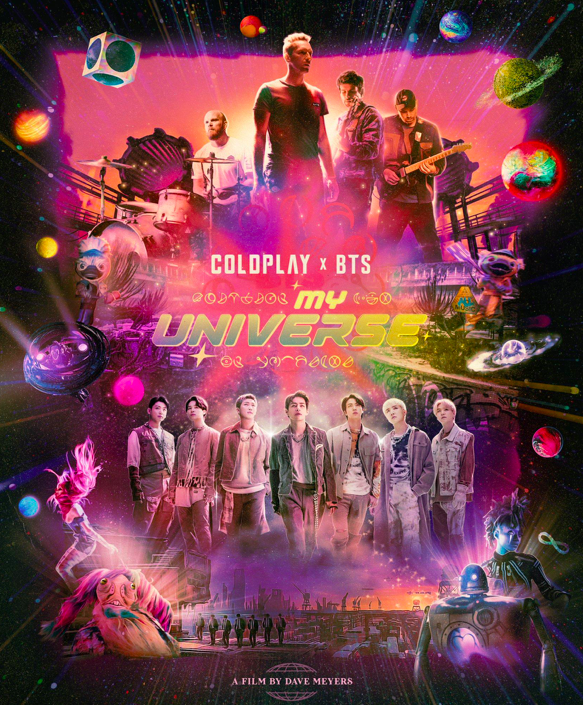 Coldplay and BTS collaboration single "My Universe" debuted on the Billboard Hot 100 songs chart at No. 1. This makes Coldplay's second Hot 100 No. 1 since "Viva La Vida" ruled the chart in June 2008, and BTS' sixth Hot 100 chart-topper since September 2020, among other achievements.
"My Universe" is made history by being No. 1 on six other charts: #1 Rock Streaming Songs, #1 Digital Song Sales, #1 Hot Alternative Songs, #1 Hot Rock & Alternative Songs, #1 Billboard Global 200, #1 Billboard Exclusive US.
Released on September 24, "My Universe," which is sung in English and Korean, starts with 95.4 million streams and 142,400 downloads sold worldwide. It was released on Parlophone/Atlantic Records and previews Coldplay's album Music of the Spheres, due out on Oct. 15.
The track debuts on top of the Digital Song Sales chart, where it is now BTS' ninth No. 1, extending the K-pop group's record for the most among groups, and Coldplay's second.
BTS now scores its sixth Billboard Hot 100 No. 1 with "My Universe." Their previous No. 1 singles were:
"Dynamite," Sept. 5, 2020, for 3 weeks
"Savage Love (Laxed – Siren Beat)," with Jawsh 685 and Jason Derulo, Oct. 17, 2020, for 1 week
"Life Goes On," Dec. 5, 2020, for 1 week
"Butter," June 5, 2021 for 10 weeks
"Permission to Dance," July 24, 2021 for 1 week
"My Universe," Oct. 9, 2021, 1 week to date.
"My Universe" is BTS' ninth Hot 100 top 10, dating to its first, "Fake Love" (No. 10 debut and peak, June 2018).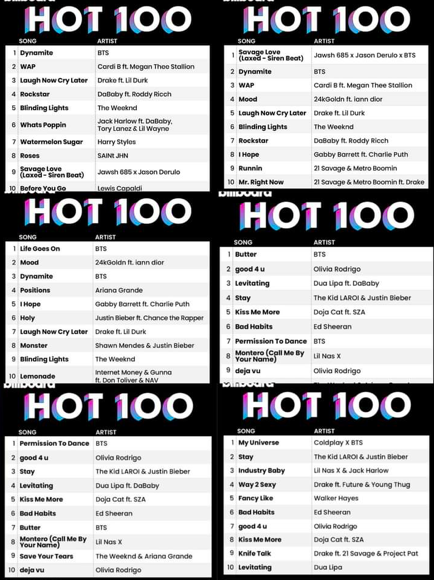 BTS accumulated its Hot 100 No. 1s within just a year and a month, which is the fastest feat of six singles since The Beatles scored six No. 1 in a year and two weeks for hits, "I Feel Fine," "Eight Days a Week," "Ticket to Ride," "Help!," "Yesterday" and "We Can Work It Out" from 1964 until 1966.
As "Dynamite," "Life Goes On," "Butter," "Permission to Dance" and "My Universe" all debuted at No. 1 on the Hot 100, BTS ties for the most straight-into-number-ones and now shares the record with rapper Drake and singer Ariana Grande.
BTS's loyal fan base ARMY is trending tweet such as "first band in history," #MyUniverseNo1onHot100," "BTS' 6TH #1 ON THE HOT100, THE FIRST BAND IN HISTORY TO EARN 5 #1 DEBUTS ON THE CHART & THE FASTEST TO ACCUMULATE SIX #1 HITS SINCE THE BEATLES IN 64-66," "BTS WORLD DOMINATION AND BTS PAVED THE WAY," and so on.
"My Universe" also made it to the list of 2022 Grammy predictions: Record of the Year, and the actual nominations will be revealed on November 23, 2021.
J.Chung.
#My Universe #Coldplay #BTS #Billboard #ARMY #Pop #kpop #kpopfans #collaboration #BTScollaboration #Seoul #America #Grammy #recordoftheyear #musiccharts #popmusic
Related Articles