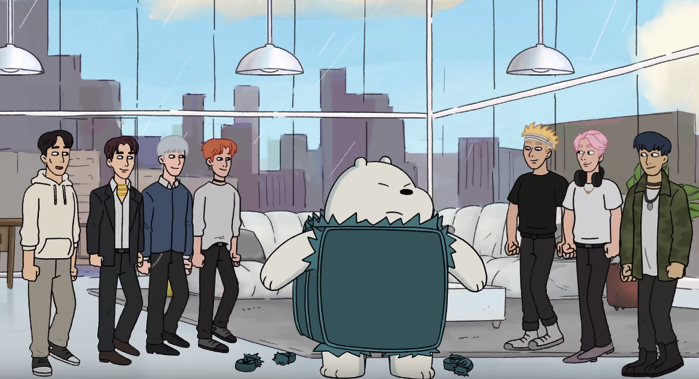 If you're a fan of Monsta X and the Emmy-nominated Cartoon Network show We Bare Bears, you're in luck!
On May 27, 2019, Monsta X will appear on the "Panda's Birthday" episode of We Bare Bears. This will mark the first time since the show debuted in 2015 that a K-Pop group has appeared in an episode even though K-Pop has been referenced periodically throughout the show's four-season run.
The appearance will also mark the first time a K-Pop group has been animated for an American cartoon.
In the upcoming "Panda's Birthday" episode, Ice Bear and Grizz will try to arrange a meeting with Panda and his favorite group, Monsta X.
"We are absolutely thrilled and honored to be in an episode of We Bare Bears. It's one of the most beloved animated series in the world! We put in a lot of effort into this collaboration and hope our fans, as well as We Bare Bear fans, can truly enjoy it," I.M told Billboard.
While the episode debuts May 27 at 7:30pm EST, in other countries, the episode will appear later this year.
Meanwhile, Monsta X will launch their We Are Here tour July 25 in Grand Prairie, TX.
—-Olivia Murray
Related Articles