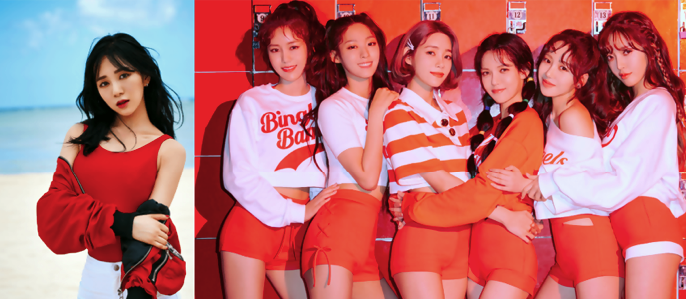 On Monday May 13, 2019, FNC Entertainment announced Mina will depart AOA and the company after her contract comes to an end. The company confirmed Mina's departure while confirming that Jimin, Yuna, Hyejeong, Seolhyun, and Chanmi renewed their contracts in a statement.
Hello.

This is FNC Entertainment.

We recently renewed our contract with five AOA members Jimin, Yuna, Hyejeong, Seolhyun and Chanmi.

The five AOA members agreed to maintain their team and renew their contract with a unified support for their fans.

We have been working with AOA based on mutual trust, and we will provide full support for the five people who have renewed their contracts.

After seven years together and deep discussion with the members and the company, Mina decided to take a different path to make her new dream come true.

We decided to terminate the contract and leave the team because we respected Mina's choice.

Please support and encourage Mina's decision after a long time of thought.
Mina is the third member to depart AOA since the group's debut in 2012. Youkyoung was the first to depart the group following the end of her contract October 15, 2016. Youkyoung only appeared during the group's band promotions, so AOA was known as a group that had seven members plus one. However, for band promotions following the end of her contract, she has said she would appear as a guest member.
In June 2017, while many Knetizens thought her departure was due to her allegedly dating gaming company CEO Lee Suk Jin, ChoA departed the group and FNC Entertainment due to "depression and insomnia."
The remaining AOA members will carry on as a five-piece as Mina departs to pursue her new career goals.
—-Olivia Murray
Related Articles