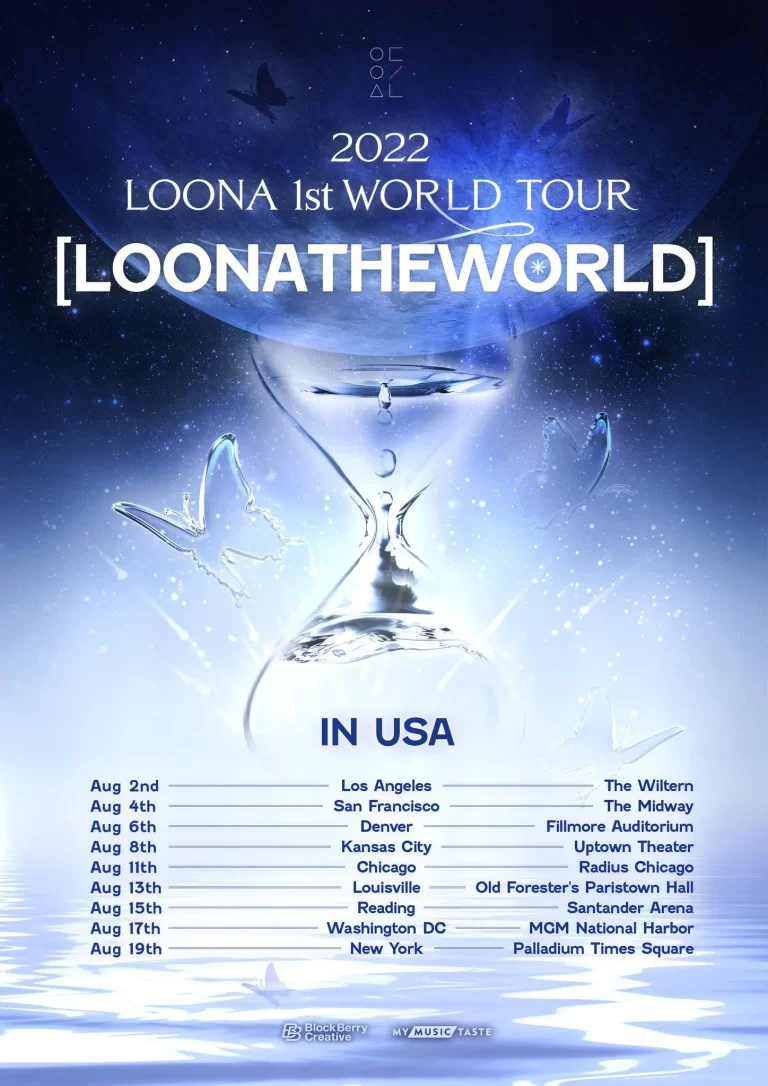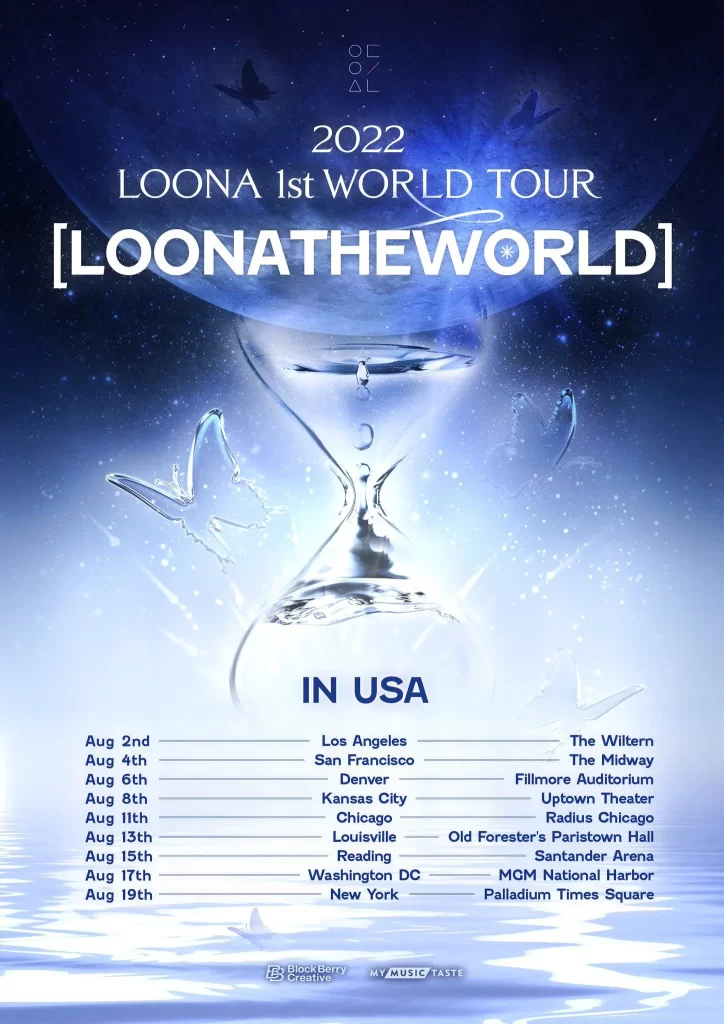 After concluding their first world tour, LOONA, the queens of K-pop lore are ready to mesmerize their fans with enchanting performances once again. LOONA's [LOONATHEWORLD] in SEOUL concert will take place on October 15th at 6PM (KST) and October 16th at 6PM (KST). Global viewers will be able to enjoy performances from both dates through live streaming with MyMusicTaste.
The concert follows their first world tour [LOONATHEWORLD], where the group met Orbits from all over the US and Europe. Carrying this momentum, LOONA is ready to invite viewers both online and in-person to an epic collection of unique music and eye-opening performances through this hybrid event.
LOONA's 1st World Tour: [LOONATHEWORLD] in SEOUL will take place at the SK Olympic Handball Gymnasium for both dates, which is one of the largest venues the group has ever performed in South Korea.
Tickets for [LOONATHEWORLD] in SEOUL's online streaming will be available through MyMusicTaste. Please check MyMusicTaste's social media channels for more information on ticket sales.2022 이달의 소녀 1st World Tour [LOONATHEWORLD] in SEOUL
October 15, 2022, 6:00PM (KST) & October 16, 2022, 6:00PM (KST) – MyMusicTaste
ARTIST) About LOONA:
From their unique debut with staggered member reveals over the span of two years starting in 2016 to their official musical release of the song "Hi High" in August of 2018, LOONA has embraced the mysterious and lore driven concept of their group to become a name that represents the core of K-pop: performance, production, and addictive melodies. LOONA's twelve members: HeeJin, HyunJin, HaSeul, ViVi, YeoJin, Kim Lip, JinSoul, Choerry, Yves, Chuu, Go Won, and Olivia Hye create the blended mix of charms, talents, and personalities that brought catchy pop tunes like "Butterfly" to the top of the Billboard charts. Their 2020 releases of "So What" and "Why Not" continued their ranking on international music charts, making them a staple recommended K-pop group on multiple social media networks. They've stacked up achievements like their 2018 MTV Europe Music Awards win for Best Korean Act and their 2021 placement as having one of the most requested songs on radio shows. Their latest music video, "Flip That" has already garnered over 35 million views to date. The title track over their mini album of the same name also dominated the iTunes Top Albums charts with No.1s in 31 regions. Following the American leg of their first world tour [LOONATHEWORLD], LOONA has just finished their European tour after meeting their fans from six different cities.
MANAGEMENT AGENCY) About Blockberry Creative:
Blockberry Creative is a South Korean record label formed in 2016. The label is home to the girl group LOONA. Blockberry Creative has lived up to its own name through the unique approaches of artists development and promotions.
PROMOTER) About MyMusicTaste:
MyMusicTaste is a fan initiated live event making service that brings fans, artists and promoters from all over the world together in one place to create a valuable and meaningful concert experience for everyone involved.
MyMusicTaste puts the power in the fans' hands, allowing fans to request their favorite artist's concert in their city. With the mission to connect and amplify the voices of fans all over the world, MyMusicTaste successfully promoted concerts of artists such as EXO, GOT7, MONSTA X, The xx, Machine Gun Kelly, and more in over 57 different cities. With the simple idea–empowering fans to bring their favorite artist's concert in the city of their choice based on fan demand–MyMusicTaste is challenging the $27 billion concert market through cutting-edge technology and sophisticated, user-friendly service. Currently, www.mymusictaste.com supports more than 30 countries and offers 15 different languages.
For more about LOONA, visit:
Website: http://www.loonatheworld.com/
Facebook: loonatheworld
Instagram: @loonatheworld
Spotify: LOONA
TikTok: @loonatheworld
Twitter: @loonatheworld
YouTube: loonatheworld
#LOONA #LoonaTheWorld #MyMusicTaste #BlockberryCreative #HeeJin #HyunJin #HaSeul #ViVi #YeoJin #KimLip #JinSoul #Choerry #Yves #Chuu #GoWonan #kpop #kcrushnews #OliviaHye #Seoulconcert
Related Articles