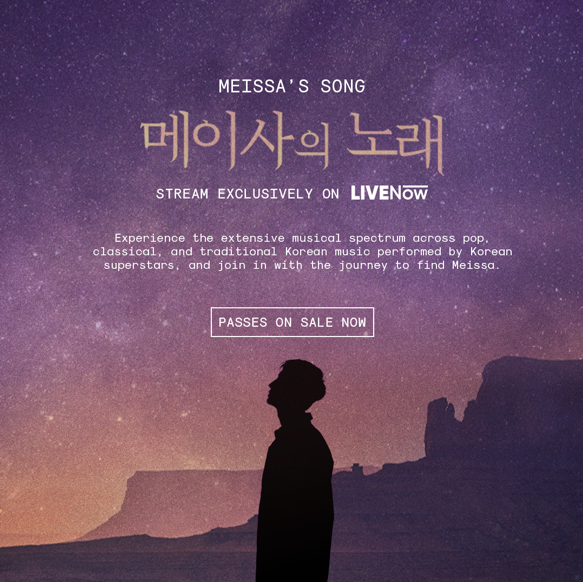 The musical is available today worldwide for fans this holiday season
Premium streaming platform LIVENow announces a new musical, Meissa's Song, streaming exclusively this holiday season. The show will feature the biggest K-Pop stars to commemorate the 30th anniversary of South Korea joining the United Nations, and will begin airing on December 21st. It will also be available to stream on-demand for two months and cost $15.00 USD. LIVENow has become a leading platform for watching live events such as sport, concerts, theatrical performances, comedy shows and lifestyle classes. Korean-based musical performances such as Meissa's Song are the latest additions of live events that global audiences can watch wherever they are in the world.
​​Meissa's Song will star EXO's CHANYEOL, L from INFINITE, and Daehyun Jung of B.A.P, and will debut original music with a mixture of K-Pop sounds along with traditional musical elements, all in a first-of-its-kind format.
Fans can watch the musical by downloading the LIVENow app or logging onto their website and creating a profile. As the LIVENow platform expands its roster of entertainment to a wider global audience, this show is amongst many projects in the pipeline for the K-pop space. LIVENow customers can join in with the experience and invite their friends to watch the same event in real time from anywhere in the world.
LIVENow are leaders within the virtual event and experiences space, giving fans access to live and on-demand content across music, sports and entertainment. LIVENow was recently awarded 'Live Music Innovation of the Year (Platform)' at the 2021 Music Week Awards for the landmark streams of Dua Lipa: Studio 2054, Ellie Goulding's 'Brightest Blue' and Gorillaz' 'Song Machine Live from Kong'.
About LIVENow
LIVENow was founded by Leeds United chairman and founder of Aser Ventures, Andrea Radrizzani.
Previous events on LIVENow include EURO 2020, Celeste: On with The Show, Live From London, theater production Our Little Lives: Shakespeare and Me starring Russell Brand, and an all-new four-part series, Live From Another World, featuring cutting-edge breakthrough bands. The restream of K-Pop sensations Mamamoo and Dua Lipa: Studio 2054 are also available to watch.
Top European football leagues and EURO 2020 

 

Australia vs India Men's International Test Cricket and Big Bash League

RIZIN mixed martial arts

The Heineken Cup and Champions Cup

 

Ellie Goulding's "Brightest Blue", Pete Tong's "O Come All Ye Ravers", Gorillaz' "Song Machine Live from Kong" and American Express UNSTAGED with Maroon 5 and SZA

One World: Together At Home concert in support of the World Health Organizations Covid-19 relief efforts
#Messiassong #EXO #Chanyeol #L #Infinite #Daehyun #DaehyunJung #BAP #LiveNow #livestreaming #LeedsUnited #AserVentures #AndraeRadrizzani
Related Articles