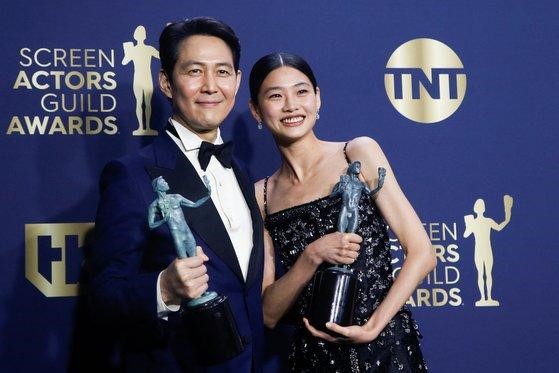 Korean actors Lee Jung-jae and Jung Ho-yeon have won for best male actor and female actor in the TV drama category at the Screen Actors Guild Awards for their roles in the Netflix drama "Squid Game."
At the ceremony held at Santa Monica, California, Lee Jung-jae was honored as the winner of Outstanding Performance by a Male Actor in a Drama Series, over Brian Cox, Kieran Culkin and Jeremy Strong of "Succession," and Billy Crudup of "The Morning Show."
Jung Ho-yeon received the prize of Outstanding Performance by a Female Actor in a Drama Series over Jennifer Aniston and Reese Witherspoon of "The Morning Show," Elisabeth Moss of "The Handmaid's Tale" and Sarah Snook of "Succession."
The two became the second Korean actors ever to win the SAG Awards – since Youn Yuh-jung's win for "Minari" last year.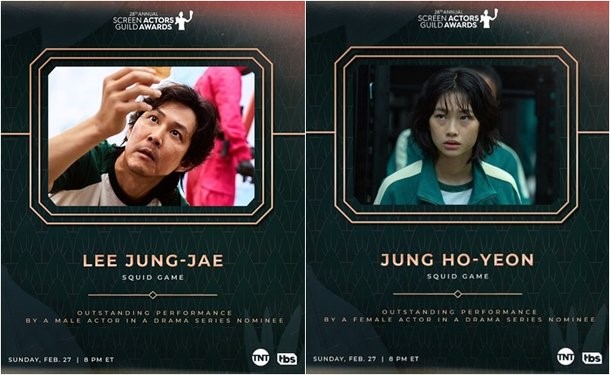 Created and directed by Hwang Dong-hyuk, the global hit Korean drama "Squid Game" earned three top honors, including Outstanding Action Performance as a Stunt Ensemble, during the Sunday night celebration.
The drama was also nominated for Outstanding Performance by an Ensemble in a Drama Series, but lost out to HBO's "Succession."
Since the early 90s, Lee Jung-jae has been an acclaimed actor in South Korea, starring in numerous works including New World, The Face Reader and The Housemaid.
Lee accepted the SAG Award on stage and spoke with the help of an interpreter. "Thank you so much! This is truly huge that it's happened to me. Thank you so much SAG-AFTRA awards and thank you to the global audience for all of your love for "Squid Game." And thank you to the "Squid Game" team."
For Jung, this moment was even more special as she won the trophy for her acting debut. Her role in the drama was to play a North Korean defector Kang Sae-byeok who participates in the Squid games for very heartbreaking reasons.
"First and foremost, thank you so much. I have sat many times watching you on the big screen dreaming of one day becoming an actor. I just want to say thank you so much," the model-turned actress expressed her words via the interpreter.
She added in English, "Thank you for making my dream and opening the door for me. I love my Squid Game crew!"
Veteran actor O Yeong-su, who played the role of Oh Il-nam and the mastermind of the Squid game, won a Golden Globe January of this year for Supporting Actor.
The Korean drama has broken numerous records as the first Korean TV series and first foreign-language show to be nominated for SAG Awards, and became Netflix's biggest series launch with 111 million views.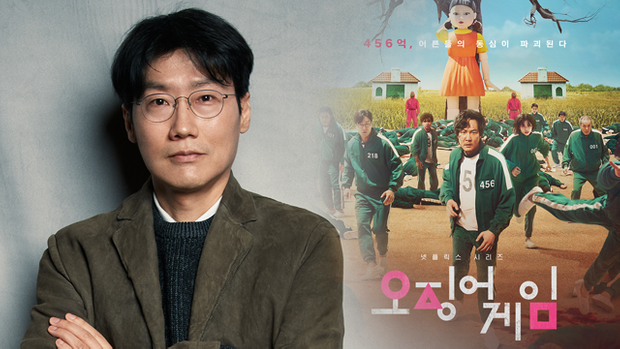 The writer and the director of the hit series, Hwang Dong-hyuk said that "today has to be the happiest moment" from winning the SAG Awards.
"I am reminded of all the days spent on first meetings with the cast, the auditions, visiting theaters to see their performances, the script readings, rehearsals and the days on set.
"I want to truly thank not only the cast who have been nominated today but also all of the supporting and the near-300 background talent. "Squid Game" would never have been what it became without the devotion and hard work of every single one of you. You deserve all the glory and credit," Hwang said during a statement to E! Online.
To the delight of the survival drama fans, "Squid Game" is said to be returning for a second season and a potential third chapter.
-J.Chung.
#SAG #SAGAwards #LeeJungJae #JungHoYeon #SquidGame #Netflix #kdrama #Asiandrama #NetflixKoreanDrama #koreanactor #topkoreanactress #AsianNetflixshow #SAGawardwinner #topratednetflixshow
Related Articles