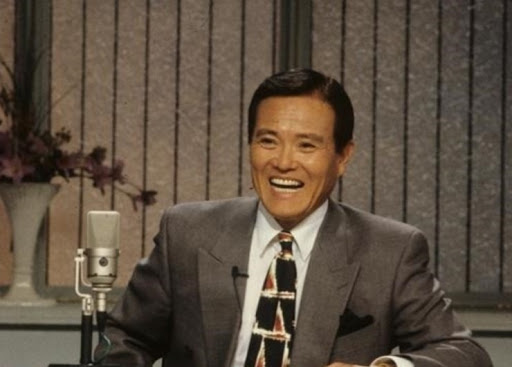 Even if you aren't particularly well versed in Korean Show Biz, there are lots of Korean Americans whose names and faces you would recognize. There are comedic veterans like Margaret Cho, Ken Jeong with his versatile appearances. And actors like Nicole Bilderback, Justin Chon and John Cho with active careers.
But way back in the day in the 1970s to 80s, it was harder to find a Korean face on television. One of the few that made it was Johnny Yune, who passed away on 8th March this year.
Best known to the American audience for his "big break" on the talk show run by none other than Johnny Carson, the King of Late Night Television, Johnny Yune was born in Eumseong, North Chungcheong Province in 1936.
Yune graduated from Sungdong High School before being granted a Navy scholarship at Ohio Wesleyan University in Delaware, Ohio where he studied vocal music.
His Korean first name was Jong-seung, and was Anglicized to 'John' from its phonetic similarity when he became a US citizen in 1978.
Yune made his film debut in 1979's Meteor under the stage name of Jon Yune, rose to stardom appearing on The Tonight Show Starring Johnny Carson 34 times from the late 70s to 80s – one of the most frequent number of appearances by a stand-up comedian. Yune stated that because actor Charlton Heston did not arrive on time, he was given over twenty minutes on the show to make a good impression.
He played the lead in the 1980s films They Call Me Bruce?, They Still Call Me Bruce, Nothing in Common, and Gidget's Summer Reunion,
Yune later hosted KBS2's The Johnny Yune Show, the first American-style talk show on Korean television, from 1989-1990. With the show's success, similar talk shows became common in the Korean small-screen scene. The show was a great hit, but only after a year, Yune decided to leave KBS due to limited freedom of the media.
Yune married a Korean-American named Julia Yune in 1999 and later divorced in 2010.
Yune recovered his Korean citizenship; becoming a dual citizen in 2013. The following year, he was appointed auditor of the Korea Tourism Organization, though he was mired in controversy as to his qualification. He served the role for two years. Before the end of his term, he collapsed from a brain hemorrhage in 2016 and returned to the US for treatment.
Yune spent his later years at a care center in Los Angeles. He suffered from Alzheimer's disease. He was admitted to Alhambra Hospital Medical Center near Los Angeles on Wednesday, but was unable to recover.
In honor of the deceased's wishes, Yune's body will be donated to science and research at the University of California-Irvine Medical Center.
–J. Chung.
Related Articles