Sophiya Pae (Su-jeong Pae, 배수정) is a Korean-British singer-songwriter; born and raised in London, England.
Sophiya has an impressive educational background and worked as an accountant at a firm in London but decided to pursue her lifelong ambition as a singer/musician in the K-pop industry.
From an early age, she had a special love for singing and playing the piano, so she decided try out her musical talent in the second season of Korea's music talent show,
 Star Audition: The Great Birth: 위대한 탄생 in the year of 2012.
She was met with favorable response from the judges and was awarded as the runner-up of the TV show.
She then flew back to the U.K to attain her accountant certificate and soon headed back to Korea to pursue her childhood dream as a singer-songwriter, full-time.
Since then, she has written numerous songs for K-pop acts such as Sistar, Twice, BoA and many more.
*Hello! Would you briefly introduce yourself to our readers?
My name is Su-jeong Pae; (or 배수정 in Korean) otherwise known as Sophiya. I'm a singer-songwriter who writes songs not just for myself but for other K-pop artists as well.  Some of you may know me from the show, Star Audition: The Great Birth (위대한 탄생) in which I was the runner-up in its second season.
*How were you influenced to start music?
I wouldn't say that I am from a musical family but I do have relatives who studied opera on my mom's side and my parents are very much into classical music, Beatles and John Lennon. I guess, my initial interest in music was due to my parents. I was very absorbed in singing on the piano at home by myself or at church since I was growing up, but it was a form of hobby for me. For me, getting into this industry was mostly through the Korean audition program that I was on. I thought that was my last chance to do what I love.
*Were your parents supportive of you going on the show?
Not at the beginning. When I told them that I was going on the talent show in Korea, they were kind of surprised. At the time, they just thought that I'd be taking six months off work. Since I studied hard at university and to get my accountant qualification, they agree that I could take those months off. My parents became supportive during the show. And I ended up taking a lifetime break to do music.
*On your way to Korea, what kind of thoughts were going through your mind?
I was very excited since I started writing songs and was to go out there to meet new people and send my demos to labels to see what the response was.
*Would you name any artists who influenced your music?
Vocally, it would definitely be the big power vocals like, Mariah Carey, Whitney Houston and Christina Aguilera. My voice has evolved over time and although I'm not a power vocal like them; I very much enjoy their style of infusing pop with R&B elements.
*As a songwriter, can you share the process of how you compose songs?
It happens differently every time. Generally, I will jot down the ideas for the lyrics as they come to me, way before I write a song at times. Because it can be hard when you're trying to think of lyrics on the spot. If I come across a phrase or any expressions I find really interesting which I can use as a song title, I would write it all down.  Once I get a beat, I write the melody. That's when I start thinking, "Well, with this track, I think those lyrics could work either as a title or a concept…" I mean, the lyrics happen over time based on experiences. But I usually write the melody first. When it comes to writing lyrics in Korean, some of my songs didn't turn out to be that good so I had someone translate or edit my ideas for me.
*What kind of music or artist would you recommend to others?
I really like Gallant. I think he's amazing at everything he does. He has done a song with Eric Nam and Tablo before.
*What is your favorite Korean food?
That is a hard… I would say, Yukhoe. I'm a carnivore so I like all sorts of meat like Korean BBQ, Samgyeopsal.
*How did you lose weight so quickly? Can you give out any advice?
I used to be a sugar addict and would eat snacks all day and night. So, I cut back on that and went low carb basically and just ate protein and fat for about three to four months. I did a lot of circuit training and high-intensity interval training which brought the weight down really quickly. It's very easy to gain weight so without a specific goal in mind, it's hard to find the motivation.
*Could you recommend us any movies, books, musicals?
I love Khaled Hosseini's novels. He wrote "Kite Runner" "A Thousand Splendid Suns" and etc.
*Who do you respect the most in the world?
I'd probably say, Bill Gates. He's smart, loaded and still wants to help other people which I think is very admirable.
*Are there any colors you like or dislike?
My home is covered with all types of blue. I also like black, white, grey and red. I just like very urban and casual. The color that I dislike would probably be pink, I am not really a girly girl.
*Describe your ideal person that you'd date.
I'm not really the type to like or judge someone just for their looks and I don't really have a specific thing. I'd have to be attracted to them but appearance is not the priority. I would say, someone who is playful and funny whom I can just hang out with and can be best friends with.
*How was the performance at the KCrush event back in June like for you?
I was quite nervous because I hadn't performed that many songs in front of an audience in a little while. It was actually the first time for me to perform most of those songs that were released under the Feeline Music label.
*Tell us about your music label, "Feeline Music".
The label was founded in October 2017. We call it a label, but right now, it just consists of me and Distract – my co-producer and co-CEO. Now that I don't have a management company, I'm no longer bound by what others want and can concentrate on making the music that I want, instead of having to go mainstream or do what a company demands. We focus on making and releasing music that we want to make and love.
*Let us know about your future plans or goals. (And please say something nice to the fans…)
I've been so busy writing for other artists these days but the plan over the next few months, is to just concentrate on writing for myself. And I want to release a full album at one point. I've got a couple of collabs in the works, so watch this space! Thank you so much to all my fans out there who are always supporting me and my music. Reading all your comments on social media etc. and knowing that my songs resonate with you guys means the world to me! Much love.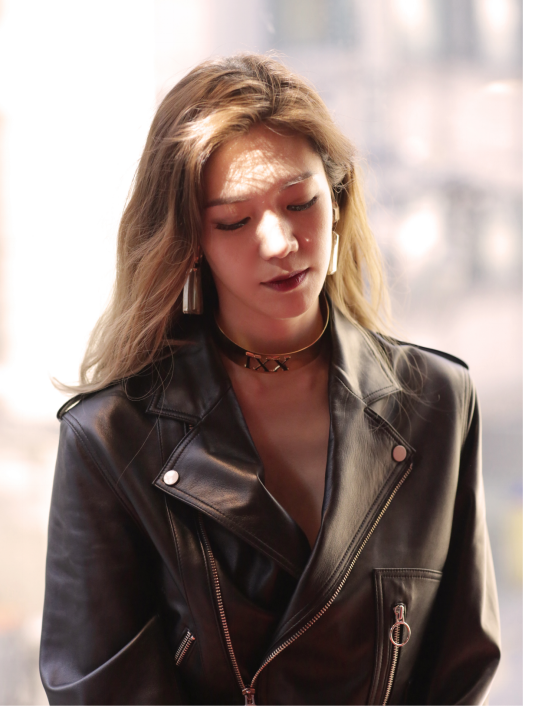 We would like to thank Sophiya for the great interview and we wish her all the best in all her future endeavors!
Thank you.
 —- J. Chung
5 responses to "KCrush Interview with Singer-songwriter, Sophiya (a.k.a Su-jeong Pae)"
Related Articles