Food has a long history in cultures all across Asia and it is no different in Brunei. Street food is considered the window into a country's culture. Even as cities continue to modernize with new cafes, fast food chains and ethnic eateries; food vendors have and will always be around. It is not hard to see why they have not become obsolete as they are quick, cheap and easily accessible. Vendors not only provide delicious food round the clock, they are also a positive social aspect in many Asian cultures. Street food tours are now on the rise, thanks to a booming tourist culture that celebrates diversity and open mindedness.
In Brunei, the larger congregations of food vendors are known as 'Pasar' or 'Tamu' which is derived from the standard Malay word 'temu' meaning to meet. Historically, these areas were where customers would flock to buy and sell fruits, vegetables, livestock, and traditional Bruneian cakes and biscuits or 'kuih' as they are known.
Some popular traditional foods you would find are nasi katok made of plain rice, fried chicken and sambal. 'Soto,' a noodle soup. 'Pulut panggang' grilled glutinous rice. 'Kuih seri muka,' a steamed layered cake with sweet sticky rice. 'Kuih Malaya' a large pancake with ground peanuts, raisins, and condensed milk.
However, food vendors in Brunei are not only limited to local dishes. They host dishes from Indonesia, Malaysia, Middle East and even Western cuisines with a local twist. You can find cucur tempeh and tauhu; deep fried fermented soy bean and tofu. Burgers topped with a fried egg. 'Roti john' an omelette sandwich. 'Murtabak' a folded flat bread. 'Rojak' a spicy and tangy fruit/vegetable salad with peanuts. And 'tapai' a fermented rice kuih. All of this and a medley of other exotic dishes make up the thriving street vendor scene here in Brunei.
Here are some of the places to get the best street food in Brunei:
Birthday of Sultan Hassanal Bolkiah Market
Address: Around Taman Haji Sir Muda Omar Ali Saifuddien
Opening hours: 5:00pm to 10:00pm
Getting there: A 5-minute walk from Yayasan Sultan Haji Hassanal Bolkiah
What's available: Food, drinks, barbecue, traditional snacks, clothes, children activities.
In conjunction with the birthday of His Majesty Sultan Haji Hassanal Bolkiah Mu'izzaddin ibni Al-Marhum Sultan Haji Omar Ali Saifuddien Sa'adul Khairi Waddien, Sultan and Yang Di-Pertuan of Brunei Darussalam, a night market is set up for the whole month of July. However, sometimes the celebration will be moved to the month of August if the actual birthday falls during the month of Ramadhan (fasting month). During this time, capital will be adorned with colourful neon lights, banners and flags to reflect the joy and anticipation for the occasion. As this market is a pop-up event, it brings in young entrepreneurs who want to test out their ideas and possibly bring in new flavours to Brunei.
Tamu Kianggeh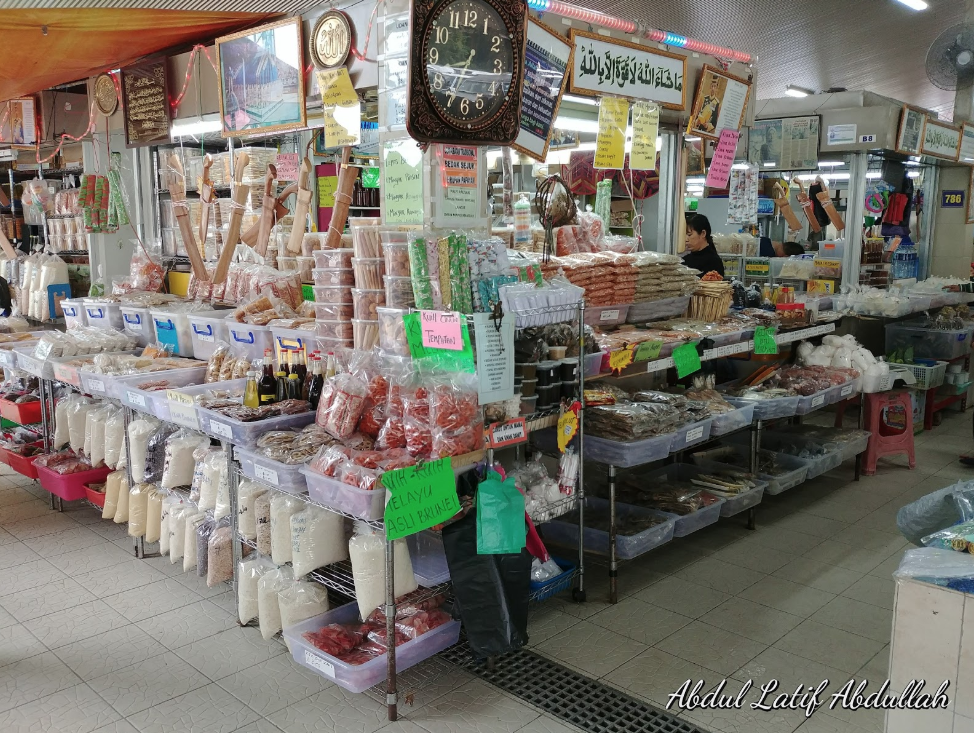 Photo source: https://goo.gl/pYYpKn
Address:  Jalan Sungai Kianggeh, Bandar Seri Begawan
Opening hours: Daily, 5:00am to 5:00pm.
Getting there: Walk across the bridge on the Kianggeh River next to the bus terminal
What's available: Local fruits and vegetables, foraged goods, fresh river catch, raw ingredients, traditional kuih, traditional handicraft, hot food
A river side market that has been around since the 1960s. Tamu Kianggeh is one of the oldest markets in Brunei and is considered as a national heritage. It is advisable to get there early as the stalls will close once they have sold out; sometimes as early as 12:00pm. The busiest days are Fridays and Sundays. Since October 2016, the road closure on Sunday mornings in the city centre was implemented to give space for cycling and running activities. This made Tamu Kianggeh an ideal breakfast spot. The market is not only a great place for food but a convenient location to carry out your weekly shopping at a bargain.
Tamu Selera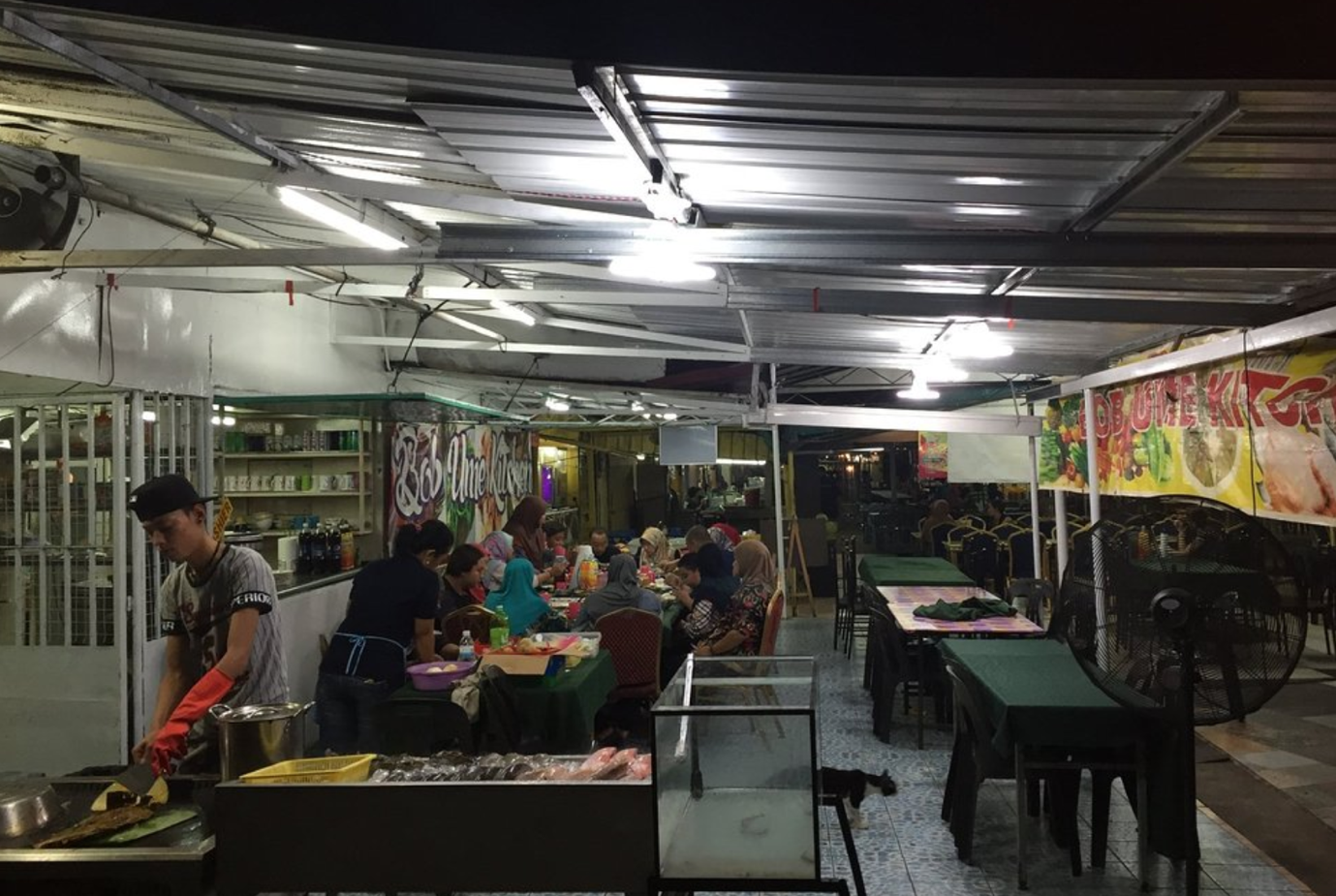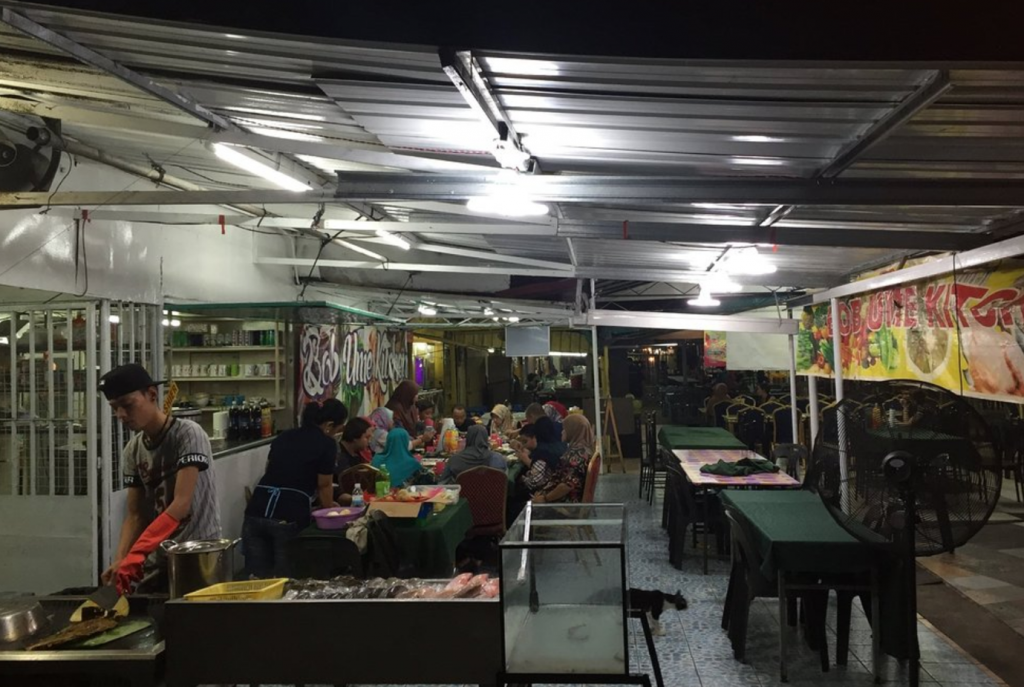 Photo source: https://goo.gl/8q9wo8
Address:  Jalan Padang, Bandar Seri Begawan
Opening hours: Daily, no official hours.
Getting there: On the corner of Jalan Tasek Lama & Jalan Stoney.
On the right of St Andrew's Church
What's available: Traditional Malaysian and Indonesian hot food, seafood, barbecue, cold drinks
Tamu Selera comes with colourful tarps and shady garden areas. It is the only market that has plenty of outdoor seating as it mainly caters hot meals. At noon, you will find many students having their lunch there as it is centrally located in between some of the oldest schools in Brunei. In the evening, a large range of fresh seafood such as prawns, squids and tilapia to name a few is available. Your selection will then be cooked infront of you topped with various sauces and pastes of your choice. Some of the favourite staples of Tamu Selera are ayam penyet (smashed fried chicken) at stall 5, ayam bakar (charcoal-grilled chicken) at stall 26 and cucur tempeh and tauhu from stall 7. These dishes are often paired with sambal (chili paste) and rice or fried noodles. The stalls sometimes open until sun rise depending on the customer flow. However, rain or shine at any time of the day, you are guaranteed to find delicious food here.
Pasar Malam Gadong (Gadong Wet Market)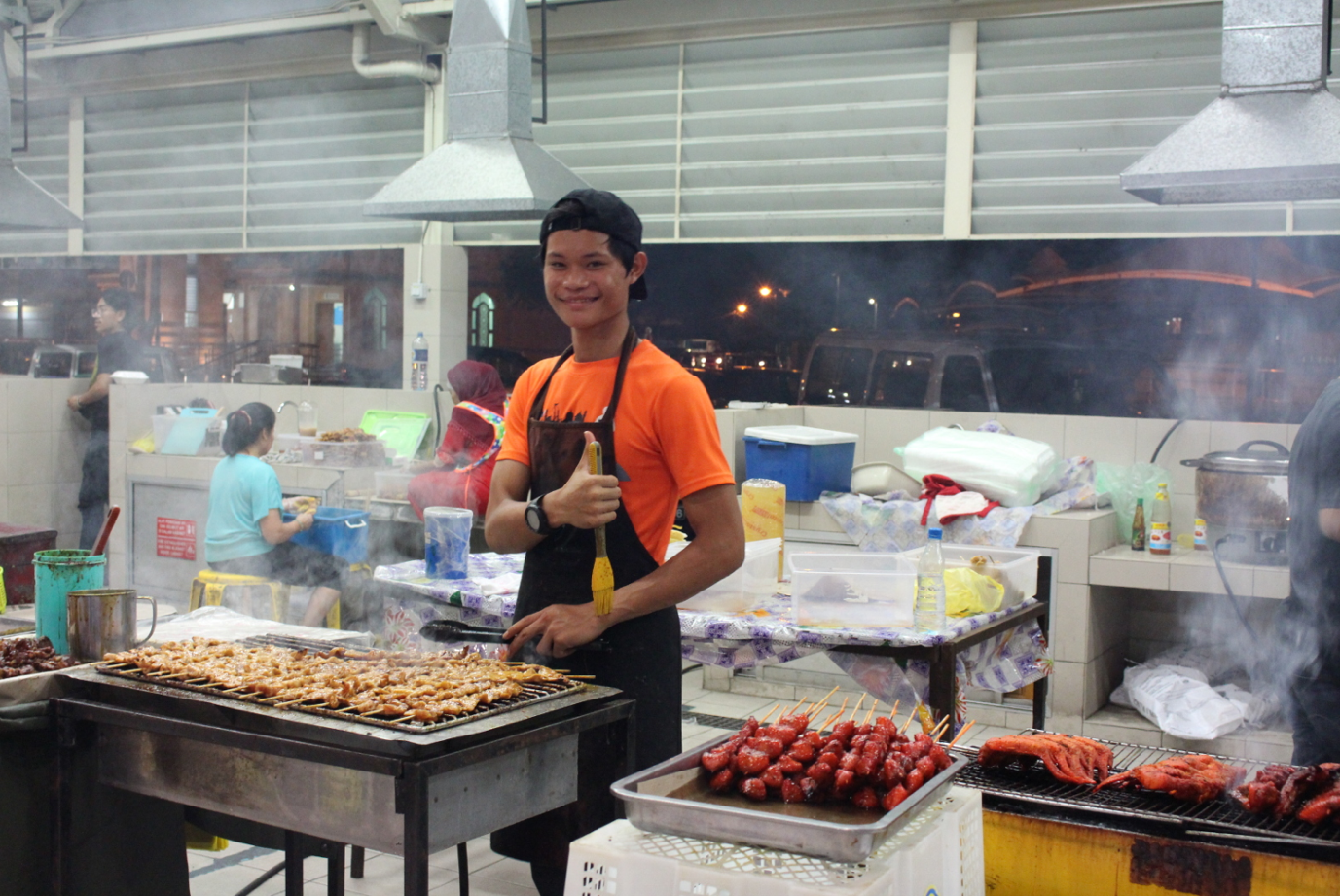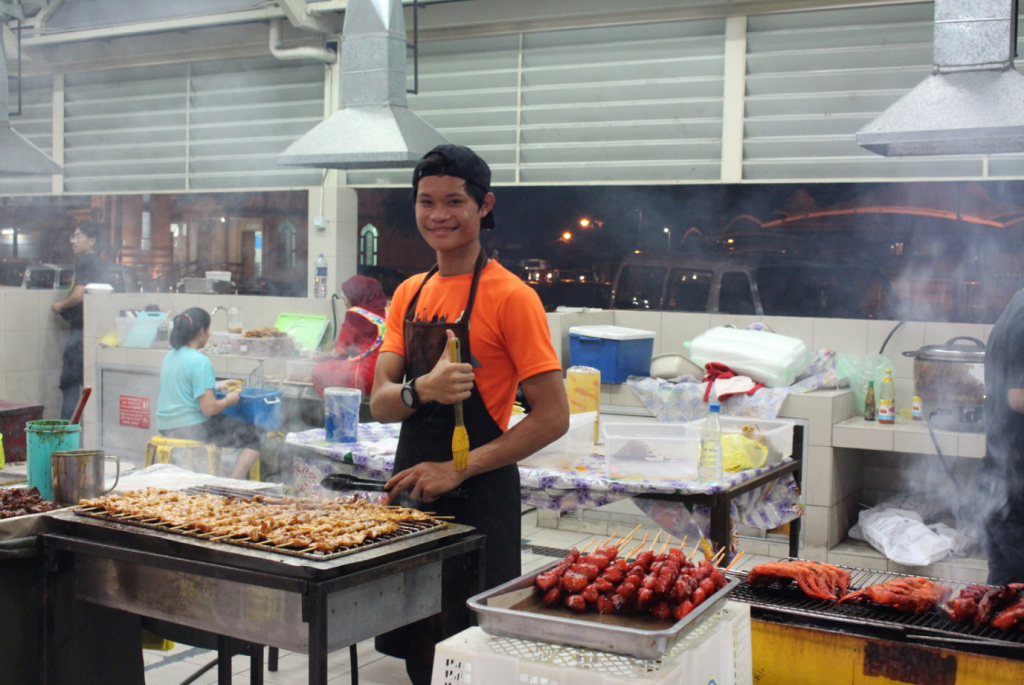 Photo source: https://www.dztraveler.com/asia/trip-to-gadong-night-market
Address:  Jalan Pasar Gadong
Opening hours: Daily, 3:00pm to 10:00pm
Getting there: A 10 minute walk from The Mall, across the bridge on the Menglait River
What's available: Grilled and barbecue food, burgers, fried food, kebab, cold drinks
The market recently got upgraded into an open-air building segregated into sections as grilling, cooking, non-cooking and fruit and vegetables. The renovations have brought in some seating areas for customers to enjoy their food and with just $10, you can eat to your heart's content. The barbecue and grill sections bring a familiar sight to the hustle and bustle of night markets. You can get grilled chicken wings, fish, satays, tongkeng (barbecue chicken haunch glazed with honey) and pulut panggang (glutinous rice stuffed with beef or prawns, wrapped with banana leaves). Hati buyah (marinated stir fried beef lung) is a less common but delicious delicacy that is a must try when you are here. And lastly, the Kueh Malaya often has a queue to take home and share with your friends and family.
—-May Taro
Related Articles