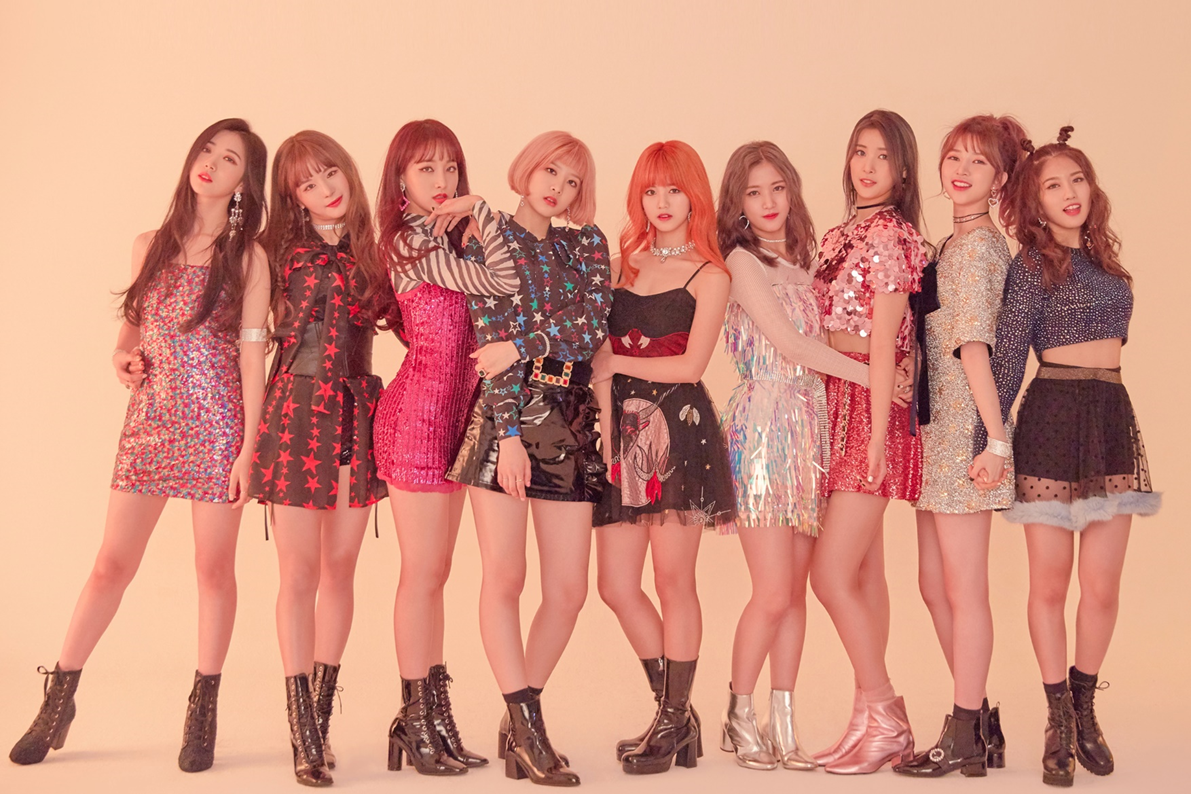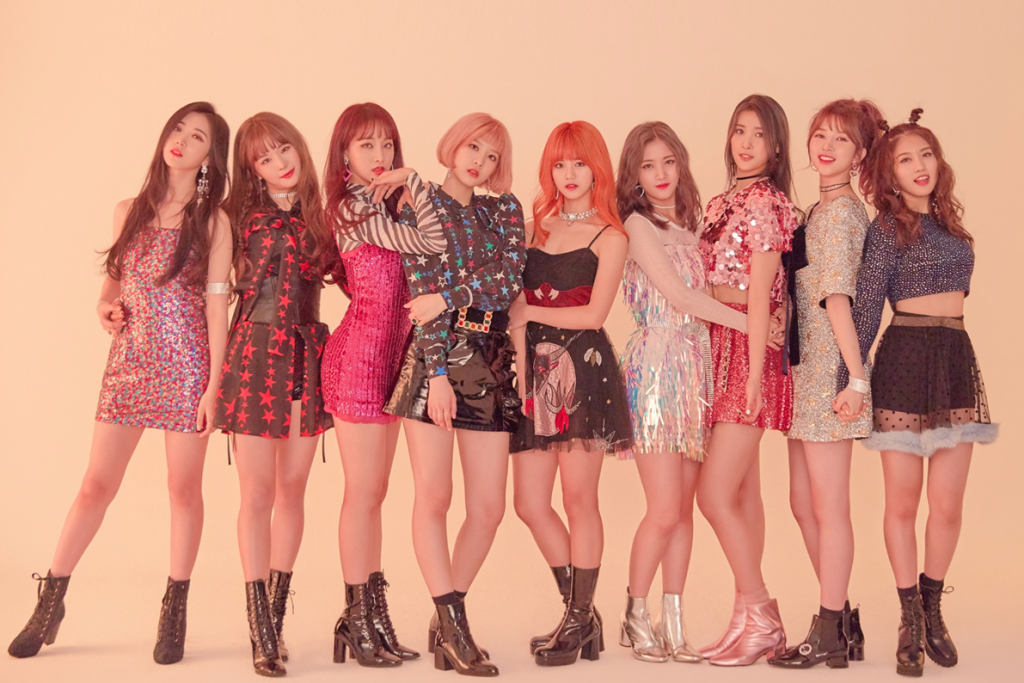 NATURE is a Korean girl group, consisting of nine members from Korea, Japan and China – the group has three sub-units – Charming, Twinkle, and Cutie. The name of their fandom is LEAF, which is a natural complement to the group's name.
NATURE was formed by n.CH Entertainment in August of 2018, and the company's founder is the former SM Entertainment executive Jung Chang-hwan. On August 3, 2018, NATURE made their debut with the single album Girls and Flowers, Allegro Cantabile, which is a remake of the opening to Nodame Cantabile, a Japanese anime. 
In August, NATURE won their first ever award, "New Artist of the Year" at Soribada Best K-Music Awards.
We would very much like to thank the members of NATURE and their staff for making this interview happen, as we wish them all the best in their future endeavors. As always, we wish that KCrush readers would enjoy reading and learning more about NATURE and their music.
Thank you for taking a time out for a KCrush Interview. Please introduce yourselves to our readers…
Aurora: Hello, this is Aurora of Girl group, NATURE. I'm 22 years of age, from Xi An, China.
Saebom: Hello, I am Saebom. Hope you all have a Happy Spring!
Lu: Hello, this is Lu ~ I am the leader of NATURE!
Chaebin: How are you? This is Chaebin from NATURE's sub-unit Twinkle!
Gaga: Hello, everyone. I'm Gaga from NATURE.
Haru: Hello… This is the cutie powerful dancer, Haru!
Loha: Hello! I am NATURE's Aloha ~ Loha, the happy virus!
Uchae: Hello! I am Uchae, the youngest blooming flower of NATURE!
Sunshine: Hello, I am Sunshine, the real "maknae" of NATURE ~
(*Uchae and Sunshine were born a month apart.)
What were your childhood dreams, while growing up?
Aurora: I wanted to be a comedian when I was in elementary school, and a teacher. I currently want to start my own business, selling board games.
Sae-bom: Musical actor, singer and kindergarten teacher, since I loved to dance, dance and also, children.
Lu: I wanted to be a singer or a celebrity.
Chaebin: I had vocal lessons since I was in elementary, so I wanted to become a professional opera singer. But I gradually got immersed in mainstream pop music that later enabled me to pursue a career in pop music.
Gaga: My childhood dream was to become an actor.
Haru: A dancer or a celebrity for me.
Loha: I always wanted to be an idol singer since the age of 5, and that dream never changed. I've always loved to dance and sing in front of an audience since I was really young.
Uchae: I had so many dreams while growing up. I wanted to be a singer, but also wanted to become a flight attendant, a vet, a police officer and many others…
Sunshine: I used to dream of becoming a firefighter, a chef and a flight attendant!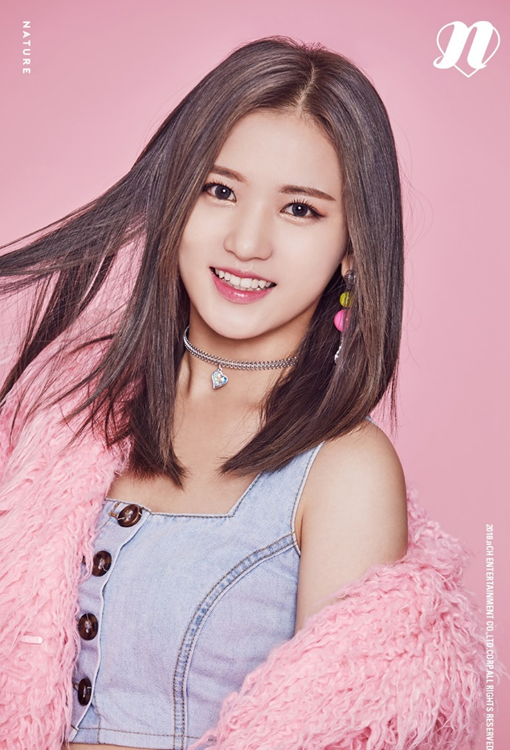 How did you form as a band?
Aurora: I was having a meal in Beijing, when I got a call from my dance teacher who told me to come for an audition.
Saebom: When I was at college, I wanted to learn how to sing, so I visited a music academy. The teacher there recommended that I should try out to be a singer; that is how I came to be a part of this company and debut as Sae-bom, a member of NATURE.
Lu: My voice coach recommended that I should take an audition at our company and that's how I got to join this group.
Chaebin: After I sat for a college entrance exam, I was on my way home with a friend, and was casted by the team manager at our company.
Gaga: I was recommended to take an audition at my current company, and then started my training.
Haru: I was in Korea to study dance and then got casted.
Loha: I was a trainee at a different company for a while, then I made a decision to leave and returned to my hometown in Gwangju. I attended an academy there and started training. Our CEO had watched one of my K-pop cover videos, and asked me to come and take an audition. I got to join the group after passing the audition.
Uchae: I took part in a dance competition when I was a member of the dance club while I was in my third year of middle school. A staff at our company cast me, and I got in after taking an audition. I was trained for a while and became a member of NATURE.
Sunshine: In April of 2018, I went to watch an open audition held by various different talent agencies, and I was contacted by my current company. After about a month of talking to the people involved, I was made a member of NATURE straight away.
What has changed the most for you personally, since your debut as a group?
Aurora: My personality seems to have changed.
Saebom: There isn't anything substantially different for me, but I can search myself on Naver, YouTube, Melon and anywhere else online now.
Lu: I've become more responsible of my performances.
Chaebin: Before, I wasn't that interested in taking care of myself, but after we debuted, I see myself putting in the effort, so I think that has changed a lot for me.
Gaga: My way of thinking and dealing with problems has changed a lot. I think I've become more mature.
Haru: I've become more confident.
Loha: Firstly, I think my overall life has changed. Before debut, I had a more or less consistent lifestyle and routine. But now, we follow the given schedule which differs each day.
Secondly, I can look up "Kang Ye-jin" or "Loha" on the internet to find my photos, which is quite thrilling for me and my parents too.
Uchae: I would've normally been at school on weekdays, but I get to perform at broadcast stations now. Previously, I'd have been watching other people perform on TV, so this has changed the most.
Sunshine: I think my hairstyle has changed. I used to have long hair but since debut, I got it cut short into a bob.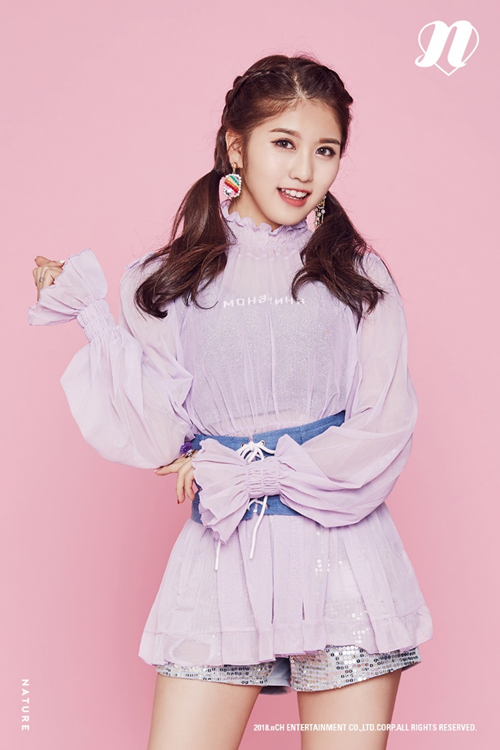 Which song by Nature, are you the most attached to?
Aurora: 기분 좋아 (Girls and Flowers).
Saebom: I'm equally attached to all of our songs, but it would have to be 썸 (You'll Be Mine) for me. I think we attracted the most attention when we had that single out, and the song was very unique from the usual style and concept. And since the choreography was very diverse, it felt more special. 
Lu: 기분 좋아 (Girls and Flowers). The lyrics sound confident and the song gives you a really great feeling.
Chaebin: 꿈꿨어 (Dream About U) for me! I love all the songs by NATURE, but I think that this one is very addictive. The people I know have also told me that they've listened to this song the most.
Gaga: "You'll Be Mine" is the song that I'm the most attached to, the rhythm and style of this song are really to my liking and matches my style well.
Haru: '꿈꿨어 (Dream About U)' which is about telling your boyfriend that you've dreamt of him.
Loha: NATURE – 썸 (You'll Be Mine), since I made my debut through this song when I joined the group, and because I normally like to have parties and do exciting things, this goes well with a party girl theme. The beat and the rhythm sound so fun too.
Uchae: I like all the other songs, but I think Allegro Cantabile (너의 곁으로) is the one I like best, because it's a debut single and the first ever music by NATURE.
Sunshine: NATURE – Hey Jude (OST from K-drama Spring Turns to Spring)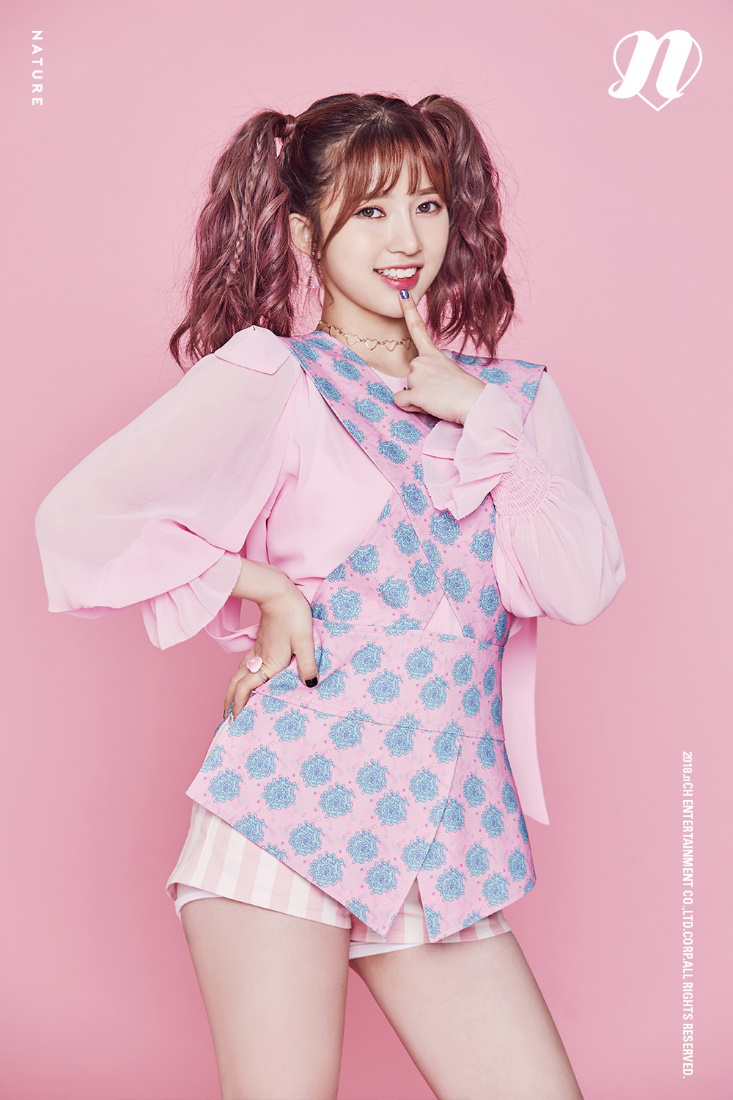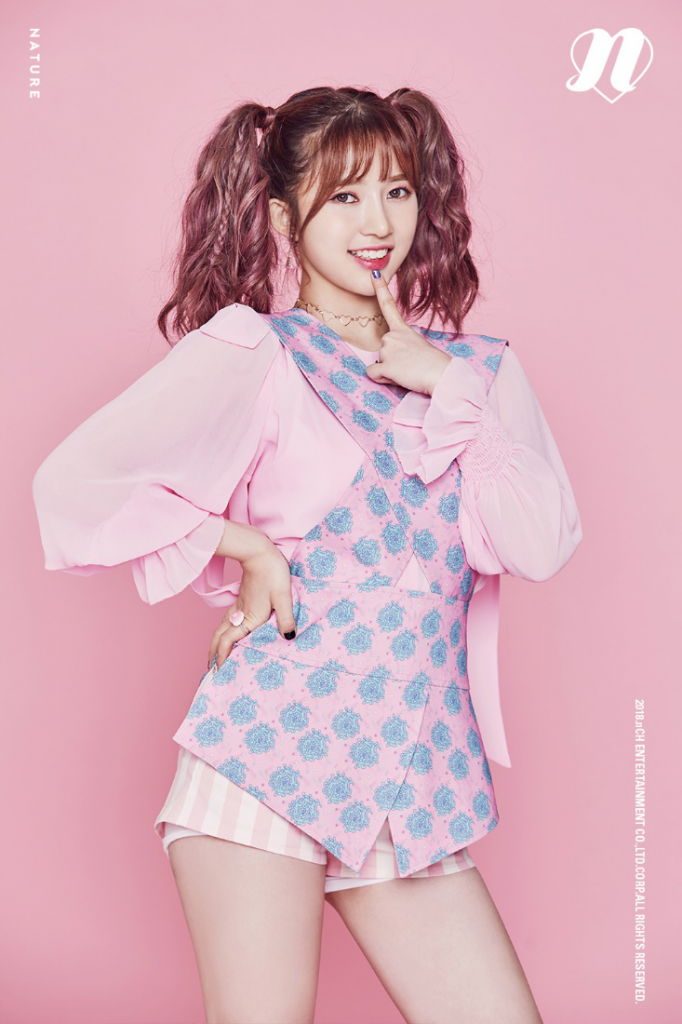 What is the first thing you do when you get up in the morning?
Aurora: I have breakfast.
Saebom: Uhm… first I look at my phone. And drink water and then shower…
Lu: I go for a run.
Chaebin: I turn all the alarms off.
Gaga: Open my eyes?
Haru: I wash my face.
Loha: I yawn loudly and check the time from my phone. Then I watch two to three music videos that I like and lie around for a bit more, before I go and wash.
Uchae: I get up and wash up, then eat have an apple.
Sunshine: I yawn and turn the alarm off.
Tell us about your current hobbies or interests.
Aurora: I like spending time on the phone, watch animations, play games, and read novels.
Saebom: These days, I watch one or two movies (regardless of the genre), before going to bed. I also read books and write lyrics down on a note pad. I just write random things that come to my mind at night/dawn, and since I didn't really learn it professionally, I'm just doing it as a hobby for now.
Lu: Crush is my favorite singer and I love to play the guitar. Crush makes music that I want to take after, while my guitar is my ambition and a lifetime companion.
Chaebin: My hobbies are going to the movies, the Coin Karaoke, and coffee shops to have iced Americano when my work for the day is over. I guess, it's all about singing, watching movies and taking rest for me.
Gaga: I like watching dramas and movies in my free time, especially English and American dramas. Also, I love to travel and taste food with my friends all over the world.
Haru: Cooking.
Loha: I love watching American TV series and movies so much that I watch at least one episode before heading off to bed. I also enjoy doing decorating and interior designs. These days, I like to make my own choreography to some of my fav songs, or enjoy freestyle dancing with the music on. I also like interpreting lyrics to pop songs, which is a form of studying English as well.
Uchae: Since there are so many good songs out right now, I like to work out or read mystery novels with the music on. In the past, I used to like going out to movies and shopping a lot, but these days, I enjoy just sitting around and listen to songs.  
Sunshine: My hobby is listening to music, by looking closely into the meanings and emotions behind the lyrics! At times, I put a song on repeat to concentrate on the drums, base and piano.
Tell us which songs or albums you normally enjoy listening to.
Aurora: 徐佳瑩 (Lala Hsu) – 失落沙洲
Saebom: I love hip hop, old pop, country, and just about any type of pop music. The song I am into these days is Joji's Slow Dancing in the Dark, which I listen to frequently.
Lu: Michael Jackson – Rock with You. Because it's so up-to-date and trendy, that I can't believe it was produced 40 years ago. I love the melody and the back chorus of the song.
Chaebin: I tend to listen to a variety of songs, instead of just sticking to one song, but I listen to Ariana Grande's breathin, a lot.
Gaga: I listen to different kinds of music and it's hard to tell which I like the most. However, if I had to pick just one, I would say Highschool musical. Cuz it's the theme song of the movie I liked most when I was a student.
Haru: NATURE's '썸(You'll Be Mine)'! I hope you all check it out!
Loha: The song that I listen to the most often is, Anne-Marie's 2002. Because I'm a romantic, I find the lyrics extremely romantic and it makes me feel like a main character from a romantic movie. The album which I listen to the most is Ariana Grande's Thank U, Next.
Uchae: I usually listen to a lot of R&B and ballads. I especially like listening to Baek Ye-rin and Crush sunbaenim the most.
Sunshine: Kim Kwang-seok – 잊어야 한다는 마음으로 (With A Determined Heart To Forget You), Kim Hyun-sik – 내 사랑 내 곁에 (My Love, Next To Me), Vinxen – 전혀 (Not at all), SF9 – Fall in Love, BTS – Rain, DALJOHNBAM 달 좋은 밤 – Liar, Taeyeon – Fine, and Apink – Wishlist.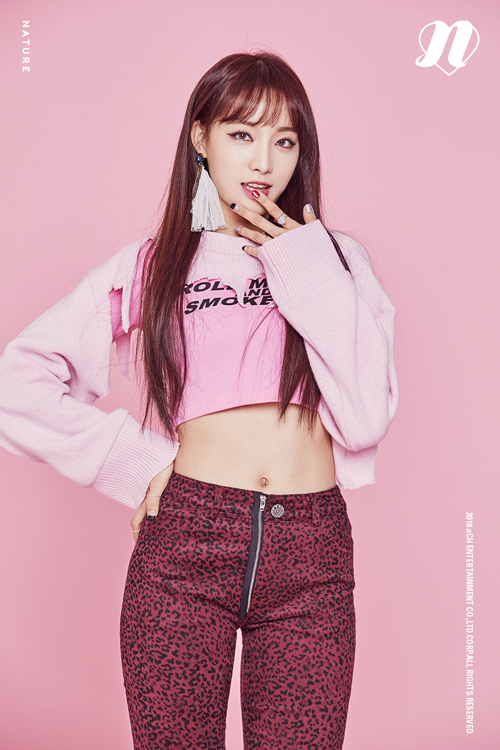 What kind of food or beverages do you like the most or dislike?
Aurora: I like meat and dislike creamy foods.
Saebom: There aren't any kinds of food that I dislike. I especially like anything made of flour, anything sweet, spicy and rich. I love tteokbokki and cheese balls, and I've been eating a lot of that lately. I also love pizza, sujebi, pasta, macrons, chicken and all kinds of meat! I love noodles too. Love it all.
Lu: I like sushi and ice cream. I don't really have any foods that I dislike. 
Chaebin: I love chicken and pasta. I hate veggies. For beverages, I like them all, except for anything bitter. 
Gaga: For drinks, I like avocado milkshake the best. For food, it is definitely hot pot! I don't think there is food that I don't like.
Haru: I love macarons and cheese. There is no food that I can't eat.
Loha: I really love pizza and pasta the most. I also like soda, sikhye and fresh strawberry juice. I dislike green bell pepper, paprika and broccoli. 
Uchae: I really don't have any foods that I don't like. I can eat just about anything so well. I love sushi the most. I've actually had a hundred of them when I went to a sushi buffet, the other day. 
Sunshine: I love coke the best. I dislike to eat peas, bananas, shellfish and cucumbers.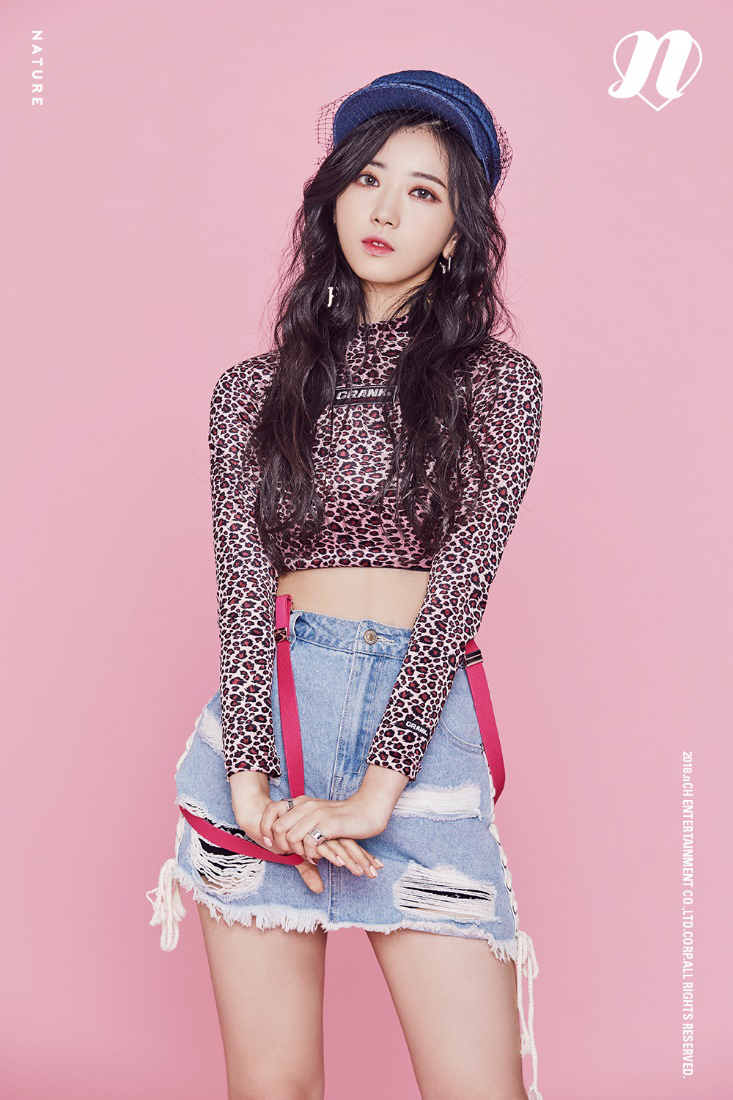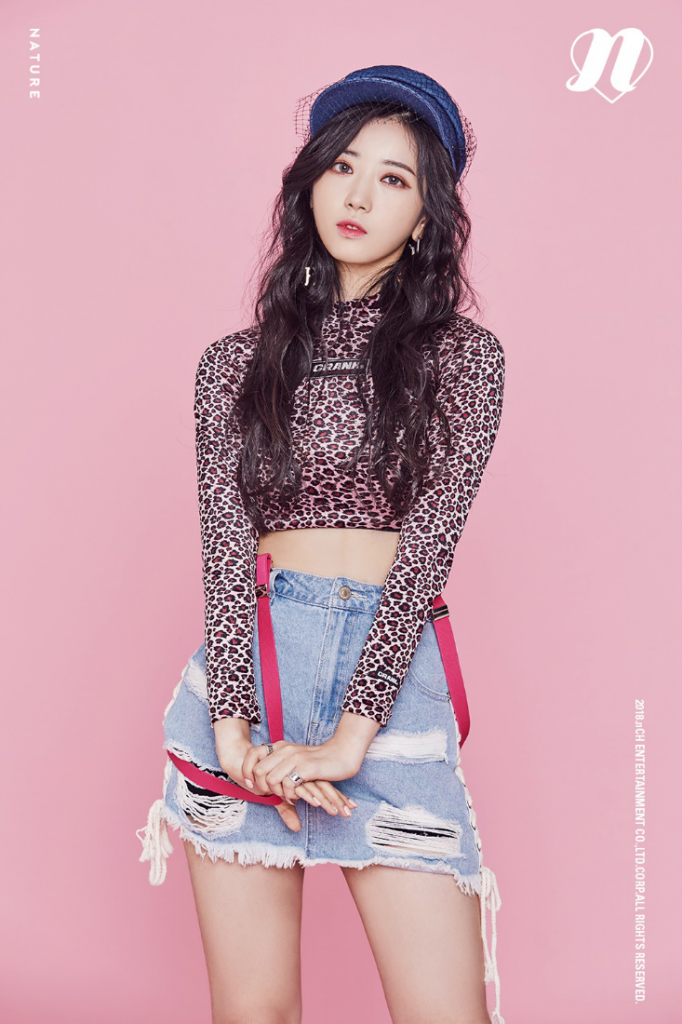 In your opinion, which color suits your personality the most?
Aurora: I don't know which color suits my personality the best, but I like yellow and white because it's clean and fresh that represents hope.
Saebom: Black or red! I chose these colors, since red seems fierce, strong and glam, while black has both calm and peaceful aspects to it.
Lu: White and red. 
Chaebin: White suits me the best! And it goes well with my personality as well. I am a pro-peace person and that may be the reason why.
Gaga: Light blue because it symbolizes freedom for me.
Haru: Pink.
Loha: The rainbow colors! I have extremely cheerful and eccentric personality and charm; which makes me very unpredictable and I suit all colors so well. 
Uchae: I like it's indigo, for me. When I asked the other members, they said indigo suits me the most because of my quiet and calm personality. 
Sunshine: I think, purple goes well with me and my personality. The other members all said purple suits me too!!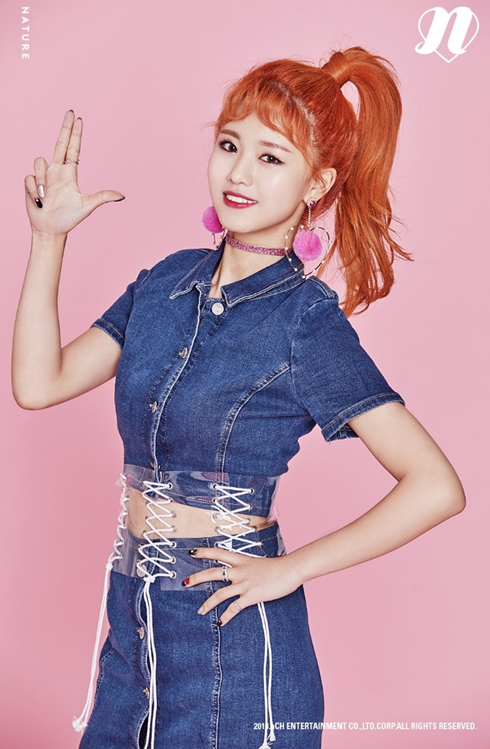 Who do you admire/respect the most in the world?
Aurora: My mother!
Saebom: I don't think I have one, as of yet.
Lu: No one.
Chaebin: Actress Jun Ji-hyun. I find it ever so fascinating that anyone can emit such natural and aura while acting.
Gaga: My parents. I am the only child in my family. My parents raised me for 18 years. Now, I've grown up but I had to leave and cannot accompany or look after them. They still support and inspire me a lot.
Haru: I don't have anyone.
Loha: My parents and BTS sunbaenims for me! My parents are whom I admire and respect so much, purely by their existence. I love them more than anyone.
I admire BTS for working so hard and for still being able to focus and stay true to when they first got started. I admire and want to take after them, since they shine so much on stage and in everything they do.
Uchae: The emotional laborers. I recently saw a video about the subject, and I was very moved and cried when I saw how they handled and completed their required tasks, despite having to deal with people who were mad and rude to them.
Sunshine: The Korean poet Yun Dong-joo. I admire how he had his own way of doing independence movement.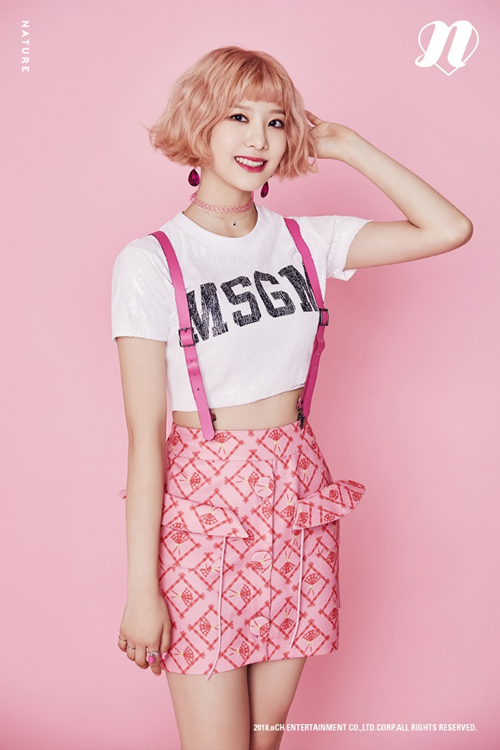 What do you do to release stress and tension?
Aurora: I'm still searching for a way. 
Saebom: I take walks while listening to music. Or I find something that I can concentrate on, so I can forget about the issues that I am dealing with at the time. I also watch movies or find a book to read. 
Lu: I work out, play the guitar or watch movies.
Chaebin: I go out to watch movies with my friends to release stress, which helps a lot. 
Gaga: Eat. The best and fastest way to release stress is to keep eating delicious food with my friends.
Haru: I go for a run. 
Loha: I talk to my parents on the phone, or do a lot of energetic dances. I also go to sleep while listening to my fav songs, watch American drama series or movies.
I play with my dog, Wendy too!
Uchae: To release stress, I listen to music, while taking walks down Han River, meet up with family members or friends and have a nice meal or something. 
Sunshine: I listen to music or watch a movie. 
Do you have any habits that you'd like to fix?
Aurora: I tend to forget or lose things easily.
Saebom: I make a peculiar noise when I sneeze, and it's pretty funny. I want to fix it to a more lady-like sound.
Lu: Want to stop being clumsy.
Chaebin: I don't really have any.
Gaga: I like playing games so much that I sometimes forget to sleep, so I wanna change this habit.
Haru: I draw my eyebrows when I have free time.
Loha: I bite my nails, eat food any time I get hungry, and I have to watch a movie before falling asleep, even if I'm really fatigued.
Uchae: I want to stop having useless thoughts and stop worrying about things that will never happen.
Sunshine: I have a habit of continuously scratching my forehead when I'm in the waiting room.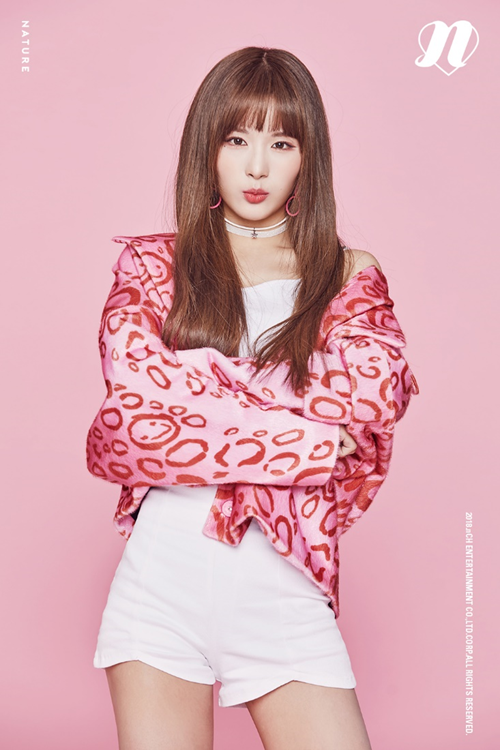 Which country or venue would you most like to perform at?
Aurora: China.
Saebom: South Eastern countries, because I love the hot climate. I want to experience the passion from the crowds, and show our passion in return.
Lu: Tokyo Dome in Japan.
Chaebin: I can't select just one place, and I'd love to go anywhere to perform.
Gaga: Definitely a world tour. But I want to perform in China the most. Since it's my home country, and the best stage is a place where my family can see me doing what I do best.
Haru: Tokyo Dome.
Loha: My biggest goal is to perform at the Billboards Awards or the Grammy's.
Uchae: If we can get our name out there, I'd love to go to perform anywhere!!! If we can get more people to become LEAF, then I would love to do a concert in Tokyo Dome! 
Sunshine: I want to perform at Seattle, in the States. My brother is there for his studies, and he has never seen me perform before.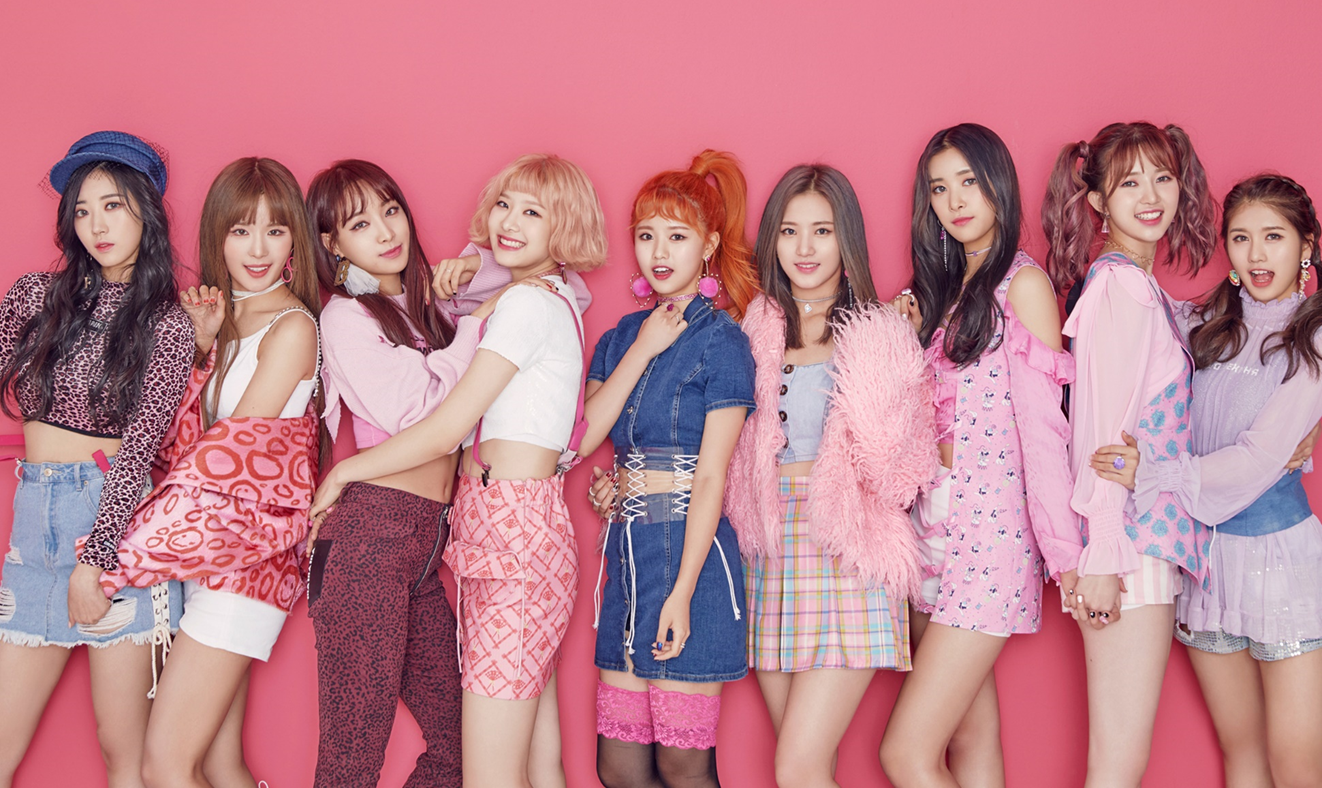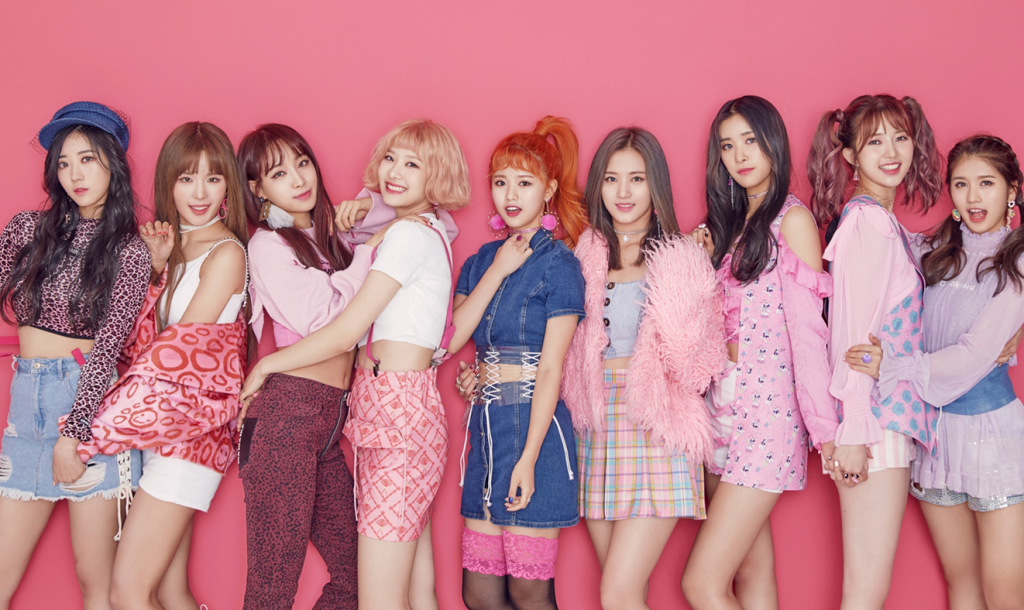 Tell us about your plans and wishes for the future – please say something for the fans too.
Aurora: For the fans that we haven't gotten to meet yet – we are waiting and working ever so hard for the day when we can all meet. See you all, soon.
Saebom: Our goal is to show much more enhanced performances for our fans, LEAF, and be an inspiration to them. We'll be working on our album so, see you all soon! Miss you lots!
Lu: We'll be back with more to showcase. Don't forget about us and we all look forward to our return ~
Chaebin: We'll be back very soon! If given the chance, we want to show LEAF that we can act too. We'll be back in no time, so please wait, love you LEAF. ♥.
Gaga: I will practice more to make further progress. For those who love me and support me, I will work harder become better, and not disappoint them.
Haru: Our goal is to let the world know about us. And we're always so grateful for your support! We exist because of you, LEAF. Stay with us forever. ☺️
Loha: Our biggest goal is for NATURE to become successful, and my future plans would be to work hard to achieve and expand into acting and feature in commercials.
NATURE's biggest ambition is to work hard to further develop ourselves, and go on to win a billboard or a Grammy award in the future.
We love you, LEAF, we'll do our best to develop and grow so your time spent on giving us your love and support would not be wasted. Please stay with us in the future, as you're doing now. Love you.
Uchae: We spent quite a long time promoting SOME and Dream About U – we managed to pull it off, thanks to all the people who came to see and support us. We aren't certain when we'll be back as of yet, but we'll make sure to showcase a better version of NATURE that we can be proud of! I love you, LEAF! ♥ We hope that we can become a global group, and get to do what we want as individuals as well!
Sunshine: We'll do our best to improve and enhance in various ways, so we'll be back with great music for our fans in the future. We'll also communicate with our international fans, a lot more too!!
— J. Chung.
1 response to "KCRUSH Interview with NATURE"
Related Articles