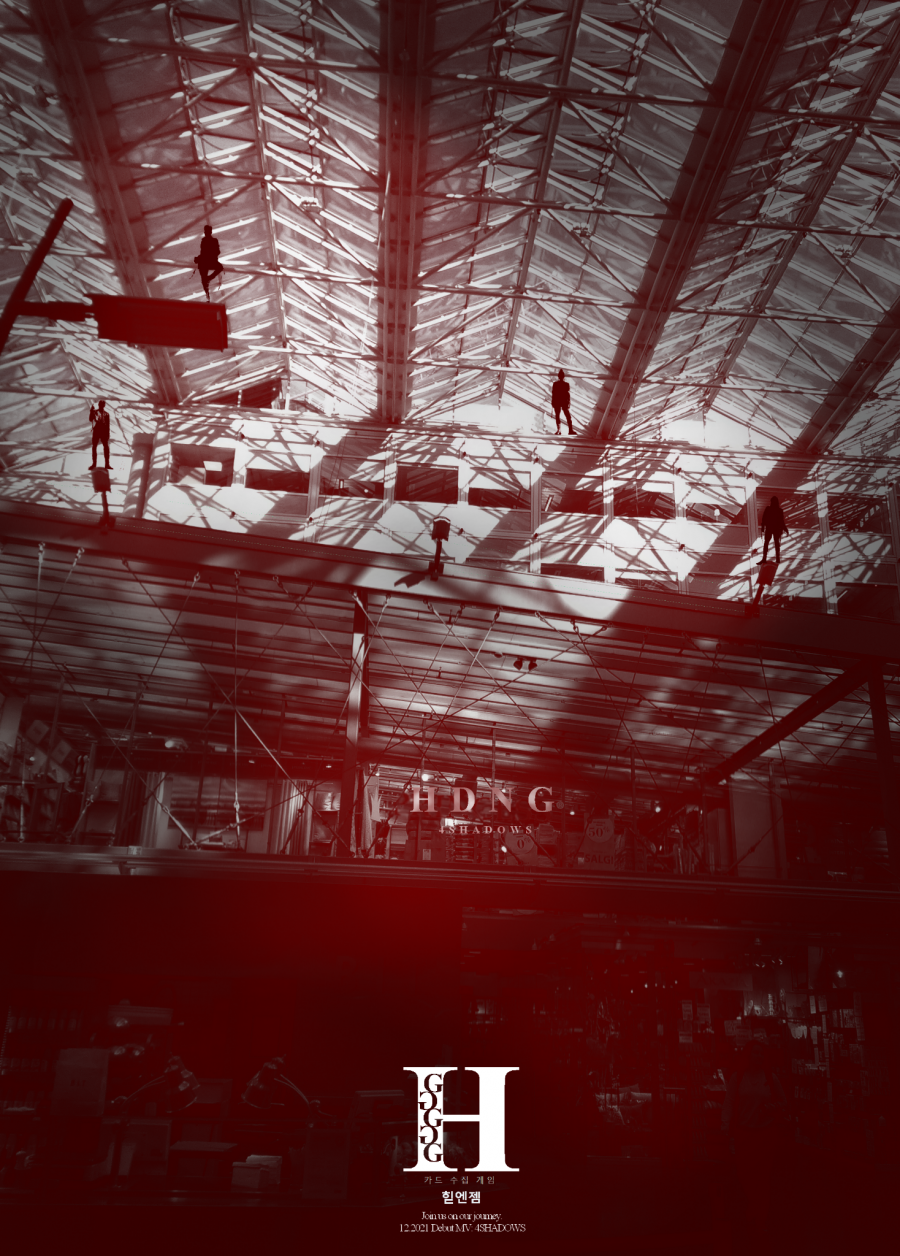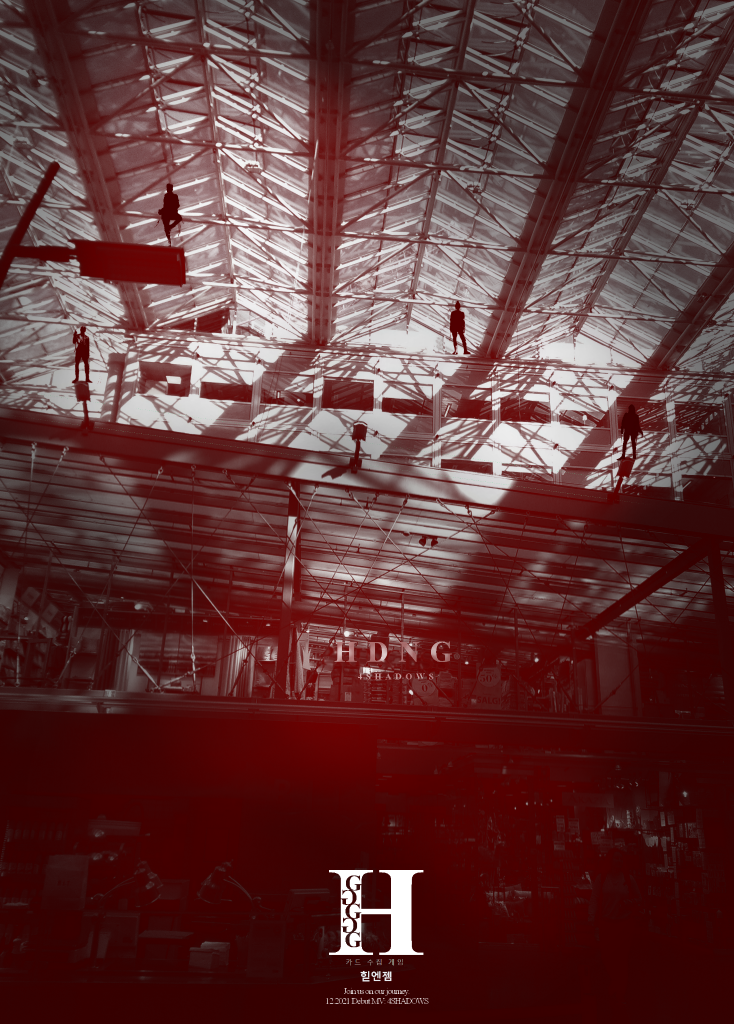 HID&GEM (힏엔젬, stylized HDnG) consists of four members: Roars, Airson, GoldenAge and X. HDnG's main concept is to have the members' identities concealed until the group reaches 1 million views.  
The four-member group made its debut on 25 December 2021, with 4SHADOWS.
We'd like to thank the members of HID&GEM for this interview, and we wish them all the best in all their ventures!
Would you introduce yourselves to our readers, please?
Roars: Hello, dear KCRUSH readers, we are HDnG! Thank you for liking a small group. HDnG has a lore concept and a shadow concept. We hope to give everyone something new every day.
Airson: For the HDnG interviews we have done before, we said hi to everyone in countries like Poland and Brazil. To all the readers of KCRUSH around the world, HDnG says hello to you! I am Airson!
GoldenAge: Hello! For HDnG Lore, all 4 members have special characters. We have a mission, to find real identity from 100 characters. In the first HDnG Lore, I am Nyeve, a girl who can make thunder.
X: Hi, KCRUSH America, we are so happy to meet you. Airson's English is bad, but he will translate for us today.
Tell us the meaning behind all your names, and enlighten us on how the names were created.
Roars: Every member has a Korean stage name created in the summer. I am Jae-in, the other members are Hayan, Gu, Da-il. But our company decided on a shadow concept, so it is hard to know which member is which. Then in the summer, every member got a new English stage name with English meanings to fit each member's voice. My voice is a lion.
Airson: Hello! Airson sounds like the wind. Hope my voice gives you calm, comfortable vibes.
GoldenAge: My voice sounds like a memory from like 100 years ago. Maybe like a boy, like a girl, like an old person, like a child – all together at the same time.
X: The real story is, because I am a rapper, I don't have a very unique voice like the other three members. So my voice is a mystery, X.
GoldenAge: Actually, staff have a special answer for X's voice – it sounds like cream black charcoal, drawn on rough paper.
What are HDnG's concept, direction of music, and musical qualities?
Roars: HDnG's concept is that we are four shadows in a card game, we have to find identity from 100 people. If we guess wrong, then we also disappear. To make the concept more fun, 100 people all have a story. HDnG Lore will have 100 stories. I hope all 100 characters can become your friends.
Airson: HDnG's music concept… Before, we did not answer in interviews, but now, 4 SHADOWS and secret B-side HEALON'S THEME both are on Youtube, so we can say our concept, lol.
The concept is that each member has a special music genre, and four genres clash together to become DUBSTEP. In 4 SHADOWS, Roars is 1980 dance music, X is trap, Airson is celtic, and GoldenAge sounds like a 1910 old CD. Okay, the staff told Airson that it is not a CD. It is vinyl.
GoldenAge: Airson takes all the answers, he's a very naughty lead vocalist. Pre Chorus in 4SHADOWS, is traditional Korean music style with bells. One PRYSMA in the world wrote a comment on December 25, saying that 4SHADOWS is like Pansori. Dubstep Pansori, is 4SHADOWS concept, haha.
X: Actually, I remember, PRYSMA said Pansori for HEALON'S THEME Secret B-side. In Pansori, there is some talking, so maybe in the future, HDnG will do very traditional Pansori? For now, we are finding new things we can bring from Korea, then we'll see if the world likes it!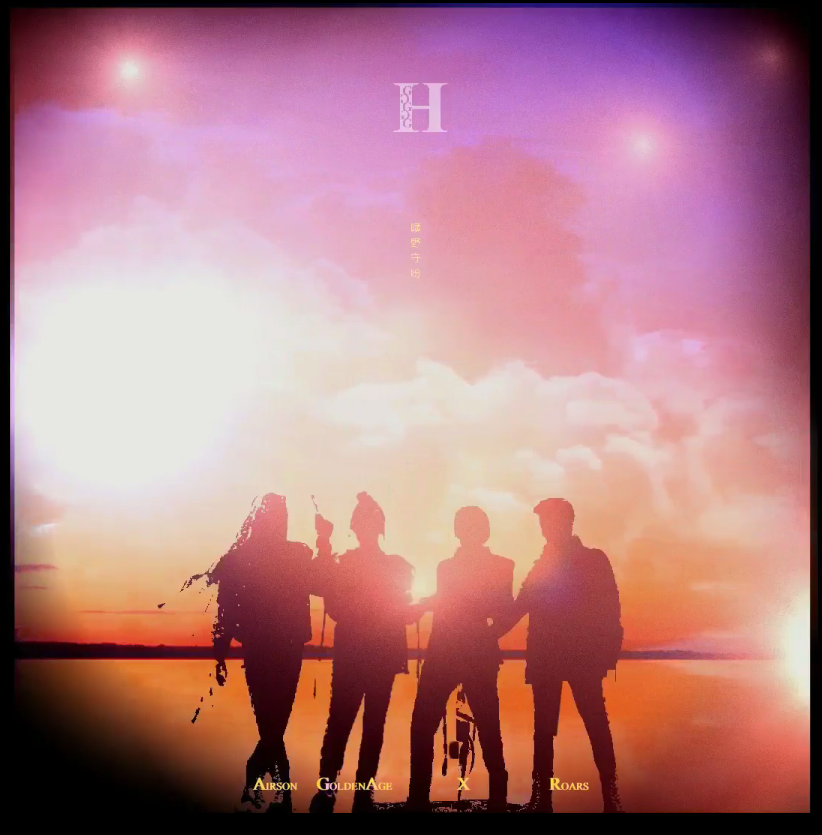 Tell us how you all got into music and was this something that you wanted to do growing up?
Roars: I liked music from childhood and watching TV with my nanny. I would stand in front of the TV to watch idols sing. But my childhood dream was to join a surfing competition in Hawaii.
Airson: Roars forgot his old answer, lol. Roars like music, because of movie music back then, and he introduced some good movies to me. I like music because of music from overseas like Celtic songs. Also, the elvish themes from Lord of the Rings! My childhood dream was to become an elf, haha.
GoldenAge: My mom. Mom taught me many old songs and hymns. My dream was to have talent in the future. I didn't know what kind of talent, but in childhood, I hoped I could have talent in the future.
X: I like many rappers, and Roars is the lead rapper, so I like him. For singing, I can say that it's something special because of HDnG's concept, and many songs sound like OST for movies or anime. And to have rap in every OST, like HEALON'S THEME sounds bad, so the staff say that X also has to learn singing. So for music, I learned a lot from the three members. One special thing is that the three members have to sing in a unique way, so their voices will not mix up with my voice. Those three members keep a space for me, so I can have an easy time singing.
How would you describe HDnG's musical sound in one word?
Roars: Hard.
Airson: Dark.
GoldenAge: Roars and Airson answered like that because HarDark is HDnG's old group name. I would say it's OST.
X: Fantasy.
Which artist would you most like to collaborate with?
Roars: We had TikTok before we had our debut, and on TikTok, we shared dance videos we like from many groups who inspire us to be good idols. So there are maybe 200~300 groups, and it is true, HDnG members like too many groups, small groups, and even disbanded groups. If you like, you can come see HDnG's old TikTok from 2021, and watch some very good dance videos from 300 groups, lol.
Airson: One other thing that we may like to try is to sing together with some singers outside of our country. I mentioned in an interview before that we'd like to work with Enya, and Miriam Stockley, now I will add one more: Afro Celt Sound System.
GoldenAge: Maybe it is hard to find a different answer because Roars already answered 300 groups… GoldenAge will say, any group who disbanded that we like. We want to say thank you to them for giving us a happy childhood. 1st generation group, 2nd generation group, 3rd generation group, thank you for making our hearts warm in 2022 and in the future.
X: Ok, I have to think of a new answer, maybe for something new, partner up with a vocaloid person, like Japanese singer Hatsune Miku. Or anyone who likes to sing together with HDnG, HDnG will run to sing with  you!
Please recommend any songs that you listen to frequently nowadays.
Roars: At the company, we listen to new comebacks every day. Then we train their songs and learn their choreography. So everyday, there are so many new things to do for us, so it is hard to answer!!! Today is the second month in 2022, and song we learned is TAN 낙하산은 펴지 않을게요
Airson: TAN!!!! TAN!!! I was very happy to see TAN because C-CLOWN and 24K are the groups we like very much. The one song I like very much is TREI – TURN THE LIGHT.
GoldenAge: It is an old group, but because Airson said TREI, which makes me think of  EXID. EXID songs UP DOWN and WHO'S THAT GIRL make me have hope – many songs, even when people do not like them, or do not know them, can still be good songs.
X: Roar's snoring.
When do you feel the most content or happy?
Roars: When PRYSMA feels happy, because it makes us feel, HDnG's work is affected by them.
Airson: Maybe when I see something amazing in nature like white clouds.
Or when the staff give us some new information from outside the country, like we have a new interview today. Thank you!
GoldenAge: When together with family. Or when people who work very hard, the world sees them work very hard. When the world sees these people, I feel very happy. Also, this answer is not for HDnG, HDnG does not work very very hard, Airson and X eat snacks every hour.
X: Maybe when everyone cheers for the same goal. When everyone works for the same goal, I feel very happy.
What's the first thing that you tend to do when you get up in the morning?
Roars: Wow, this is a special question. I check the time, then count how many hours of sleep I had. I know from the clock if today will be very tiring for training, I would have a plan for the day's training.
Airson: I wake up, and think about what kind of work I'll be doing today, how to do work very well and how to be better. Then realize everything is in a dream, actually, I am still in a dream world and did not plan on anything.
GoldenAge: Sleep. Sleep is a very good feeling. I sleep, until the staff comes.
X: Is going to the washroom a good answer? Maybe not. New answer: I take the phone and take a picture of the three members sleeping.
Tell us about your interests or hobbies you have.
Roars: I hope to direct a movie one day. Then go to a different country of the world, maybe a small place of nature, where no one will find me. Turn my life like an adventure movie.
Airson: Drawing!
GoldenAge: Draw, watch old videos, maybe read books from child time.
X: Gaming. One day, I hope I can make a game. A game in "Ri", based on the world of HDnG Lore. Fashion design.
Tell us which artists you admire, and what direction of music you'd like to pursue in the future.
Roars: Wow, this is hard! To choose an answer, maybe for now, EXID's SOLJI, because her group disbanded, then she joined EXID. Also, she has a lot of health issues and she is so strong. Any person who works very hard to make people feel happy, we want to learn from them.
Airson: In the future, I hope HDnG makes something to show the world, and show that HDnG can perform many different types of songs. But I also need to keep HDnG style. So it is hard. Dear PRYSMA, thank you for waiting for us, HDnG feels so happy when we know PRYSMA around the world is waiting for us four members.
GoldenAge: HDnG has one dream. In 200 years, when people find a HDnG song, maybe 4SHADOWS, they can still say: Oh, what a good song! I hope every song we sing can make this dream come true!
X: Hip hop, more rap. It is hard, because rap and HDnG Lore concept do not match together, LOL.
Share with us the goals and plans for the year ahead.
Roars: It will be hard, but I hope we can have a new song each year, and new Lore characters for PRYSMA. Every day, we will train and try to make our dreams come true. We hope we can achieve our goal! If we achieve this, HDnG wants to say thanks to everyone from all different countries for giving four boys a chance, a chance in Korea, and a chance in the world.
Airson: I hope 2022 is the year when the new PRYSMA will have many happy times and make new friends. The members sometimes use a translator to read PRYSMA messaging each other, which makes us happy.
GoldenAge: Small secret, no spoiler, there are some "hidden" words in 4SHADOWS video, and in Lore wiki, it tells secrets regarding HDnG's future. Hope one day, all hidden words come true.
X: My plan is to try out new things. HDnG's goal is the same as the company's, which is to always try out new things. If the new things have a  0.00001 chance to meet a new PRYSMA, and make more PRYSMA happy in the universe, we will try to do that for you. Thank you!
– J.Chung.
#PRYSMA #HDnG #HDnGX #HdnGGoldenAge #Airson #Roars #kpop #gaming #gaminggroup #newconceptgroup #4SHADOWS #newsong #HID&GEM #fourmembergroup #DUBSTEP #HealonsTheme #Koreangroup #koreanpop #OSTmusic #fantasymusicsound #hiddenwordsin4Shadowvideo #kcrushinterview #kcrushnews #HatsuneMiku #AfroCeltSoundSystem #EXID #Pansori #SecretBSide #4shadowsinacardgame #cardgame #traditionalkoreanmusic #musicwithbells
Related Articles