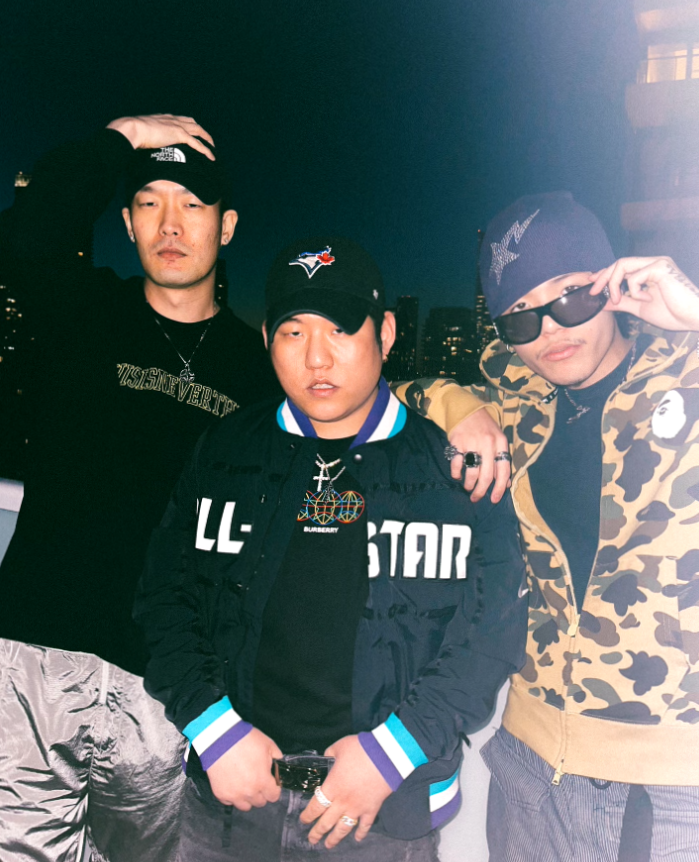 We're happy to bring an interview from Foreign Flow for our readers. Foreign Flow is a South Korean, Toronto-based independent Hip-Hop and R&B group that consists of rappers JA$, MannyKief and Millkissdrip. We'd like to thank the members for taking out the time and wish them all the best in their careers.
Please briefly introduce yourself to our readers.
JA$: Hi, I am JA$. I am a Korean Canadian rapper, Currently mixing Foreign Flow music. So far I have released my first tape on all the platforms, and other team albums including MannyKief's.
MannyKief: I'm MANNYKIEF, I Started from FPL Crew in around 2015 and I was back in Seoul for my music career. Now I'm back in Toronto doing good with Foreign Flow.
Millkissdrip : Hey I'm Millkissdrip, I am an hip hop R&B artist born in 1998 Busan, Republic of Korea. Moved to Canada with family at age of 10, now living in Toronto. My music speaks my stories. Without the people/ energy around me, I wouldn't be who I am today. Music has always been part of my life ever since I was young. From playing band instruments to playing other instruments in the garage with childhood friends; it all started as fun or as a hobby. I pour my heart into this. 
 There are many amazing people I met during my journey who I call my family; brothers and sisters of Foreign Flow and WVVY. I am grateful and excited for the upcoming journeys and opportunities. Let's enjoy our journey/ process and reach our goals. To learn more about me listen to my music. Thank you to every single one of you listeners. It is always appreciated. One love.
Tell us how you got influenced to make music. And, please name some of the artists that affected or inspired your sound.
JA$: I was a heavy listener till I got curious how I would sound if i tried rappin, then that became my hobby since the 90s.
MannyKief: When I started to listen to Hiphop, I used to listen to OG Southside side Hip Hop like T.I, 2chainz, Ludacris.. Back in the days. Now I like Young Thug, Juicy J, Kodak Black, Tory Lanez, etc.
Millkissdrip: Music all started as a hobby and fun for me. As I continued having fun with music, I started to gain people who do music around me. The energy from the people around me allowed me to pursue the dream of making music seriously. When I used to live in Korea, I used to listen to lots of BigBang. When I moved to Canada, I was introduced to and started with The Chronic by Dr. Dre. Soon I was heavy into the New York music scene in Queensbridge and Brooklyn, etc..; Nas, Mobb Deep, AZ, Cormega, and many other inspirational artists.
How did you come up with your name "Foreign Flow"? Is there a hidden meaning behind it?
JA$: Foreign Flow was created 2 years ago however we recently started to grow our group with different sounds.
MannyKief: I'm the newest member here. I came to the group in 2020.
Millkissdrip: Our childhood was part of a multicultural environment, we deliver our foreign sounds to the listeners not just to the Korean scenes but local and international. We learn and share diverse cultures in our city, it brings one love and that's Foreign Flow.
Which one of your songs are you the most attached to – and why?
JA$: River from my 506 Tape featuring MANNYKIEF. We finished this within less than an hour, it was effortless and fun to record.
MannyKief: Chal Thug, I like Chal Thug. It is a song on my album MANNYKIEF. It also means rice cake. I like listening to hype jumpy music and this song reminds me of excitement.
Millkissdrip: I have two songs that I am really attached to actually, they are You Love and Bullgae. You love is a special track for me because it illustrates to me how far I've come with my journey in music with skills. Listening to it allows me to keep believing in my process and keep going at it. Bullgae is an exclusive track on Soundcloud and it is special to me because the lyrics are telling my appreciation to the people and everything around me. At the time it was the hardest time of my life suffering from anxiety disorder and panic disorder. This track helped me to fight my fears and disorder.
What kind of music do you enjoy listening to on a regular basis?
JA$: Hip hop, R&B.
MannyKief: Trap music, sometimes R&B.
Millkissdrip: People usually think that I only listen to hiphop, but I am open to every genre whether it is rock, ballad, pop, funk, EDM, classic, I love listening to any type of music as long as it delivers a good energy to me.
We have to ask you about performing at Joy Ruckus Club Festival. How was the experience?
JA$: I was not in the first Joy Ruckus however when we will perform at the next JRC, you will see the different type of music I create and also hear my fans favorites off the 506 Tape.
MannyKief: I had fun. It was a great experience. We can't wait to work with JRC again.
Millkissdrip : It was super fun and I appreciate Joy Ruckus for this opportunity. This was my first ever wide audience show and I am super excited for our future journey and opportunities.
How has Covid-19 affected your lives in general?
JA$: There was a hard time just being alone in the house not talking to anyone, but because of that more time with myself I was able to accomplish a few things in my list. I hope it gets better real soon. Stay safe.
MannyKief: I want to perform! It was hard to know that we couldn't get the opportunity to perform in Toronto and abroad since we want to meet our fans and new listeners in person and hopefully expand our music however doing our Joy Ruckus Show was a fun way to interact with our fans virtually.
Millkissdrip: Covid-19 gave me more time to spend time with myself which I am thankful for. I am continuing to learn more about myself and elevating for the greater. For music wise, covid has affected our group collaborations as we have less opportunities to meet, but we have more time to work on our single works which helps me to build up my skills and gives me more time to find my colours as an artist.
Name your fav food/beverage.
JA$: Spicy jajangmyeon is my comfort food. Coconut water is my hydration.
MannyKief: Chaltteok (Korean rice cake).
Millkissdrip: Samgyeopsal with doenjang jjigae, medium well done steak with mash potatoes, ramen.
Apart from music-related activities, what do you like to do during your free time?
JA$: In my spare time, I like to Coding and making money.
MannyKief: Netflix and chill.
Millkissdrip: Spending time with my friends and family, going for walks, watching movies, eating good food.
If you were to perform anywhere in the world, where would it be?
ALL: Toronto, Korea, Miami, California, New York, Japan, London, Rome, so many places to name but we would love to perform all across the world.
Thank you so much for your precious time. One last question, what plans and goals do you have for Foreign Flow in 2021?
ALL : Our goal for our group Foreign Flow is to not only create more music collectively and solo and bump our visuals but to also connect with new artists inside and outside Toronto and around the world. We just believe in our process and take every challenge, opportunities coming our way and enjoy doing what we love which is make music.
–J.Chung.
One response to "Kcrush Interview with Foreign Flow"
Related Articles