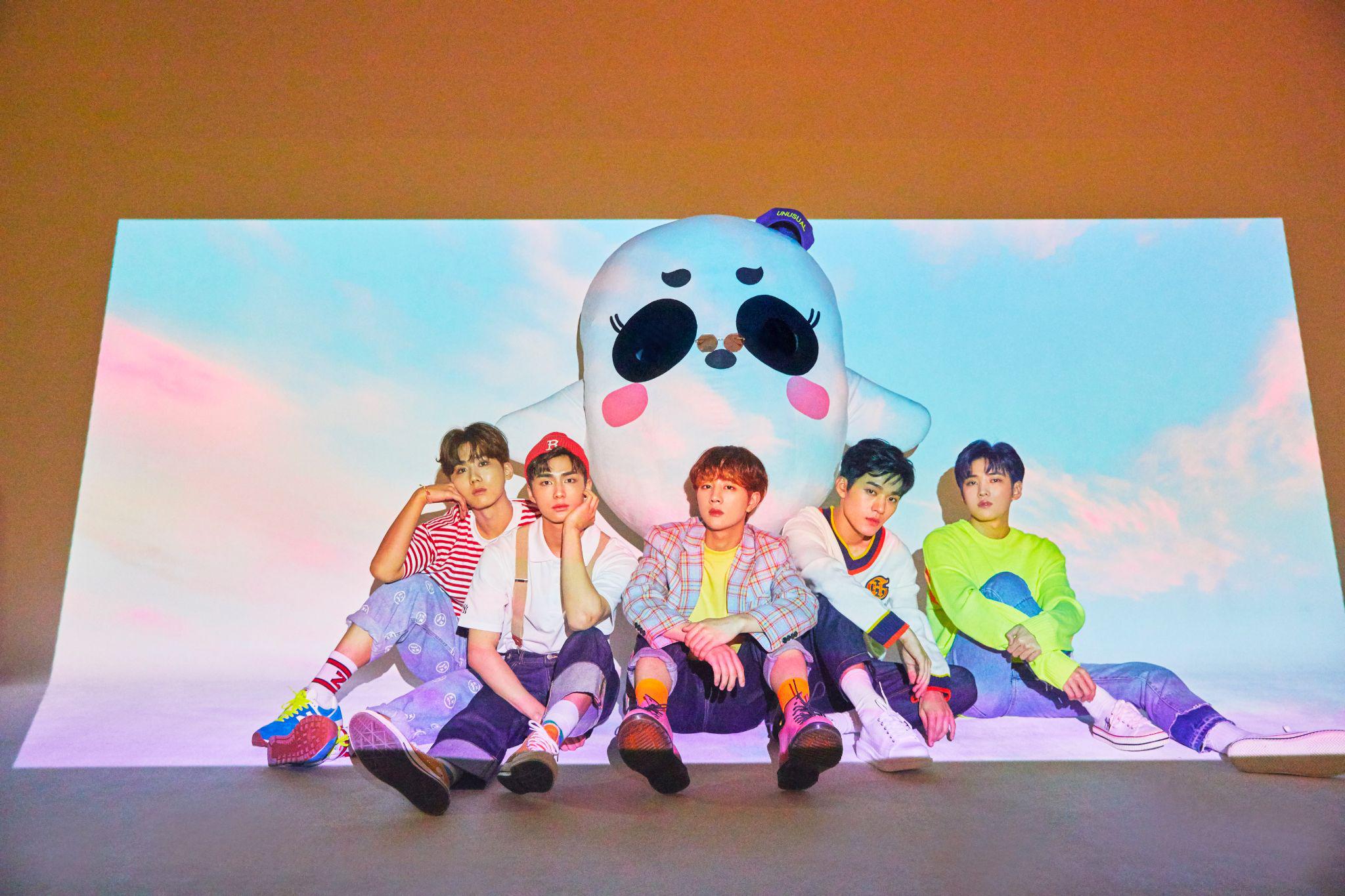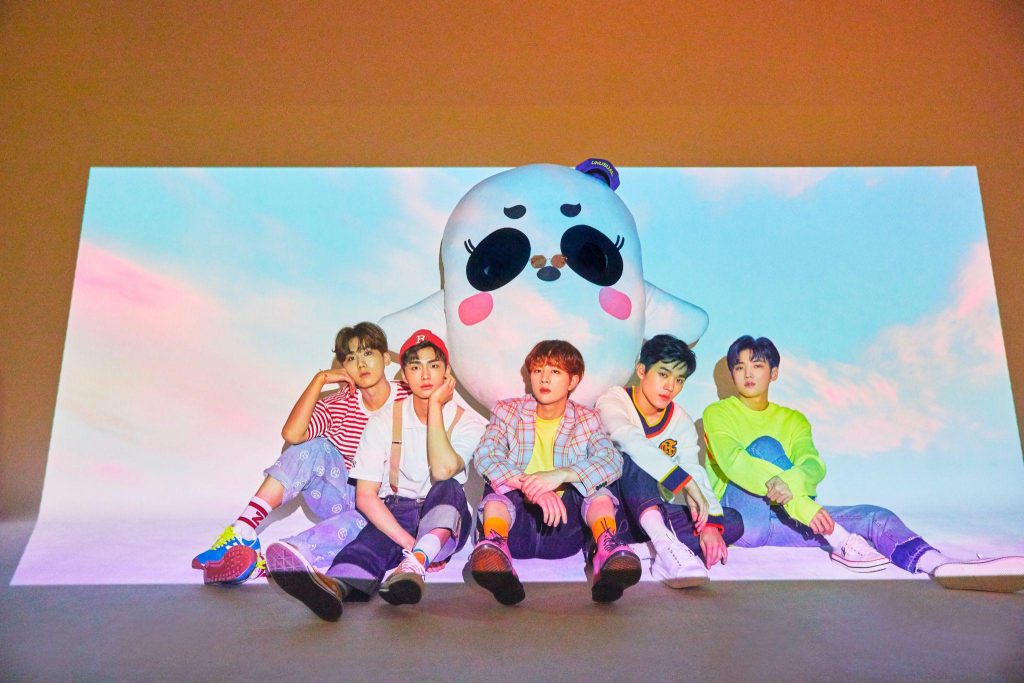 DONGKIZ (동키즈) is a South Korean boy band signed under Dongyo Entertainment. The members consist of five members with the names Wondae, Kyoungyoon, Munik, Jaechan, and Jonghyeong.
The band made their debut in April of 2019, and most recently released their fifth single album "Chase Episode 1. Ggum" on July 1, 2021. We express our thanks towards the members of DONGKIZ and their management for making this second Kcrush interview happen, and wish them much success in pursuing their dreams.
Hello, everyone. This is actually our second interview with you. Thank you for making the time. Please introduce yourselves to our readers.
Wondae: Hello, I am Wondae, the leader of Dongkiz.
Kyoungyoon: Hi, I am the macho guy Kyoungyoon of Dongkiz. Nice to meet you all~!
Munik: Hey, this is the lovable Munik! Thank you for interviewing us again!
Jaechan: Hello, I am Jaechan. It's great to meet you all here.
Jonghyeong: Hello. I am Jonghyeong, the maknae of the group. It's great to see you again. 🙂
Please share with our readers about your latest release CHASE EPISODE 1. GGUM and what we can expect from it?
Wondae: The album tells a story about young men gradually growing up in pursuit of their dreams. One of the listed tracks is CRAZY NIGHT which we worked super hard for, and our genius guitarist Kyoungyoon's "Special Thanks to" is also featured in the record. You'll be really impressed when you hear the guitar playing from the acoustic version.
Did you experience any memorable moments or episodes while filming the CRAZY NIGHT (못된 송아지 엉덩이에 뿔) MV?
Jonghyeong: We remember putting on a lot of effort while recording so we would effectively preserve the uniqueness of the song and shooting the music video was hard because of insects! We also had to shoot a scene with a canoe, and we went through a lot of difficulties since Wondae wasn't so great with handling the canoe.
Please tell us your most preferred track from the new DONGKIZ album and the reason.
Munik: We really like CRAZY NIGHT, our new song. We even took an extra day just for the album's cover shoot and because we really worked our utmost in order to produce a great song, we feel that we're the most attached to the song.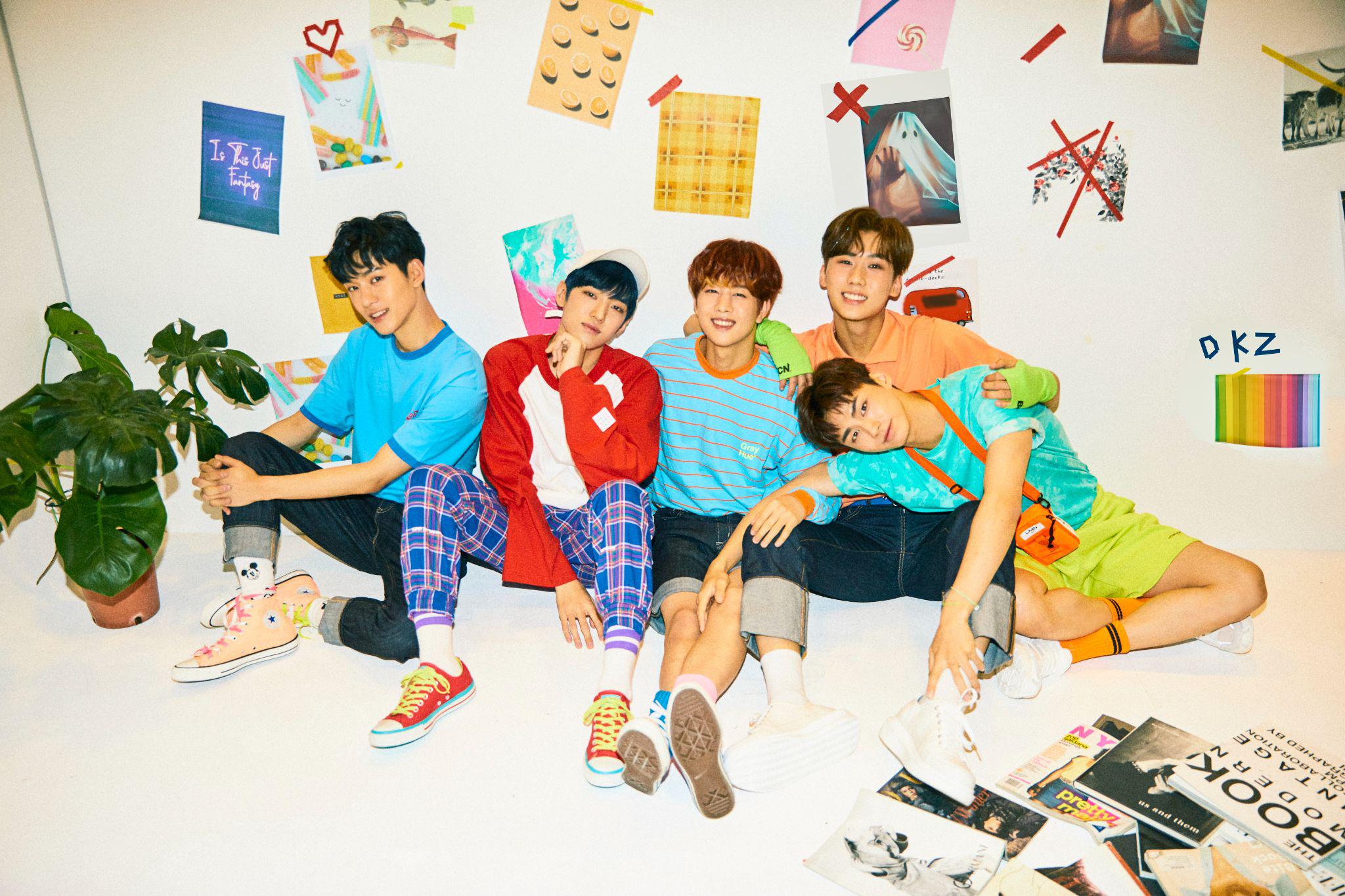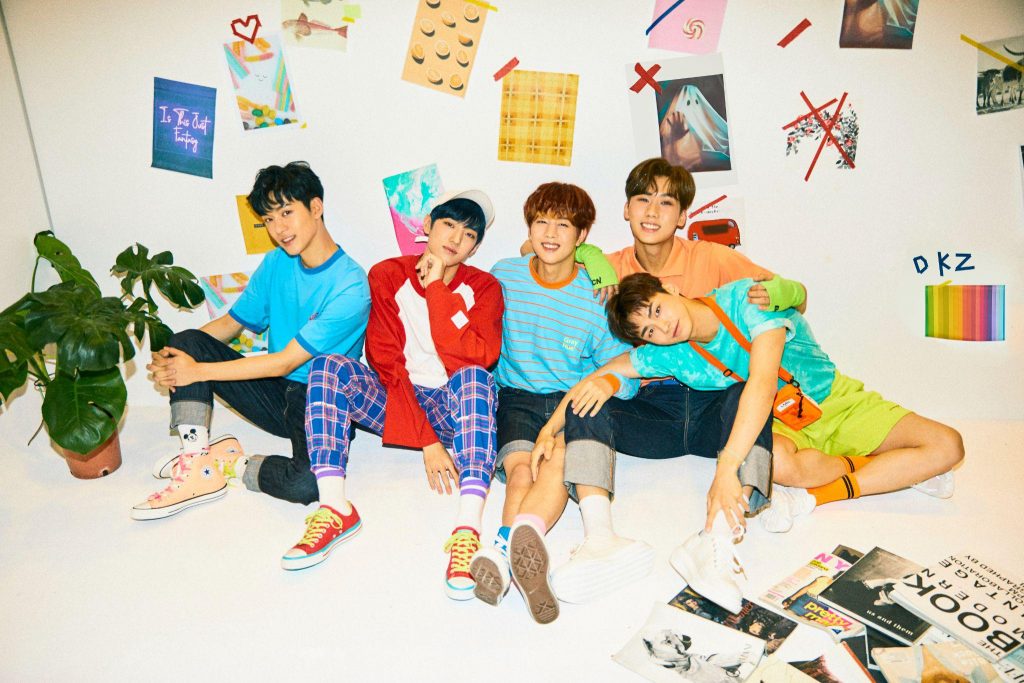 Please name the kind of music you regularly listen to these days?
Wondae: Since I am very much into DONGKIZ's music, I listen to a lot of our songs on a regular basis. "Fever" was a personal favorite for me in the past, but "CRAZY NIGHT" is now the current fav for me. I also listen to a lot of Ariana Grande songs, and I love the remix album "Save Your Tears" by The Weeknd, so I listen to that during my free time and before I go to bed.
Kyoungyoon: I think we listen to "CRAZY NIGHT" by DONGKIZ the most. That's probably because it's our own song, but we listen to it a lot since the song's really great!
Munik: Since we just made our comeback with the new release of "CRAZY NIGHT," we tend to listen to that single the most right now. All the members of the group really love it, so we recommend that you give a listen.
Jaechan: I've been a Justin Bieber fan for a while now, and I've been listening to all the tracks from his Changes album. I even purchased the LP.
Jonghyeong: Nowadays, I've been listening to our current single, "CRAZY NIGHT," and MONSTAR X – GAMBLER and Baek Ye-rin – Every letter I sent you.
Which artist/musician do you regard as your role model?
Jaechan: I developed my dreams to become a singer after watching this artist, so my role model is Justin Bieber.
Whenever you're down or stressed out, what do you choose to do in order to release those feelings?
Kyoungyoon: I often look up sad dramas or romantic films to watch. I also listen to melancholy songs or sing them! Sometimes, I even shed tears when I get really immersed into the emotion.
What is the first thing that you do when you wake up in the morning?
Jonghyeong: I go and measure my weight in the bathroom. It's become a daily habit that I do each morning since starting on a diet.
It's been over two years since DONGKIZ got launched as a group. What has changed the most for you professionally and personally?
Wondae: I want to say that it's our teamwork. As time together progressed on, our relationships have become much stronger and it's now taking less time to work things out. We're getting to a point where we know what each other is thinking without having to use words.
We're very curious to know your plans for the remaining year, and please leave a comment for the fans.
Wondae: It's in our plans to let the public know more about DONGKIZ. I wish our members would spend this year in good health. ARIs! Please watch this space for more from DONGKIZ and let's all be happy always. Thank you.
Kyoungyoon: We want to reach the top place on a music chart!! We'll be able to pull off better performances and cover more activities with the support and love from ARI! Please keep healthy – we really love and feel grateful to you ~ Please support our new song "CRAZY NIGHT."
Munik: We wish that the coronavirus would be terminated soon so that we can meet the fans from all over the world. We really worked hard on "CRAZY NIGHT" this time around, so we appreciate it if you show your love and support. When things with the pandemic easens up, we'll make sure to meet with you all and spread positive energy.
Please stay healthy until then!
Jaechan: The goal that we want to achieve is to make great music and perform great music for a long time to come. Due to the coronavirus, we can't see you very often but I hope that the situation gets better soon for us to meet very soon! Please show some love for "CRAZY NIGHT."
Jonghyeong: I wish that this year would be the year the pandemic ends so we can hold an intimate concert with the fans from around the world. Please keep fit and healthy until that time comes for us. To all the ARIs in the world, we appreciate all the love and support that you send our way. Thank you. 🙂
– J.Chung.
#Dongkiz #Wondae #Kyoungyoon #Munik #Jaechan #Jonghyeong #kpop #ARI #kpopfans # Dongyo #CHASEEPISODE1GGUM #CrazyNight #seoul #koreanmusic #interview #july #asia #kcrush #kindie #hallyu #music #boygroup
Related Articles