KCrush interview with a Foxtrot and Latin musician/singer, Luis Kim
Luis Kim is a Korean foxtrot and latin pop singer who released his debut album, 'Platonic Love' in 2007.
Other than being a singer and performer, for the past years Luis has been involved and responsible for various kinds of businesses including managing a club, planning and holding events, festivals and etc.
In 2008, he received an award from Korea Singers Association for his humanitarian work.
Luis grew up in a very musical environment since he was very young, because his mother was a singer well-known in the 70's era.
I sat down with Luis for a short interview to ask him about his life and the work he's covered in the past. This will be an interesting read for many who are interested to read about the life of an independent singer or artist living in Korea, who is also active in the business world.
He advises that music should not be considered and regarded as a form of work or profession, but a way of life.
A special 'thank you' goes out to Luis Kim and we wish him all the best in all his endeavors.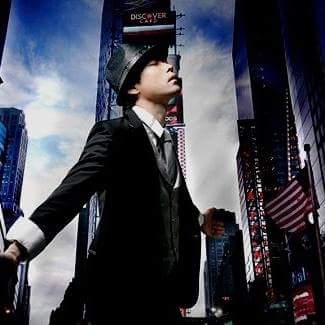 *Hello Luis, thank you for taking the time for a KCrush interview. Please let us know what made you decide to be a singer?
My mother used to be a foxtrot musician and singer who was quite well known back in the 70s and I grew up listening to her songs. I was able to get myself into music from an early age.
In 1998, I moved to Chile when I was in high school. I got together with my friends and got started singing and playing the bass guitar in a band. That's how I started doing Latin music.
It was not done professionally at the time, but I guess from then onwards, I started to get more into music.
*How would you describe your music and could tell us more about your career as a singer?
I consider music is a way to express yourself and who you are, rather than classifying music and songs into categories or genres.
Musically, I am capable of covering Flamingo, Latin, R&B and Soul.
I had to go to the military right after I released my debut album a few years ago and was not able to do any promotion for it.
When I got discharged from the military, I got the chance to experience a lot of diverse work, businesses and promotion that included running a club.
*Could you name any musical artists who influenced you musically?
I think I am most influenced by singers like Na Hoo-na(???) and Namjin(??) in Korea.
The legendary Japanese singer, Hibari Misora, who is known to be the queen of Enka (the name of the fox trot genre in Japan) until this day. Her father was Korean.
I think I am also very influenced by the singer, Luis Miguel in the Latin music world and last but definitely not least, Marvin Gaye.
*What do you think is the most difficult and challenging for an independent singer in Korea?
I have been doing a lot of businesses in various areas for quite a long time, so I was fortunate to have not gone through the hardships as much as some of the other artists do.
If I was to say the most challenging thing for singers these days would be that the opportunities for talented amateur singers to showcase their potential and to launch a career are pretty scarce.
When a well-known celebrity releases a song, people will still pay attention even if the songs are not up to the standard or even considered good quality music.
There are so many audition programs existing these days than in the past, it is still extremely difficult for new amateur singers to launch their career in the music business.
*Are there any interesting episodes you experienced you can share with us?
I have a song with the title, '?? ??' (which can be roughly interpreted into English as 'Mind your own business' or 'Just do what you have to do')
I was to visit a retirement home to sing as a volunteer work for a large group of elderly people and I had to perform that particular song to the audience. At the time, I didn't know whether I should sing it with the same title or change the title into more of a formal term, prior to the visit.
I was quite perplexed on how I should sing the song, but I ended up singing it as I would have anywhere else and to my relief the audience loved the performance.
*As a singer, how do you look after your voice and health in general?
When it comes to food, I know that consuming broad bellflowers, fruits of schisandra are known to be good for the throat and the vocal cords.
I practice on my vocals and abdominal breathing which I find is a crucial process for singers. I also train myself to sing without damaging the vocal cords.
*What is the best thing about doing music as a profession, in your opinion?
For the future, I am in plans to use my musical gift as a kind of therapy to help and heal other people. I believe that using my music and sharing it with others is what I am supposed to be doing. When you get to share your talent with others around you, it is the best feeling.
*What do you like to do in your free time?
I don't usually have much free time because I am always out there giving other people a hand and I invest a lot of time doing all sorts of miscellaneous businesses and such.
I got to spend some free time for myself recently and I played online games for a short while. I also used to spend time in the gym to work out, but due to the hot weather recently I've quit going to the gym for the time being.
*What is your favorite Korean cuisine that you would recommend to our readers?
Well, I should state something that I want to eat right now. I would say, the black noodles (???) in Korean style. There are several places where they make great black noodles.
*Can you recommend a song for our readers that you particularly like or sing often?
'My girl' by the Temptations.
*What does it take to be a great singer/entertainer? Could you give any word of advice to the people who want to get into the music business?
If you are going to become a singer or entertainer, I think it is important not to consider the art of singing or entertainment as a form of labor or profession.
Since music should be a way to live a life, not like a business and industry. Music and any form of art should never be a burden if you enjoy doing what you do.
If you start regarding it as work or just a source to earn money, it would be very difficult not to fall into temptations like drug addiction and depressions and etc.
*What are your goals for the future?
I have a few songs that I am working on right now for my album that is to be released around next year, so I intend to complete the work.
I am planning to write an autobiography of myself. I want to write a book so I can reflect on my life.
— J. Chung
Related Articles