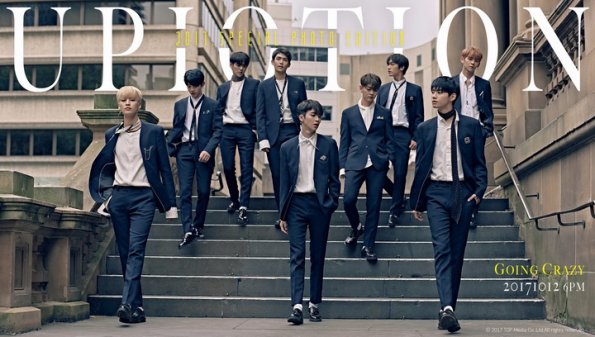 UP10TION – pronounced "up tension"- is a Korean boy group formed by T.O.P Media. T.O.P Media is an entertainment agency founded by K-pop group, Shinhwa's member Andy.
The meaning behind the name, UP10TION basically indicates that the 10 members of the group will "upgrade your tension."
UP10TION consists of ten members listed here in the order of the eldest first: Jinhoo, Kuhn, Kogyeol, Wei, Bitto, Wooshin, Sunyoul, Gyujin, Hwanhee and Xiao. Currently, UP10TION is active with its 9 members since Wooshin left the group temporarily after stating to have health issues.
In 2015, UP10TION made their official debut by releasing a mini album titled, Top Secret.
Their latest single released this month is called "Going Crazy" which we recommend our readers to watch, if you haven't already.
We'd like to express a massive "thank you" to the UP10tion members for taking their precious time for this interview. We wish them all the luck in all their future ventures.
Hello, could you please introduce yourselves to our readers?
Jinhoo: Hello! This is Jinhoo. I am the Banjang (leader) and spokesperson of UP10TION.
Kuhn: Hello, guys! My name is Kuhn from UP10TION! I am the vice leader of the group. I'm so glad meet you. J
Kogyeol: This is Kogyeol, I'm currently 22 years old and the vocalist of UP10TION.
Wei: I'm called Wei and I am the rapper (high part rapper) of UP10TION.
Bitto: How are you? This is UP10TION's Bitto. I am the main dancer of the group.
Sunyoul: Hello, this Sunyoul of UP10TION! We are back wearing cool suits. Please check out our M.V for "Going Crazy."
Gyujin: Hi!! This is Gyujin, the sub-vocalist of UP10TION.
Hwanhee: Hello, I'm Hwanhee who is the second youngest from UP10TION and the main vocalist.
Xiao: Hello, this is Xiao ~ the cute and attractive Maknae (youngest member) of
UP10TION. ♡
Tell us how you got into this group?
Jinhoo: A close friend of mine suggested I should dance at his dance academy, and there I got asked to be in this band.
Kuhn: I was casted while out and about on the street!
Kogyeol: I was able to debut after working three years as a trainee.
Wei: I am the one that trained for the longest in this group, then I was able to debut by progressing and working hard.
Bitto: I was the last member to join. I think I was chosen because of my dancing skills.
Sunyoul: I was living in the countryside and decided to take an audition for the first and the last time. I got casted on the spot and became a member of UP10TION.
Gyujin: I was performing on stage at an end of the year festival, and loved the experience. That's how I decided to become an idol.
Hwanhee: I was a trainee since my last year at secondary school, by chance I got to meet with the UP10TION members and later got put into the group.
Xiao: I uploaded my picture on an internet café and got casted to become a member of UP10TION.
We assume you are very busy due to your recent comeback. How do you deal with stress that comes with work?
Jinhoo: I release stress by working out a lot.
Kuhn: I make time to watch movies and like to shop online. When I'm fatigued, I eat large meals and take naps afterwards.
Kogyeol: I usually relieve stress by playing games.
Wei: I enjoy my leisure. If I can't make time for any leisure, I talk to myself.
Bitto: I usually play games or listen to music to deal with stress.
Sunyoul: I get up early in the morning and take a walk. I go to the bookstore and purchase books to read. I shop for clothes often as well.
Gyujin: I go to the cinema by myself to watch movies, I exercise or clean out my room.
Hwanhee: I release stress by looking at our pretty fan club, "HONEY10." ♡
Xiao: Because our fans have been so supportive, we don't get stressful at all and doing pretty well, thank you. ♡
What would be your favorite color?
Jinhoo: Black, white, beige!
Kuhn: Black.
Kogyeol: Black!
Wei: Blue.
Bitto: Blue, black and purple.
Sunyoul: Black and cobalt blue!
Gyujin: Black and white.
Hwanhee: White!!
Xiao: Black and red.
What kind of person is your ideal?
Jinhoo: Someone who is caring and considerate.
Kuhn: A person who has a pretty smile.
Kogyeol: A female with a good sense of style.
Wei: Someone who suits the color blue!
Bitto: A very cute person.
Sunyoul: A bubbly character who has passion for their work.
Gyujin: Someone with big eyes and a beautiful smile!!
Hwanhee: I like someone who is very kind that I can connect well with.
Xiao: A person who likes me a lot.
Which song or album do you listen to most frequently?
Jinhoo: I listen to Taemin's Move very often.
Kuhn: Signals by Nicole Millar.
Kogyeol: Yoon Jong-shin's Do you like it? And I like Adam Levine's Lost stars.
Wei: The songs I listen to often are Try Again by Rumble Fish and Don't call me by UP10TION. I also enjoy listening to the album, Funk War Bounces vol. 1 by Calvin Harris.
Bitto: I listen to Jetlag by Woo Won-jae frequently. I also like to listen to Stay by the artist Zedd.
Sunyoul: Clean Bandit and Zara Larsson's Symphony! I also like to listen to Charlie Puth's Attention a lot as well.
Gyujin: Park Won's Try. Troye Sivan – Youth, Sam Smith – Too Good at Goodbyes.
Hwanhee: Artist by Zico.
Xiao: Taemin's Move is so cool to listen to!
Which artist do you admire the most?
Jinhoo: I admire Bruno Mars for his stage presence and style of music. And I think Jay Park, Taeyang, Taemin are all very admirable artists.
Kuhn: Beenzino, Big Bang and Drake.
Kogyeol: Justin Bieber.
Wei: Michael Jackson. I learned a lot from watching him perform and I aspire to be like him.
Bitto: Michael Jackson.
Sunyoul: IU and Taeyeon! For oversees artists, I admire Sia and Ariana Grande.
Gyujin: I really admire Park Won and Lee Dong-wook.
Hwanhee: Lee Hong-ki. ♡
Xiao: Taemin and Niel! I will try to become a singer like them.
Do you have any skills or specialty?
Jinhoo: My dancing, singing and facial expressions.
Kuhn: I can rap powerfully.
Kogyeol: Since I am a singer, my specialty is singing.
Wei: Being crazy…and playing alone.
Bitto: My skills are in composing songs, so I am currently working hard to make further progress.
Sunyoul: My specialty is that I can sing both vocal ranges for male and female.
Gyujin: I creating crafts and do calligraphy.
Hwanhee: I love to sing, so my skill is singing.
Xiao: My skills are being lovable and performing well on stage.
Where would you like to perform in the future?
Jinhoo: At the Opera House! We will do our utmost wherever we are invited to perform.
Kuhn: All around the world!!
Kogyeol: At the Super Bowl!!! It would be really great to perform in front of such a crowd of audience.
Wei: Wherever in the world, if I had to pick one location – it'd be the Time Square!!!
Bitto: I wish to perform in many different nations.
Sunyoul: I want to go to see performances by other artists in diverse countries rather than doing the performance myself.
Gyujin: I want to perform and introduce our album in front of Time Square during Christmas season!!
Hwanhee: I want to perform at bigger venues in the future!!
Xiao: If we can meet the fans all over the world; we'd be happy to go anywhere to perform.
Please let us know about your plans and goals for the future.
Jinhoo: We want to become a group that frequently communicates with fans from all over the world, stay around for a long time and showcase great music.
Kuhn: My goal is to become an all-round entertainer who composes, writes lyrics and acts.
Kogyeol: In the future, when our band becomes successful, I would like to start my own business if given the chance.
Wei: I want to become an artist who loves everyone and is loved by everyone.
Bitto: I want to perform as much as we can to make the public more aware of our songs.
Sunyoul: First, my goal is to be able to sing well until I'm satisfied. And whatever the job might be, I want to do music-related work all my life.
Gyujin: We want to keep releasing albums and hope to take on diverse challenges!
Hwanhee: I wish UP10TION will enhance more in the future so both the group and our fan club, HONEY10 can be very happy and content.
Xiao: We will make HONEY10 very proud of us, and will work to become all-round entertainers for you!
Thank you so much for taking the time for this interview. Could you say something nice to your fans?
Jinhoo: We will showcase better stage performances and great music to you soon, so please look out for us. We ask you to take interest in our latest single "Going Crazy" as well. I love you!
Kuhn: Thank you to all the fans around the world who have supported us. We promise to show you greater performances in the future! Thank you in advance for cheering us on! ♡
Kogyeol: Hello, everyone. Nice to meet you! Wait for us just a little bit and we'll try our best to see you soon. Thanks.
Wei: Hey, HONEY10 in the U.S.A! I'm glad to send greetings to you guys through KCRUSH America. Thanks a lot for showing support and love from so far away.
We'll perform to repay you for the love you have shown us~ XD
Bitto: Hi, I miss you a lot HONEY10! Thank you always for the love you show us.
Sunyoul: UP10TION are back with a brand new single, "Going Crazy." Please stay with us as we do activities both in Korea and abroad. Thank you to HONEY10 for your continued support.
Gyujin: I'll do my best on stage! Please send us lots of support and thank you very much for listening to our music. See you soon! I love you~ XOXO
Hwanhee: HONEY10, let's always rise up together. ♡ We trust you'll come and
join us ~ We'll show you a prettier side of us in the coming future…
Xiao: We will keep our HONEY10 safe until the end. We'll work hard to make you guys proud to be supporting us. Thank you for being there, HONEY10!
—- J.Chung.
8 responses to "KCRUSH Interview with UP10TION"
Related Articles