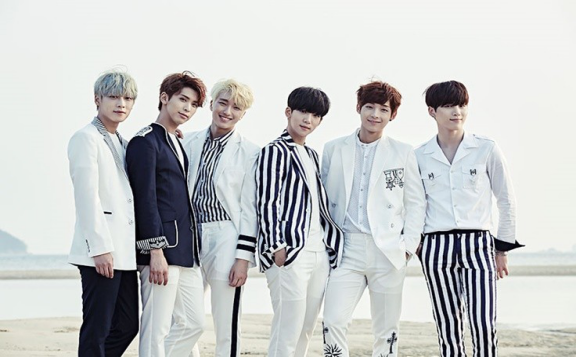 SNUPER (which means "Higher than Super") is a Korean boy band formed by Widmay Entertainment in the year of 2015, as the first pop group from the label.
The six members of SNUPER who are called Suhyun, Sang-il, Taewoong, Woosung, Sangho and Sebin made their officially debut on November 16, 2015 with their first single, "Shall We Dance."
All the members are born and raised in Korea, except Taewoong who was born in Japan. He's also worked as a child actor, prior to joining SNUPER.
Since debut, the group enjoyed a moderate success as a band; they were especially well charted in Japan by reaching No. 2 on the Oricon daily chart.   
SNUPER is also well-known for their exclusive events and fan meetings. Their fan club is named Swing, and it is evident from this interview that the members really care for their fans.
We would like to thank the boys for the great interview and wish them all the luck with their career.
Would you all like to introduce yourselves, please?
Taewoong: This is Taewoong and I am the leader of the group.
Sang-il: Hello, my name is Sang-il and I am the vocalist of SNUPER.
Suhyun: Hello! I am the oldest member of the group and a vocalist. 
Woosung: This is Woosung, the jewel of SNUPER! I love you all!
Sangho: My name is Sangho and I'm a vocalist in SNUPER.
Sebin: Hello! I am the rapper of this group. I was born in 1996 and my full name is Jang Sebin.
How was each of you become a member of SNUPER?
Taewoong: I started off as a child actor and when I watched other idol groups perform and wanted to be one myself.
Sang-il: I was working at a restaurant and luckily I was casted on the spot.
Suhyun: I always enjoyed performing in front of the family and naturally wanted to become a singer.
Woosung: I was introduced into the group by Taewoong. 
Sangho: I started dancing since I was in High school and enjoyed being on stage that got me dreaming of doing it professionally.
Sebin: I decided that I wanted to pursue this career because I loved to sing and perform on stage.
Do you have any specialties or special interests in anything?   
Taewoong: My specialty is speaking Japanese and rap making. My hobbies are traveling and acting.
Sang-il: I love to sing, but I also love drawing cars since I wanted to be a designer.
Suhyun: Composing was always an interest that I've had and I've also done DJing since I was young so interest in music has come naturally for me I think.
Woosung: My specialty is speaking. And my interests these days are Overwatch, Pocket monster and bowling.
Sangho: Nowadays, I like to look up and listen to songs. Since the weather is cooled down, I tend to listed to calmer songs.
Sebin: I am into badminton and tennis. My specialty is Taekwondo. 
Which SNUPER song is your favorite?
Taewoong: I think it has to be "Shall We Dance" which was our first single. 
Sang-il: There is song called, "Polaroid" and I have special affection for it because I led the song.
Suhyun: Our current single, Yuseong is my favorite. 
Woosung: "Angel" is a great song that boosts my energy. 
Sangho: "Shall We Dance" is my favorite because since it's our single I think I have a special affection for the track.
Sebin: For me, "Shall We Dance" is my favorite as well. If it wasn't for that song, we wouldn't be where we are today. So that track is precious for us.
Who do you respect and admire the most?
Taewoong: I respect Bang Hyung-sik sunbaenim, because I admire how he does music, acting and everything else so well.
Sang-il: I would say I respect my mother the most.
Suhyun: I respect both of my parents.
Woosung: My parents are the ones I admire, because they raised me so I could come this far.
Sangho: Taemin Sunbaenim from SHINee.
Do you have any color preference?
Taewoong: I don't really have any colors that I dislike particularly but I like white, black and red. 
Suhyun: I like colors blue and black. I dislike yellow.
Woosung: I like red, black and white. I don't have colors that I hate. 
Sangho: I like red. I don't have color I hate but green is probably the color that I least find it attractive.
Sebin: I don't have any colors I don't like. Orange, mint and red are the colors I like.
Tell us what you like and don't like to eat or drink.
Taewoong: I like meat and sushi.  
Sang-il: I like to eat gopchang, and I dislike rice with peas.
Suhyun: I like to eat burgers, pizza and chicken. I dislike sundae, seonji and sujeong-gwa. 
Sangho: I like tteok-bbokki, pasta and chicken. I don't like to eat paprika. 
Sebin: I like any type of food except burdock.
Have you had time to go to the cinemas lately? Have you read any interesting books or been to a musical that you'd recommend?
Taewoong: "Josee, The Tiger and The Fish" is a movie that I watched recently. It featured the unique side of Japan and the story concerning love was impressive.
I recently read a book that can be translated as "A Book Is An Axe." I learned that Humanities have a big impact on creativity, and decided that I should read more books on Humanities.
And I wasn't able to see this musical recently, but I am a big fan of the musical Lion King. With the African prairie as the stage, the artsy effects were the best for a great musical.
Suhyun: I love to go to the cinemas to watch great movies. But my all-time favorite movie is "Begin Again." Please watch it when you have the time. The music and everything is fabulous.
Woosung: The book I read is, "Visual Intelligence" by Amy E. Herman. It's based on people's perception. I think it would be very helpful for its readers. This book enabled me to look around my atmosphere rather than to just move forward.
Sangho: I watched "My Annoying Brother" on the plane. It features actor Jo Jeong-suk and D.O. and it was very entertaining.
Sebin: I read a book called, "Murder Case Without The Criminal" by Higashino Geigo. It's a mystery novel which is extremely captivating.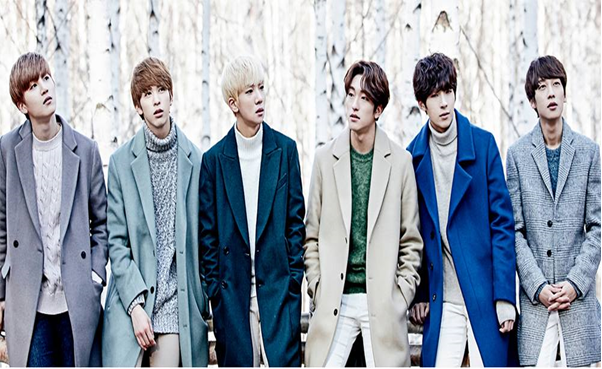 Please recommend us a song that you like and or listen to frequently.
Taewoong: Mac Miller's "Dang!" You'll be able to start the day in a good mood if you listen to it.
Sang-il: Rain's "Bad Guy" is a great performance song.
Suhyun: Childish Gambino's "Sober" would be the song that's been my favorite for a long time.
Woosung: I would recommend you to listen to Yoon Jongshin's "Do You Like It" because it expresses the weaker side of the males very well.
Sangho: Park Won – "All Of My Life."
Sebin: Justin Bieber's "Sorry."
Do you have any habits that you want to get rid of?
Taewoong: Sometimes, I can't organize my sentences when I speak; so I want to be able to reduce unnecessary words that come up. 
Sang-il: I have a habit of opening my mouth too wide when I sing, so I want to fix that.
Suhyun: I am always grateful to my parents, but I tend to speak to them coldly sometimes. I think I need to learn how to speak to them more warmly in the future.
Woosung: I don't have any habits.
Sangho: I want to fix the habit of getting up late in the mornings. 
Sebin: I want to change the way I get tired out every time I feel tense or nervous.
Do you have episodes that you had to go through that were difficult or funny?
Taewoong: When I was rapping a bit of pollen got into my mouth. Fortunately, I was able to keep rapping but the taste of the pollen was just too much.
Sang-il: When we were promoting the single, "Back-Hug," I was suffering from a cold that lasted about two months. I really went through a hard time.
Suhyun: One time we were performing, my inner piece fell out and it practically got wrapped around my neck. I was relieved because the camera didn't catch it.
Woosung: During a performance, I got very nervous when pollen got into my mouth. The camera had caught it and it went on air.
Sangho: I usually only wear one piece of the inner ears; one in one ear and the other which I put behind my shoulder. One time, I was performing and I forgot about putting one ear piece over my shoulder. It got twisted around my neck and then over my head so I couldn't see very well. Luckily, it was Taewoong's part to rap so I turned around and got myself fixed. Thankfully, the incident wasn't seen on air.
Where would you most want to perform?  
Taewoong: We would perform anywhere we are asked to but I would especially like to perform in the States.
Sang-il: We want to perform in New York.
Suhyun: The SNUPER members want to perform anywhere that our fans want us to perform.
Woosung: New York, Washington and L.A for the American Dream!
Sangho: If given the chance, we would like to perform in all countries to promote ourselves.
Sebin: America, Malaysia, Dubai and China.
What are your plans and hopes for the future? Could you leave a message for your fans as well? Thank you very much for the interview.
Taewoong: Half a year has already gone past so quickly. I would like to wish the members and our fan club the best time this year. Love you, Swing! 
Sang-il: We will work hard to make this year a very meaningful one.
Suhyun: We've been working hard non-stop since our debut and we are in hope that more people will notice us as a group. We also thank our fan club for their support and we will work to do you proud. Love you!
Woosung: We want to become a group that is loved all over the world. I would like to be with our members forever!
Sangho: Our goal is to promote ourselves to those who do not know us yet and to be able to mature as artists. There isn't much left of 2017 now, I hope that the members of SNUPER, our family and our fan club Swing would end the year well without any difficulties. Thanks for always being there, friends!!! Let's stay in love forever~
Sebin: I want to spend the last days of 2017 with the SNUPER members and Swing!!! We love our fans!!!!! Heart and kisses…
—- J.Chung.
5 responses to "KCRUSH Interview with Snuper"
Related Articles