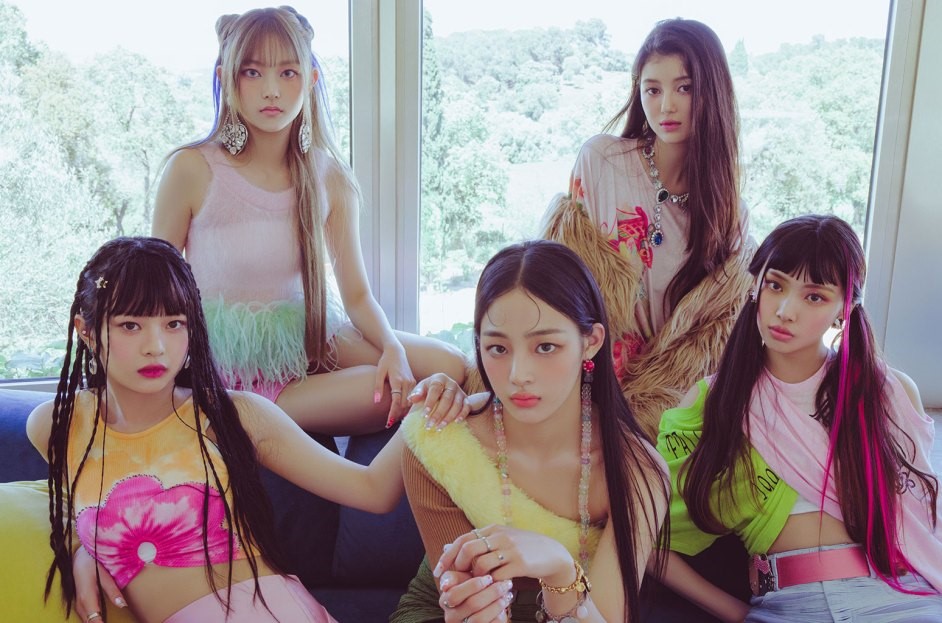 Rolling Stone recently published their "100 Best Songs of 2022" list with several K-Pop artists making the cut!
Rolling Stone's annual list ranks the 100 best songs each year. This year, Jin, Le Sserafim, PSY, (G)I-dle, Nayeon, BIGBANG, NCT-127, aespa, Stray Kids, IVE, Seventeen, BLACKPINK, and NewJeans join Japanese-British singer Rina Sawayama, Taylor Swift, Beyoncé, Megan Thee Stallion, Bad Bunny, and Harry Styles among others on the list. Here's where your K-Pop artists ranked on this year's list!
"That That," PSY ft. Suga
PSY's 2022 comeback song "That That" was the lowest-ranked K-Pop track on the list appearing at number 93. The track's praised for its use of Mexican horns overlaid on the dance beat. Suga's production and rap also earned praised, as did the choreography and MV stylization.
"Nxde," (G)I-dle
Coming in at 88, "Nxde" received rave reviews for its empowering message against objectifying women. The use of the melody from the opera Carmen, Soyeon's writing, and the Marilyn Monroe references in the song and MV were among the highlighted strengths.
"Pop!" Nayeon
When TWICE's Nayeon released her debut album Im Nayeon earlier this year, her lead single "Pop!" was a hit. Ranked 86th on Rolling Stone's list, writers loved Nayeon's "bubblegum sound" and felt she exceeded expectations with her vocals. Rolling Stone loved how she channeled TWICE's sound while standing out as her own person.
"Antifragile," Le Sserafim
Le Sserafim is one of four debut/rookie artists on the list, joining Nayeon, NewJeans, and Jin, the latter two appearing later.
"Antifragile," Le Sserafim's comeback track released October 16, 2022, ranked 75th. While Rolling Stone loved their debut track "Fearless," "Antifragile" earned a spot on the list due to the song's catchy chorus and instant likeability. We tend to agree with Rolling Stone here.
"Still Life," BIGBANG
Entering the list at 73, "Still Life" was appreciated for its soft rock turn and departure from BIGBANG's usual sound. Rolling Stone loved Taeyang and Daesung's distinct voices, T.O.P's rap, and G-Dragon's soft vocals. The lyrics and subject-matter also earned accolades.
"2 Baddies," NCT-127
At 71, NCT-127's hit received love for the experimental sound and strong sense of futurism and masculinity. Rolling Stone praised the rap, percussion, and bass as well as the group's determination shared in the lyrics.
"The Astronaut," Jin
Coming in at 68, Jin's solo debut made the list thanks to strong vocals and tender message. Rolling Stone liked that Jin teamed up with Chris Martin (Coldplay) for the song and how it is a message to Jin's fans.
"Girls," aespa
The blending of synth, Hip-Hop, and EDM in aespa's "Girls" caught Rolling Stone's attention. Checking in at 65, "Girls" "snake-charmed" it's way into the magazine's list based on its sound, visuals, and storyline presented in the MV.
"Maniac," Stray Kids
At almost the halfway point, Stray Kids' catchy hit "Maniac" ranked 56th.  "Maniac" was recognized for "pushing the envelope" and breaking social norms. The song's "electronic production" also caught Rolling Stone's ears to earn recognition.
"After Like," IVE
While it is a surprise "After Like" was selected instead of mega-hit "Love Dive," Rolling Stone points out that it was difficult to choose between the two songs. "After Like" was praised for its disco sound and Gloria Gaynor samples and how it gets "better and better with each listen." "After Like" lands on the list at 53.
"Hot," Seventeen
Landing at 38, "Hot" earns credit for enhancing Seventeen's popularity. "Hot" impressed Rolling Stone due to Seventeen's self-producing, songwriting, and choreography.
"Pink Venom," BLACKPINK
At number 35, "Pink Venom" is considered an anthem and a tribute to 1980s "hair-metal glam." Rolling Stone points out that the song is a solid summer anthem that is "incredibly fun."
"Hype Boy," NewJeans
Rolling in at 24, a rookie group ruled the K-Pop artists on the list. NewJeans was the highest ranked K-Pop act on Rolling Stone's list. "Hype Boy" enthralled writers thanks to its theme of young love and cute lyrics. Rolling Stone also loved how the track caught the eyes and ears of more established K-Pop acts, making NewJeans a standout artist in this year's rookie class.
Congratulations to all the artists who earned recognition this year!
Now, let's hear from you. Were you surprised at this year's selections? What were your favorite tracks this year? Let us know in the comments!
—-Olivia Murray
#RollingStoneTop100 #NewJeans #BLACKPINK #SeventeenHOT #IVE #StrayKids #aespa #JINTheASTRONAUT #NTC127 #BIGBANG #LaSserafim #NayeonPop #GIDLE #PSYThatThat #SugaThatThat #kcrushnews #kcrushamerica #kpopartistsranking #RollingtoneTop100KPopArtistsRanking
Related Articles