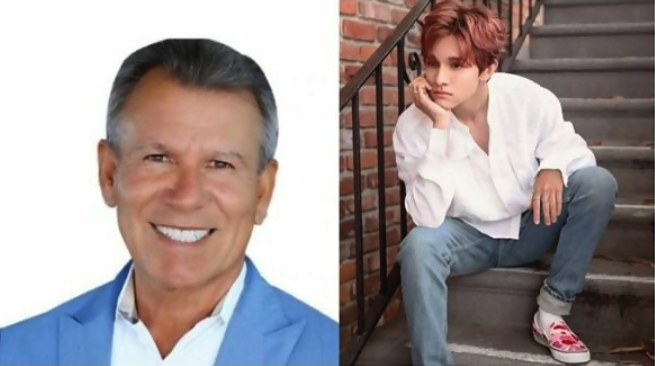 Tragedy struck a member of the K-Pop world today as Jose Arredondo, the father of K-Pop idol Samuel Kim, was found dead in his home in Cabo San Lucas, Mexico following an apparent home invasion.
Arredondo, who just turned 58-years old July 8, 2019, showed signs of blunt force trauma according to prosecutors. The reports indicate he may have been beaten to death. Arredondo's pastor stated the well-known car dealer was stabbed. Cabo's local news outlet, Tribunal de Los Cabos, reports the same details.
Several media outlets consider Arredondo's life to be a classic "rags-to-riches" tale. Arredondo was the fourth child in a family of 11 children. In his youth, he picked crops in Cualcoman, Mexico until he crossed the border into the United States with his sister, Laura, in 1971. He was 11-years old at the time when he and his sister came to America to join their mother in Valencia, California.
"I was frightened to death to come to a country without knowing the language, but I was hungry for a better life," Arredondo said of his coming-to-America experience.
Arredondo then built himself from the ground up. Prior to owning car dealerships and a real estate firm, he worked as a car washer. From here, he worked his way up in the business.
According to Automotive Buy Sell Report, Arredondo was a champion for education and ensuring young people obtained their degrees. In an interview, Arredondo admitted he dropped out of school when he was a teen so he could help his family and because his family couldn't afford to keep him in school. Yearly, he sponsored over 100 scholarships for young people wanting to further their educations.
I have a lot in common with those youngsters that have the ambition to finish school but not the funds," Arredondo said.
In addition to sponsoring scholarships, Arredondo gave away cars on Mother's Day, fed the homeless on Thanksgiving, helped families with burial costs, and supported various charities the Central Valley.
"It's our responsibility as human beings to help these people. When you help someone, you get stronger," Arredondo said in 2006 for a Bakersfield.com interview.
In Bakersfield, California and the surrounding area, Arredondo was celebrity-like due to his commercials, billboards, and philanthropy.
While Arredondo held a sparkling reputation in his community, there were issues with people surrounding him.
In 2006, a man was shot and killed at Arredondo's Rosedale home. 28-year-old Manuel Morales Abarca visited the home to see a caretaker on Arredondo' property. Abarca and the suspect, Valentine Rosendo Oliva, 35, got into an argument when Oliva allegedly shot Abarca. Arredondo was not home at the time.
In August 2014, an employee of Arredondo's, Daniel Watkins, was shot to death in a triple homicide. Arredondo was interviewed regarding the slaying as he was one of the last people to see Watkins and because he knew and personally hired Watkins at his Family Motors Auto Group dealership.
Heavy.com reports there have been suspicions of Arredondo being involved with organized crime even though those surrounding Arredondo refute those claims.
So far, there is no connection between these incidents and Arredondo's murder.
Arredondo is survived by his wife, Kim Kyung-ju, daughter Mariana, and son Samuel.
Samuel, who professionally goes by Samuel Kim, is a K-Pop singer who debuted as Punch in the duo 1Punch. 1Punch debuted with the '90s-inspired throwback song "Turn Me Back" in 2015 and dissolved soon after. In 2017, he appeared on Produce 101 Season 2 where he finished 18th. On August 2 of that year, he made his solo debut as Samuel with the EP Sixteen. Samuel has already generated a lot of buzz in his short career so far and has even won three awards: "Global Collaboration Award" (2017's Seoul Music Awards for "Spotlight" with Silento), "Most Searched KR New Singer" (2017 Yahoo! Asian Buzz Awards), and the "New Hallyu Performance Award" (2018 Soribada Best K-Music Awards).
Samuel or his company have yet to comment on Arredondo's passing. However, Samuel's social media platforms have been set to private.
Suspects have not been named in the Arredondo murder investigation as of this writing.
We send our condolences to Samuel Kim and his family.
—-Olivia Murray
Related Articles