There is something different about the 7th Indonesia Sharia Economic Festival (ISEF) this year. With caution to the Covid-19 pandemic, the fashion show, which has always been an entertaining part of the event – is held online. This very first virtual fashion show in Indonesia ran from 28th October to 31st October 2020, featuring modest fashion by 164 designers from all over Indonesia under one big theme "Sustainable Fashion, Sustainable Lifestyle". As the first virtual fashion show in Indonesia, kudos to the production team that certainly did a great work in compiling and editing the videos that made it so enjoyable to watch. The music and lighting ambience in each designer's show also blended perfectly with the video shots. Here are some highlights from the virtual Modest Fashion ISEF 2020, we were given a VIP request to attend and cover.
Modernized Indonesian Heritage
Brought by Sofie – not a new name in ISEF Fashion Shows and other major Indonesian fashion shows and International fashion shows, whose collections charmingly present Lurik style with feminine hat and pants. Lurik means lines or stripes, usually refers to one of traditional Batik patterns from Yogyakarta. The whole personality is a modern woman with a strong touch of traditional heritage and culture, who stands out in such progressive times. You may find more of Sofie's collections on Instagram @dsgnsofie.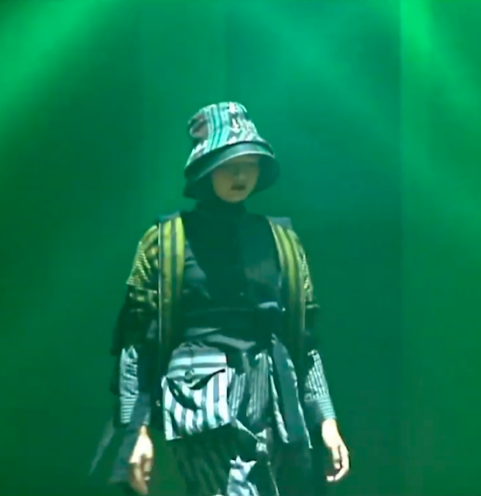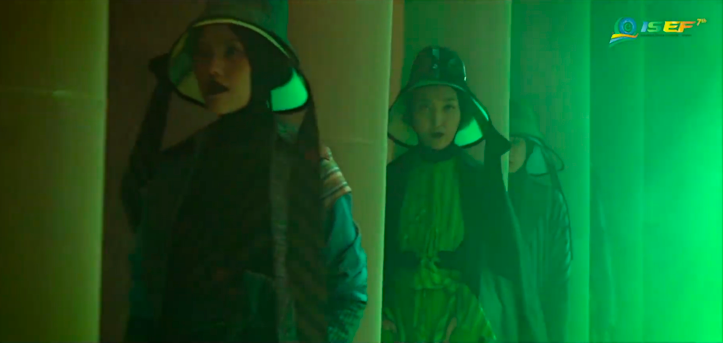 Also showing strong Indonesian heritage is CHARVI by Febby AntiQue. In Sanskrit, Charvi means beautiful woman, and her collection in this fashion show is inspired by Princess of Jenggala, from Kingdom of Jenggala in Indonesia's East Java that existed around 11th-12th century, who disappeared from the Palace but brought back by her-to-be husband. She combines Javanese batik, corduroy and songket – Indonesian malay ethnic weaving style – beautifully in this collection. You may find more of her collections on Instagram @febby_antique.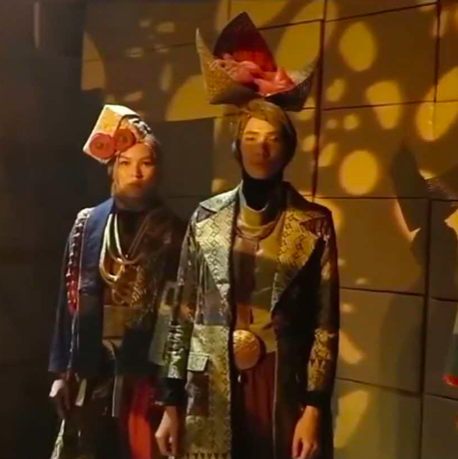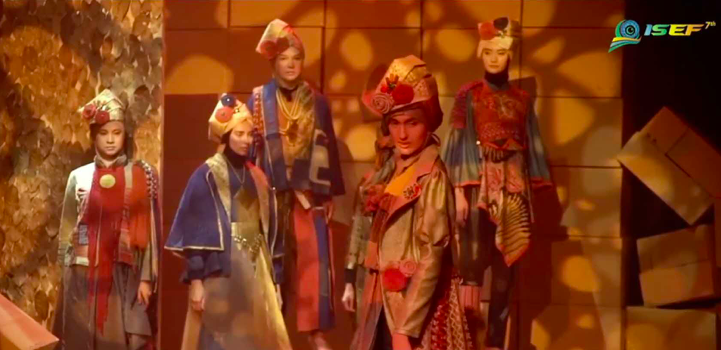 Bold and Classy
Nina Nugroho started her Moslem women fashion label under her family name in 2016. Since then she has joined many exhibitions of major Indonesian fashion shows as well as international fashion shows. Her design is inspired by active Indonesian Moslem women who work as professionals or entrepreneurs, looking elegant and classy. In Modest Fashion ISEF 2020, under the theme 'Women In Power' she presents a bold collection with combination of coat, mask, and unique head pieces that nails the fierce style. She combined Jacquard premium material with taffeta and faux leather, and additional accessories of golden metallic lace with big and small Swarovski in the shape of teardrops in each side, as well as the leaf shapes in the front. With this bold and beautiful design, she surely stole the show. You may find more of her collections on Instagram @ninanugrohostore.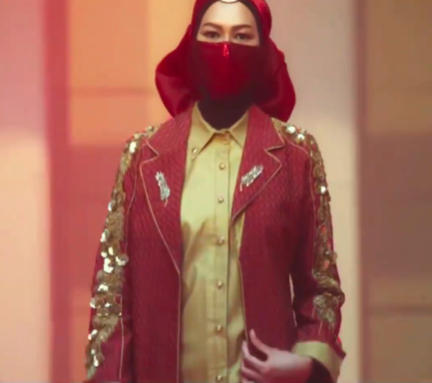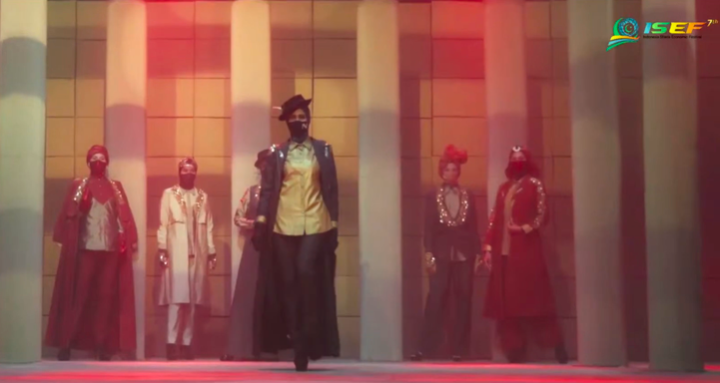 No less fierce upstage, Neera Alatas comes with a theme 'Swarnadwipa' which means Sumatera Island. She brings Tapis, one of Indonesian weaving style originated from Lampung, a region part of Sumatera Island. Tapis is made by woven cotton yarn decorated with gold and silver embroidery and usually used by high class society and village elders in Lampung. Accent of boldness is presented in black, gold, blue and green blazers, enriched by face mask in black and gold. You may find more of her collections on Instagram @neeraalatas_official.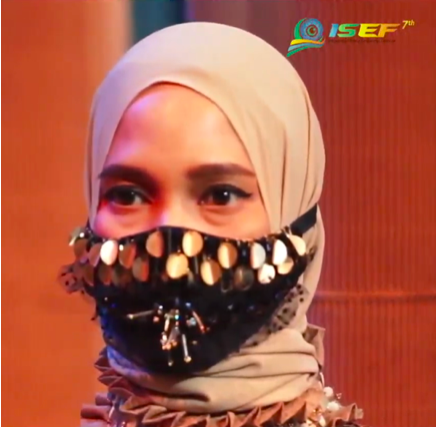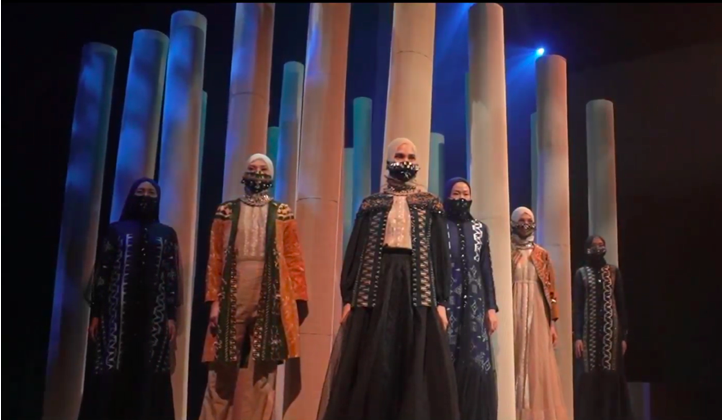 For his first-time exhibition in ISEF's fashion show, Olanye by Eko Tjandra brings ready-to-wear collection with modernized Yogyakarta's batik in black and gold combination. Olanye's label was established in 2009 by Eko and Tjandra. The name was derived from orange, their favorite color. They usually design for stage costumes, and many Indonesian singers use their collections on stage, as well as Indonesian beauty pageant contestants. You may find more of their collections on Instagram @olanyebyekotjandra.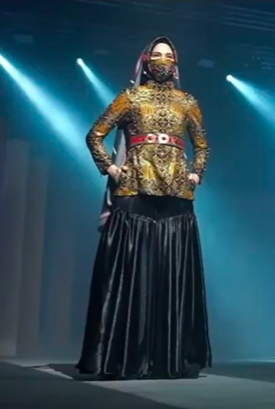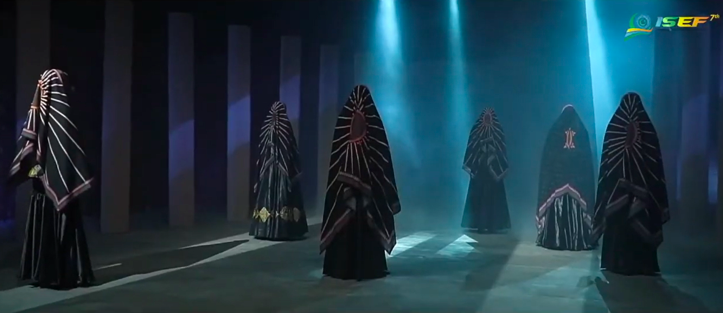 Another bold and classy collection is brought by Itang Yunasz – a famous fashion designer in Indonesia who started his career in the 1980s. His latest International Fashion Show was New York Fashion Week (NYFW) 2019, where he brought Tribal Diversity collection inspired by diversity in Indonesia. Currently he owns and manages four fashion labels: Itang Yunasz Premium, Kamilaa, Allea and Preview. In Modest Fashion ISEF 2020, he presents his collection named 'Melting Tone' featuring Jambi's Batik. As said in his press conference, he found similarity between Jambi's Batik and Patola's motive from India, hence the collection name. This collection is dominated in red and black colors with elegant shapes. You may find more of his collections on Instagram @itangyunasz.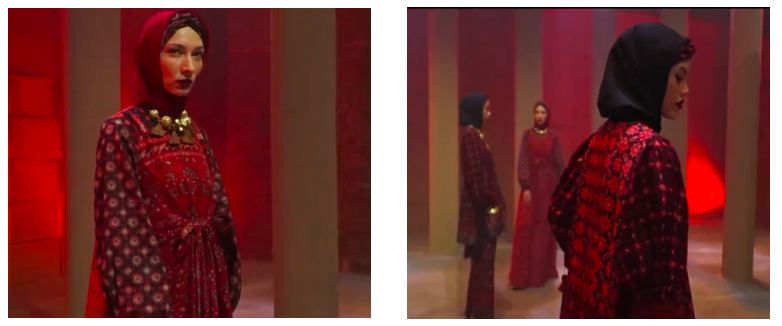 Edgy and Chic
Since 2018, Noor Umer has joined several exhibitions of local and national Moslem fashion shows. In Modest Fashion ISEF 2020, she brings Javanese culture represented in batik with edgy street style. The triangle shape of the hijab – making it look like a hood – is the unique characteristic of the design. You may find more of her collections on Instagram @noor.umer.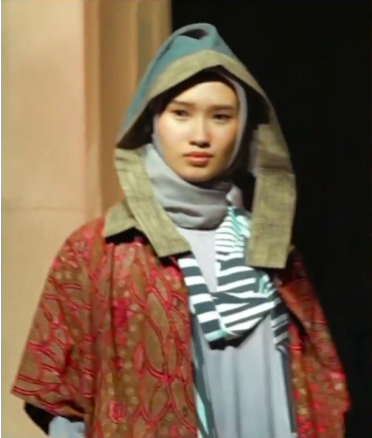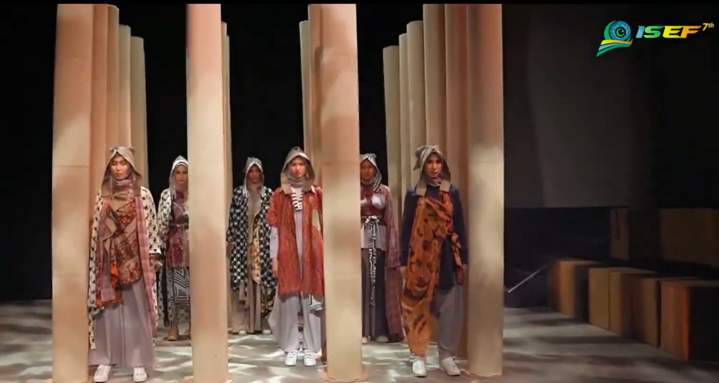 CYA by CAHYA TYANTHI. Last year she exhibited in Indonesia Muslim Fashion Festival 2019. In this year ISEF fashion show, she continues presenting her characterized design of edgy, stylish and androgynous style using the modern, surprising, asymmetric cut. You may find more of her collections on Instagram @cya.line.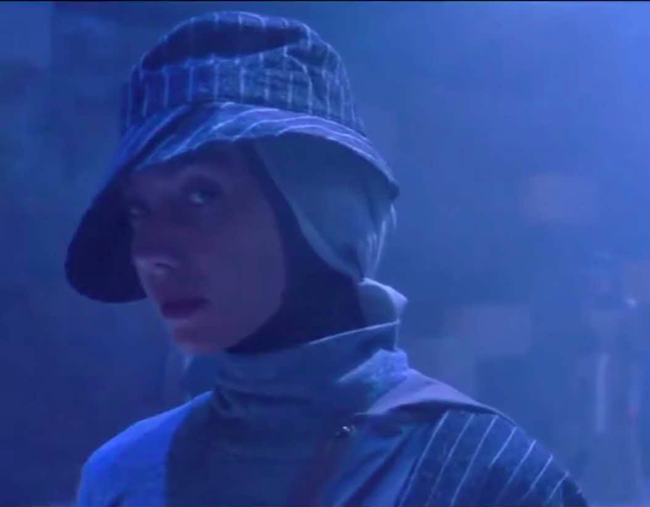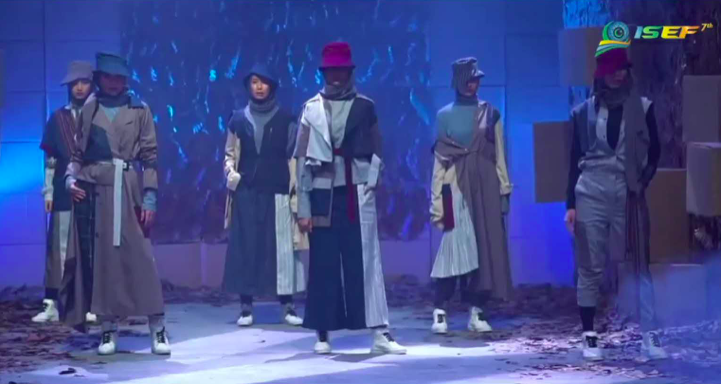 As one of the start-up fashion designers, Iqleem brings the casual wear design in chic colors – mint, white, pastel. Cap over hijab emphasizes a young, energetic personality in sporty outfit. You may find more of Iqleem collections on Instagram @iqleemindonesia.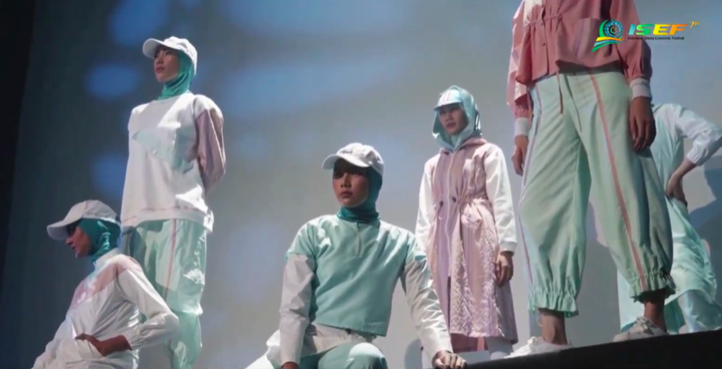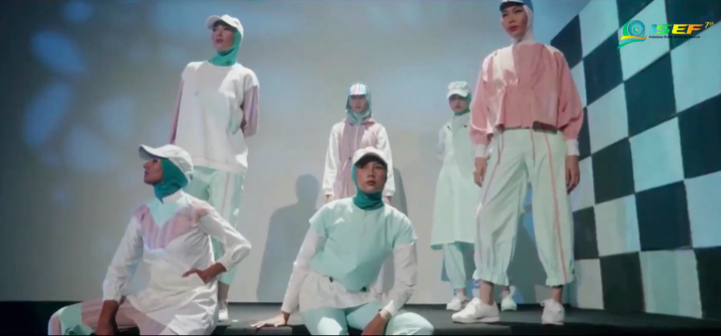 Feminine Elegance
Laudya Cynthia Bella is a well-known actress in Indonesia. She started her own fashion line named L by Laudya Cynthia Bella in 2018. As well as the initial of her name, L also means Love – as all her collections are made with love. In this show she brings the concept of daily wear with feminine touch, mostly in soft colors. While L's specialty is head scarf, the whole collection is put together beautifully for elegant yet comfortable woman's outfit. You may find more of her collections on Instagram @lbylcb.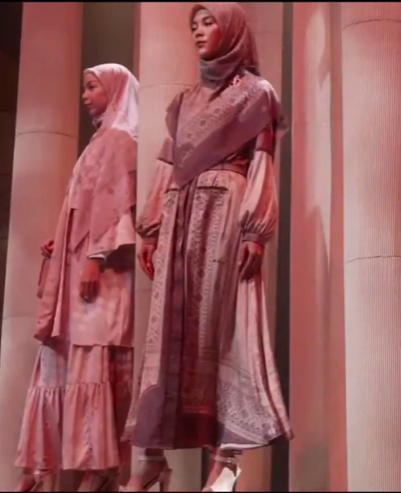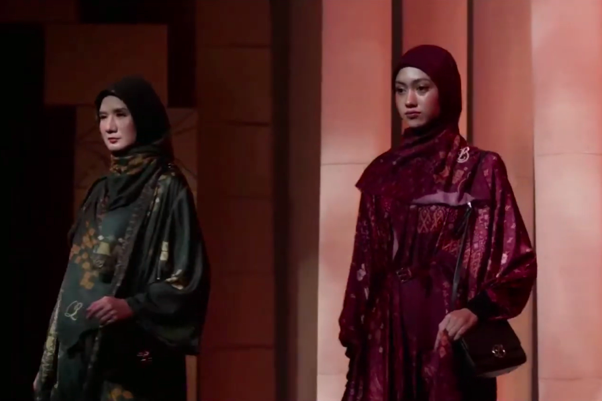 Those are some highlights from Indonesia Modest Fashion ISEF 2020. With so many astounding fashion art and collections by highly creative and passionate designers, we are seeing so much hope – despite amid the pandemic – hope for the brighter and wonderful future. We'll see you again in the next remarkable show.  A huge thank you to the Indonesia Fashion Chamber for the invite!
—–C. Mahnum
Related Articles