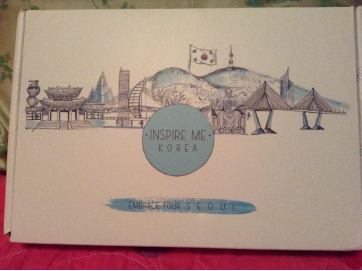 We at Kcrush enjoy introducing you to products and services that help you to get to know Korea even better, especially in the world of music and beauty! This is why we're excited to introduce you to Inspire Me Korea, a subscription service shipping adorable gift boxes filled with Korean goodies to people who enjoy Korean culture or just want a taste of what South Korea has to offer. Based on our experience, each box is carefully put together, from the presentation to the monthly themes and hand selected goodies! We definitely feel the love and passion that goes into creating each box shipped across the globe. After having a chance to review one of their fabulous box options, we can honestly say Inspire Me Korea will bring joy to anyone who subscribes to the service.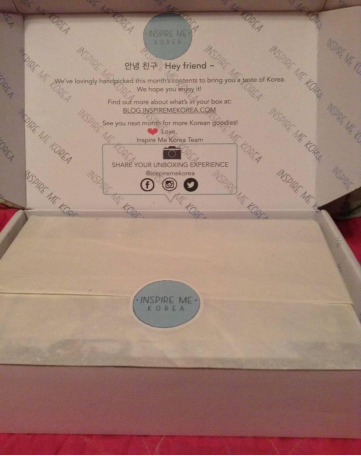 First Impressions
The package comes in an aesthetically-pleasing box, we love the calming colour palette, the crisp white and blue hues and minimalist design is very attractive and makes us excited for what is inside! The packaging is sturdy with a flip-lid that gives the box a keepsake feel. The box itself is worth saving for gift-giving or even to store items, keepsakes, or crafts – it's too nice to throw away.
Let's Open the Box!
Inspire Me Korea neatly packages the box contents. Everything arrived in great condition, so there's a lot of love and care put into the packaging to ensure safe arrival. I like how the packaging makes everything inside feel more special, like it came from a small, artsy boutique. I'm a fan of aesthetics, so the packaging and protection pleased me greatly. The contents lie nestled in tissue paper with their branded stickers sealing the contents. I received the K-Pop Box which contained the following goodies:
An EXO Pepero box (Cookie flavored: My favorite!)
Inspire Me Korea monthlymagazine
One cookie rice cake (addicting!)
A strawberry snack pie
Secom Dalcom peach candies
A "K-Pop is Life" shirt (in size medium)
One rose Nature Republic face mask*
For around $17 USD (£13.99), you're getting a neat package that gives subscribers an immersive and all rounded experience of Korea through its variety of products. The high quality t-shirt itself makes up the cost here, so the box is a nice deal.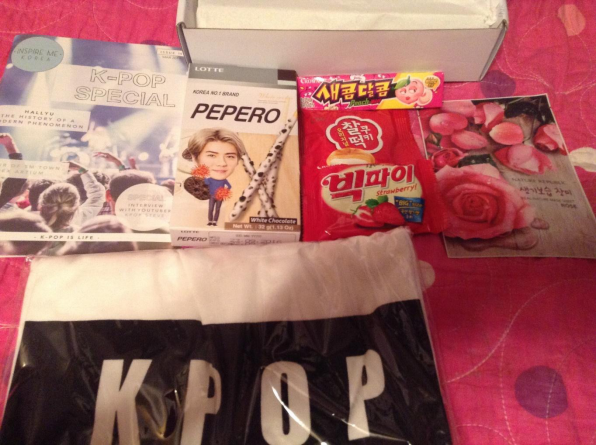 The Products
While everything received in the box was lovely, my favorite item is the monthly magazine. The magazine is printed on nice, high-quality paper and packs a punch despite its stature. The articles published in it are informative and fun, highlighting different aspects of Korea related to the theme of the month. My favorite part of the magazine is the section that provides Korean language basics like the Hangul alphabet and pronunciation guide and useful sayings. Since this is the K-Pop box, the language in this issue was geared toward the K-Pop crowd, but the section is useful nonetheless. The magazines are worth collecting!
My second favorite items are the rice cake and snack pie. After having both and sharing with my niece, we immediately went on a search for more because they are totally addictive and delicious. The strawberry pie has a rich strawberry and chocolate flavor that almost heavenly, while the rice cake has a delightful sweetness.
The Secom Dalcom peach candies are tangy, sweet and refreshing! A great candy for on the go, or travelling. While they are good, for those with capped teeth, they're not as fun to chew. The flavor does pack a punch and tastes refreshingly peachy, so they are worth a little inconvenience.
The Pepero is a must-have in any sort of gift item like this. Pepero is a well-known, signature snack that always brings a sense of excitement. What's nice is that the Pepero received arrived fresh with a nice crisp cookie and tasty coating. Sometimes, ordering Pepero abroad means long waits and no freshness guarantee, so it's nice to receive a product that is fresh.
Unfortunately, I didn't get to use the rose mask due to allergies (I'm allergic to certain flowers, cucumbers, and melons), but it is a nice token in box to introduce someone to Korean skincare. Sheet masks are fantastic because they are user-friendly, even for beginners. The refreshing qualities they have do wake up tired skin and make for glowing skin. The mask is an excellent beauty item that was included.
Finally, the "K-Pop is Life" t-shirt is made from a 100% cotton, it's lightweight and breathable. The bright white is crisp and makes the black slogan pop and it definitely speaks out to many Kpop fans!
Overall
The Inspire Me Korea box is a box of fun! It has a nice introductory mix of products that will give subscribers a taste of the different products Korea offers. The price is an attractive point – such a wide variety for a reasonable price, so subscribing won't break the bank. Besides the products, the overall presentation is attractive and will make the goodies feel even more special. For this reason, the Inspire Me Korea box would make an excellent gift! With the offerings, presentation, and overall value considered, the box earns a 4/5 with the deduction being the shirt size as it isn't inclusive to different body types. However, this is a small issue as the overall value and product lineup makes up for any flaws.
Buy the March KPOP Box here while supplies last!
And if you enjoy Korean cuisine, grab their April COOKING Box today!
Subscribe and get more boxes delivered to your door monthly, such as May's MOTIVATION Box and more. You can find Inspire Me Korea subscriptions on their website. Follow them on Facebook, Twitter, Instagram, and YouTube.
—-Joelle Halon
Related Articles