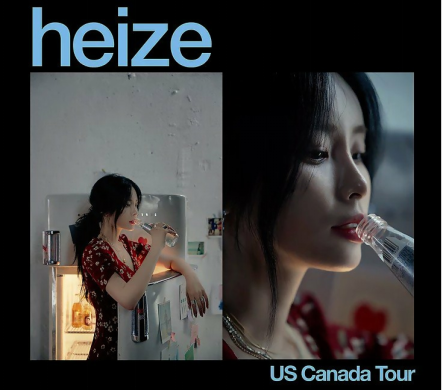 Heize will be coming to North America starting June 26 for her first-ever U.S-Canada tour!
The songstress and Unpretty Rapstar 2 alumna, who is the voice behind the hit songs "Jenga," "Shut Up and Groove," "And July," "Didn't Know Me," and "She's Fine," will begin her tour in Los Angeles, California and wrap-up the tour in Brooklyn, New York July 12.
Tickets for the tour have been on sale since June 5, 2019 on the Proper Form Events website. Tickets for the all-ages show (except for Toronto and Brooklyn that are 19+ and 16+, respectively) are available in three tiers:
General Admission: $50 USD ($68 CAD)
Hi-Touch(includes poster, early entrance, hi-five, and a "hello" with Heize): $125 USD ($170 CAD). Spots are limited!
Meet & Greet(includes poster, lanyard, first entry, and a  photo with Heize in a group of four): $180 USD ($245 CAD- Limited)
Proper Form also notes that all sales are final; tickets are not refundable. Cell phone photos are allowed at the venues.
Check out the dates and locations for your chance to see Heize!
June 26, 2019
Los Angeles, CA
The Belasco Theater

(Tickets)

7:00pm Local Time
June 28, 2019
Seattle, WA
Neumos

(Tickets)

6:30pm Local Time
June 30, 2019
Berkeley, CA
Cornerstone

(Tickets)

7:00pm Local Time
July 3, 2019
Houston, TX
Warehouse Live: The Studio

(Tickets)

7:00pm Local Time
July 5, 2019
Atlanta, GA
The Loft

(Tickets)

7:00pm Local Time
July 7, 2019
Boston, MA
Middle East Downstairs

(Tickets)

7:00pm Local Time
July 10, 2019
Toronto, Ontario
Lee's Palace (19+)

(Tickets)

7:00pm Local Time
July 12, 2019
Brooklyn, NY
Music Hall of Williamsburg (16+)

(Tickets)

7:00pm Local Time
—-Olivia Murray
Related Articles