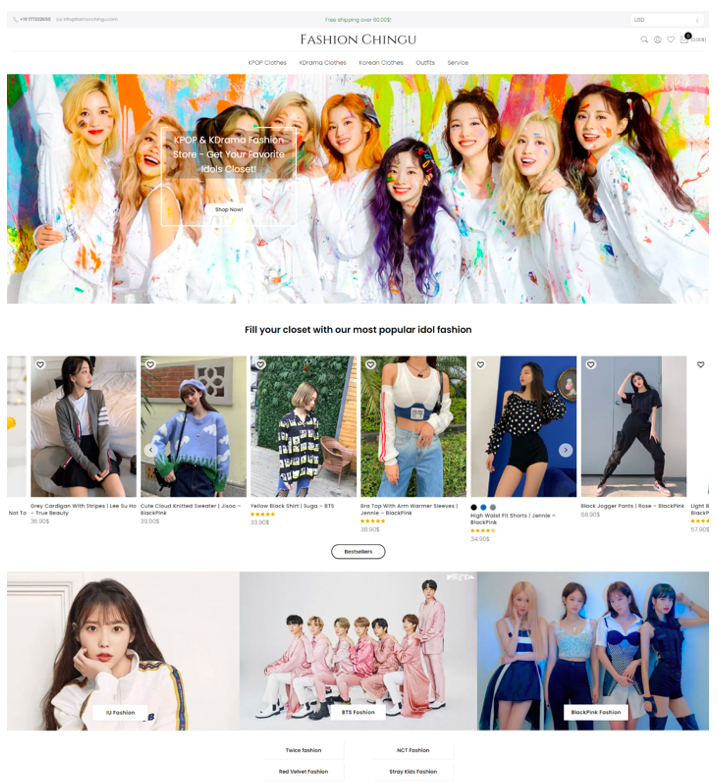 Korean singers and actors are often seen dressed in outfits worth thousands of dollars.  Not only is that undoable for the average person, these celebrities hardly ever own the  clothes. With this in mind, Kpop fans launched Fashion Chingu in 2018, after realizing how hard it was to find affordable alternatives to what their favorite idols were wearing. After fine-tooth combing the internet every time a style interested them, they noticed that not one website focused on this niche. Finding a single piece might have taken up to several days. Sometimes, a good enough match would never even come up.
In actuality, entertainment companies often have their stylists borrow garments from designer brands. These are meant to be featured in music videos, performances, live appearances, etc. So, idols get to wear these for free and brands get celebrity  exposure. A single piece in an outfit can be worth thousands of dollars. For example, it's said that one of Jennie's Chanel costumes in BLACKPINK's "DDU DU DDU DU" music video is worth approximately $20.000! And other designer brands like Burberry, Balmain, or Prada are also big favorites. Even smaller pieces like jewelry, hats and hosiery are marked up in the hundreds. With the increasing growth of the Hallyu wave worldwide, more and more fans are trying  to copy the stars' looks. The monthly average Google search requests for 'blackpink outfits'  tops 20.000 searches. But it's not realistic nor doable for fans to afford these heavy prices.
At Fashion Chingu, fans can find highly resembling options that are both carefully selected and great in quality. The brand prides itself in being able to sell at an affordable  price point, whilst never compromising their standard of quality. They also make sure to not sell any fake or illegal items, as no protected brand names or designs are replicated onto their clothes. There's plenty of outlets selling merch, such as printed tees and sweaters. But much like  how it's always been with pop culture, k-pop followers want to reproduce their idols' looks, not just wear their face on a t-shirt. This is where Fashion Chingu comes in and  offers their solution – idol fashion made affordable.
Related Articles