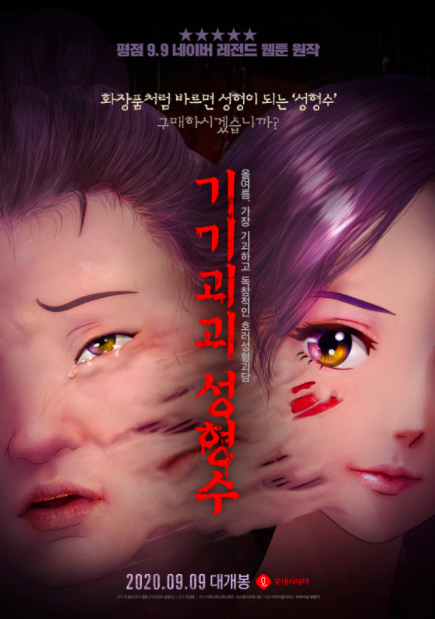 "Beauty Water" is now the first Korean animated film to be honored as the best animated feature award at the 46th Boston Science Fiction Film Festival. 
As the oldest independent genre film festival in the United States, the Boston Science Fiction Film Festival runs for 10 days, showcasing over 100 science fiction features from around the world. 
The best animated feature award of 2021, was awarded to "Beauty Water," which was directed by Cho Kyung-hun. The animation, displayed mostly in 3D, tells the story of a homely makeup artist who meets horrific consequences after she comes across "beauty water" that enables her to drop weight and transform her into a beauty. 
The animation was originally adapted from a hit web series called "Tales of the Unusual" by Oh Seong-dae. 
"It's quite rare for feature-length animations, especially those of the horror genre, to be successfully put on screen, not just in Korea but in the animation industry overall," director Cho Kyung-hun said, while explaining what he thought was a main reason why festivals were in favor of the production. "The film questions the standard of beauty. When we accept our own beauty, it's usually based on the standards set by the society. We think ourselves beautiful only when others do. This perspective itself is a form of violence, and I wanted to show that a web of such violence can become a hell for some."
Even during the global pandemic, "Beauty Water" pulled in more than 100,000 viewers into cinemas in South Korea on its release in September 2020 – and was also screened in numerous regions including Taiwan, Singapore, Australia and New Zealand.
Since the latest work proved to be successful, the "Beauty Water" fans could anticipate for a follow-up of another episode from the Tales of the Unusual, hopefully. 
Here's the link to our interview with Oh Sung-dae, the writer and creator of Beauty Water. https://www.kcrush.com/kcrush-interview-with-webtoon-artist-oh-sung-da
–J.Chung.
Related Articles