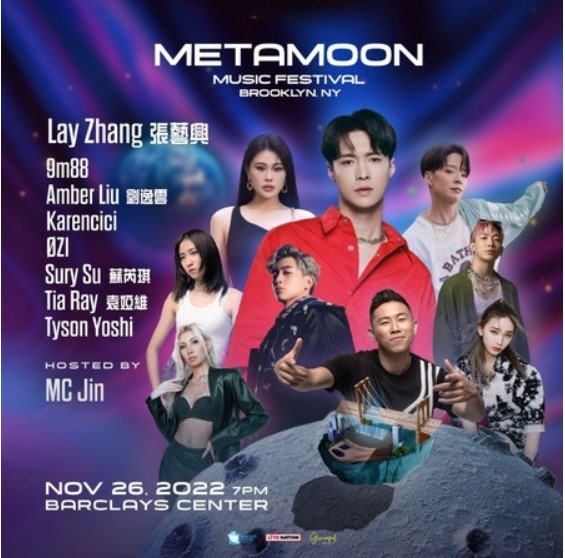 Today, the highly anticipated MetaMoon Music Festival, a celebration of Asian artistry and culture, confirms three new artists joining their star-studded lineup: Amber Liu of f(x), Chinese urban/soul singer Tia Ray and Hong Kong-based pop punk artist Tyson Yoshi are set to perform at the inaugural event taking place November 26 at Barclays Center.
The exciting additions join headliner  Lay Zhang from EXO, alongside previously announced artists 9m88, Karencici, ØZI, Sury Su, and host MC Jin. Tickets on sale now at SeatGeek.com, or BarclaysCenter.com.
Produced in partnership with Live Nation, MetaMoon Music Festival was founded by Graceful Media as a platform to showcase AAPI and Asian artists and culture from the heart of Brooklyn at Barclays Center. This year's inaugural lineup features different genres of music from some of Asia's biggest stars all on one stage, with Lay Zhang making his US arena debut while Tyson Yoshi and Sury Su will perform for the first time in the US.
"I'm very excited to be performing live in front of my fans at Barclays Center, " said Lay Zhang. "It will be great to be in New York to share my music with my fans who have always supported me."
The cultural celebration and fan experience at MetaMoon Music Festival will also include a food crawl and a market in partnership with Gold House, which will feature and support AAPI-owned businesses and brands.
The MetaMoon Food Crawl is set to kick off November 1, with participating restaurants including Nom Wah Nolita, 886, Ho Foods, Yumplings and more to be announced. The food crawl allows fans to further explore Asian culture and embark on a culinary journey across the city while supporting local AAPI-owned businesses. Participating restaurants and MetaMoon Festival will make a donation to Heart of Dinner, a nonprofit organization combating food insecurity and isolation within New York City's elderly Asian community.
The MetaMoon Market will take place at Barclays Center during the festival. In partnership with Gold House, the Market will feature a host of AAPI-founded brands including Lunar, Popadelics, Kitsby, Regroup, Frontman and Moshi, with more brands to be announced soon.
"MetaMoon Music Festival's mission is to bridge the gap between Asia and the US and showcase the fact that pop culture and music are universal languages that can foster a stronger understanding," said Grace Chen, founder of Graceful Media. "The Asian community has historically been underrepresented in American entertainment and media, and MetaMoon hopes to be that cultural exchange that shines a light on such talent, their stories, the fans and overall Asian excellence."
"Live Nation is committed to creating endless opportunities to connect artists of all genres and backgrounds with their fans," said Geoff Gordon, Regional President, Live Nation Northeast. "The inaugural MetaMoon Music Festival will inspire and create new and exciting opportunities for many of today's Asian artists, from both here and abroad, to shine brightly, and engage their fans in this epic and unforgettable event."
"Since opening our doors in 2012, Barclays Center has hosted some of the biggest names in the music industry, bringing countless fans and artists together in the heart of Brooklyn," said Laurie Jacoby, Executive Vice President and Chief Entertainment Officer at BSE Global, parent company of Barclays Center. "Our goal is for MetaMoon Music Festival to highlight the importance of the Asian community while simultaneously celebrating the diverse and exciting culture of our city."
For more information on the MetaMoon Music Festival, please visit www.metamoonfest.com. Follow on Instagram, Twitter and Facebook: @metamoonfest
About Graceful Media
Graceful Media operates at the intersection of music, sports, pop culture and content, bridging the east and the west. Based in Hong Kong, Graceful Media works with talent on their market entry strategy into Asia, and advises companies on the media and entertainment landscape in the region. Graceful Media created the MetaMoon Music Festival as a platform for Asian and Asian American artists to share their talent and music with the world.
About Live Nation Entertainment
Live Nation Entertainment, Inc. (NYSE:LYV) is the world's leading live entertainment company comprised of global market leaders: Ticketmaster, Live Nation Concerts, and Live Nation Media & Sponsorship.
About Barclays Center
Barclays Center opened on September 28, 2012 and is a major sports and entertainment venue in the heart of Brooklyn, New York. The arena is home to the NBA's Brooklyn Nets and the WNBA's New York Liberty. Since opening with the first of eight consecutive sold out shows by JAY-Z, Barclays Center has established itself as an industry leader in sports and entertainment, hosting some of the greatest entertainers in the world including Barbra Streisand, Beyoncé, Bruce Springsteen, Drake,  Justin Bieber, Madonna, Mary J. Blige, Paul McCartney, Rihanna, and The Rolling Stones, as well as major events such as the MTV Video Music Awards, the Rock and Roll Hall of Fame Induction Ceremony, 2015 NBA All-Star weekend, nine NBA Drafts, and nationally broadcast New Year's Eve shows. Barclays Center has become one of the most popular and recognizable arenas in the world – consistently ranked as a top venue by Billboard, Pollstar, and Venues Now.
About Gold House
Gold House is the premier nonprofit collective of Asian and Pacific Islander (API) founders, creative voices, and leaders dedicated to enabling authentic multicultural representation and societal equity. Our ventures include uniting APIs and other marginalized communities to fight for equality; championing authentic API representation through media to reshape public opinion (Gold Open, A100 List); and accelerating economic success and commercial representation through API founders (Gold Rush). To learn more, visit www.goldhouse.org or follow @GoldHouseCo on social media.
About Heart of Dinner
#GoldHouseCo #LiveNationEntertainment #MetaMoonMusicFestivalNewYork #NewYorkFestival #API #AmberLiu #EXOLAY #LayZhang #9M88 #kcrushnews #Karencici #TiaRay #TysonYoshi #0ZI #Su #Sury #MCJin #MetaMoonFoodCrawl #GraceChen #GracefulMedia #kcrushamerica #Barclays #Yumplings #Popadelics #Kitsby #Regroup #Frontman #Moshi #Lunar #popculture #universalpopculture
Related Articles