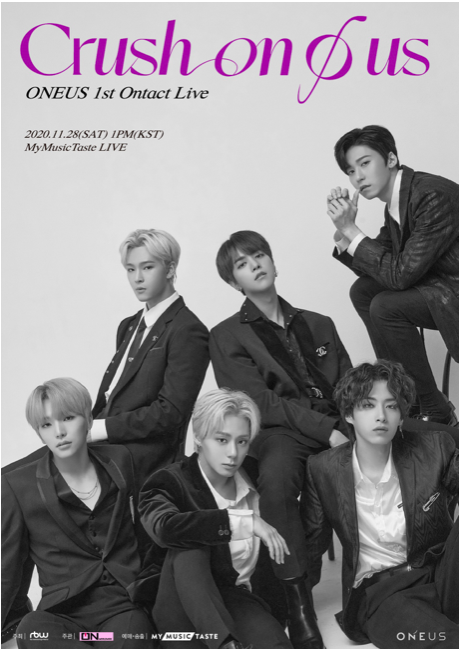 K-pop powerful boy-group ONEUS announced their very first online concert titled ONEUS 1st Ontact Live [CRUSH ON Ø US]. The concert will be held on November 28, 1:00 PM (KST).
MyMusicTaste will be partnering as the ticketing and streaming platform for ONEUS's first online concert providing the best service and experience for fans all over the world.
This is not the first collaboration with ONEUS as this show comes after the successful completion of ONEUS' 2019 North American tour, actualized through the overwhelming requests of fans on MyMusicTaste. To fulfill the group's commitment to stay connected with their fans despite today's reality of restricted travels and social distancing, this unique online concert will bring the Seoul-based group's music and energetic performances to the homes of global fans.
Quickly after their debut in January 2019, the sextet became Kpop heartthrobs through their striking physical appearances and vocal prowess. Debuted under RBW Entertainment, the agency that houses one of the biggest Korean girl groups of all time, MAMAMOO, ONEUS has gained worldwide attention from the start. Their debut mini-album "LIGHT US" hit no.1 on iTunes Top K-Pop Albums Charts and charted within the Top 10 in Canada, Germany, England, Spain, and Italy. Its title track "Valkyrie" hit 17 million views on YouTube, an impressive feat for a rookie group. Without losing momentum, their second mini-album "RAISE US" debuted no.1 on the iTunes Top K-Pop Albums Charts in Finland and charted within the Top 5 in four other countries. Its title track "Twilight" hit 10 million views within four days of its release.
Despite the restrictions caused by the pandemic, ONEUS started the year strong with the release of their first single album "IN ITS TIME" and its balladic title "A song written easily, "followed by the very successful participation in the popular television survival show "Road to Kingdom." The band used this opportunity to showcase their team spirit, tremendous talent, and various colors of the group. Their recent fourth mini-album "LIVED," and the title song "To Be or Not To Be," further showcased the band's powerful charms, while taking a twist on old-times classic Hamlet narrative.
This concert should raise no dilemma for fans whether to watch or not to watch the show! The tickets are now on sale, and fans from all over the world are welcomed to get their Early Bird tickets via MyMusicTaste, which will be available until November 12, 2020, at 7:30 PM (KST).  The general sale will start on November 12, 2020, at 8:00 PM (KST).
Further information regarding ticketing and the show itself can be found throughhttps://mmt.fans/ihWX or other social media channels of MyMusicTaste.
ONEUS 1st Ontact Live [CRUSH ON Ø US]
November 28, 2020, 1 PM (KST) – MyMusicTaste
About MyMusicTaste:
MyMusicTaste is a fan initiated live event making service that brings fans, artists, and promoters from all over the world together in one place to create a valuable and meaningful concert experience for everyone involved. MyMusicTaste puts the power in the fans' hands, allowing fans to request their favorite artist's concert in their city. With the mission to connect and amplify the voices of fans all over the world, MyMusicTaste successfully promoted concerts of artists such as EXO, GOT7, MONSTA X, The xx, Machine Gun Kelly, and more in over 57 different cities. With the simple idea–empowering fans to bring their favorite artist's concert in the city of their choice based on fan demand–MyMusicTaste is challenging the $27 billion concert market through cutting-edge technology and sophisticated, user-friendly service. Currently, www.mymusictaste.com supports more than 30 countries and offers 15 different languages.
Related Articles