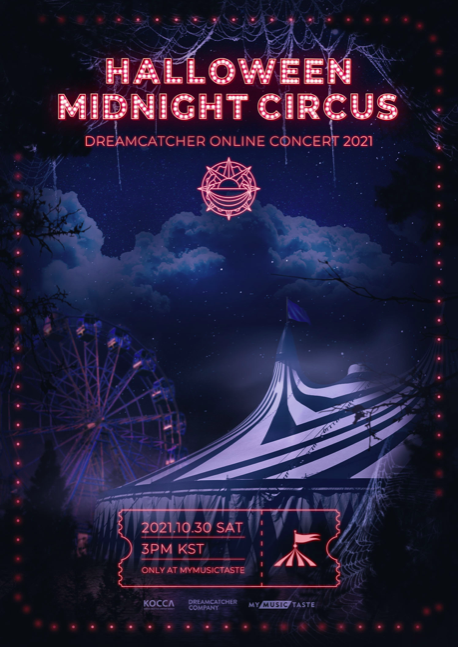 The seven rock goddesses of K-pop, Dreamcatcher, are back for their fourth online concert HALLOWEEN MIDNIGHT CIRCUS: DREAMCATCHER ONLINE CONCERT 2021 happening on October 30th at 3PM KST.
A group like no other, Dreamcatcher continues their journey to the top with endless hits. Their latest release in July with the special mini album Summer Holiday surpassed their previous personal record for highest first-day sales, raising the bar with each comeback. They've landed themselves on multiple charts, with hit tunes on Billboard's Next Big Sound Chart, World Albums
Chart and the World Digital Song Sales Chart.
They're a force to be reckoned with, as they take their place not only on the Billboard Charts, but in everything from Brand Reputation Rankings of the group and individual members to Spotify's list of Korean girl groups that are dominating streams.
Their pop rock and metal sound continues after the Dystopiatrilogy hits of "Scream", "BOCA", and "Odd Eye", but has twisted into an almost creepy yet alluring sound with their most recent title track "BEcause". Sitting at an astounding 26 millions views to date, the music video for the track is eye catching and oddly magical with visuals that are as mesmerizing as the song is addictive.
While their previous online concert allowed viewers and fans from all over the world to enjoy the duality of their performances under the themes of Dystopia and Utopia, InSomnia [official fanclub name] are in for another trick andtreat in Dreamcatcher's fourth online concert. Fans can look forward to enjoying the spooky season with their favorite seven talented gorgeous nightmares.
Dreamcatcher's fourth online concert, HALLOWEEN MIDNIGHT CIRCUS: DREAMCATCHER ONLINE CONCERT 2021, promises intriguing performances, setlists, and seasonal fun under the theme of a carnival that awaits those who enter the realm in which somewhere in the world, the clock strikes the witching hour. The online concert will be streamed live on October 30th at 3PM KST on the MyMusicTaste platform.
For this concert, Dreamcatcher continues their collaboration with MyMusicTaste, a technology forward platform that breaks the barriers set by the pandemic and brings fans and artists together to create a new way of connection.
DREAMCATCHER's seven members: JI U, SU A, SIYEON, HANDONG, YOOHYEON, DAMI, and GAHYEON are so excited to come back to the big stage online and see their fans once more.
Tickets will be on sale from October 1st at 1PM KST. Further information regarding ticketing and the show itself can be found through https://mmt.fans/MdJ3 or through MyMusicTaste's other social media channels.
HALLOWEEN MIDNIGHT CIRCUS: DREAMCATCHER ONLINE CONCERT 2021 October 30, 2021, 3:00PM KST – MyMusicTaste

About MyMusicTaste:
MyMusicTaste is a fan initiated live event making service that brings fans, artists and promoters from all over the world together in one place to create a valuable and meaningful concert experience for everyone involved. MyMusicTaste puts the power in the fans' hands, allowing fans to request their favorite artist's concert in their city. With the mission to connect and amplify
the voices of fans all over the world, MyMusicTaste successfully promoted concerts of artists such as EXO, GOT7, MONSTA X, The xx, Machine Gun Kelly, and more in over 57 different cities. With the simple idea–empowering fans to bring their favorite artist's concert in the city of their choice based on fan demand–MyMusicTaste is challenging the $27 billion concert market
through cutting-edge technology and sophisticated, user-friendly service. Currently, www.mymusictaste.com supports more than 30 countries and offers 15 different languages.
About DREAMCATCHER COMPANY:
Established in 2008, DREAMCATCHER COMPANY is a South Korean record label and entertainment agency founded by the prominent production duo E-tribe. Since the debut of its first artist Nassun, the company has grown in size over the years, producing artists and idol groups under its own name. V.O.S, Dalshabet, and DREAMCATCHER are the major artists that are currently associated with the label. Recently, the company also launched subsidiary labels HF Music Company, Dreamcatcher Company, and D1CE Entertainment and is garnering much attention and recognition from the public as the rising creator of future K-pop artists.
Related Articles