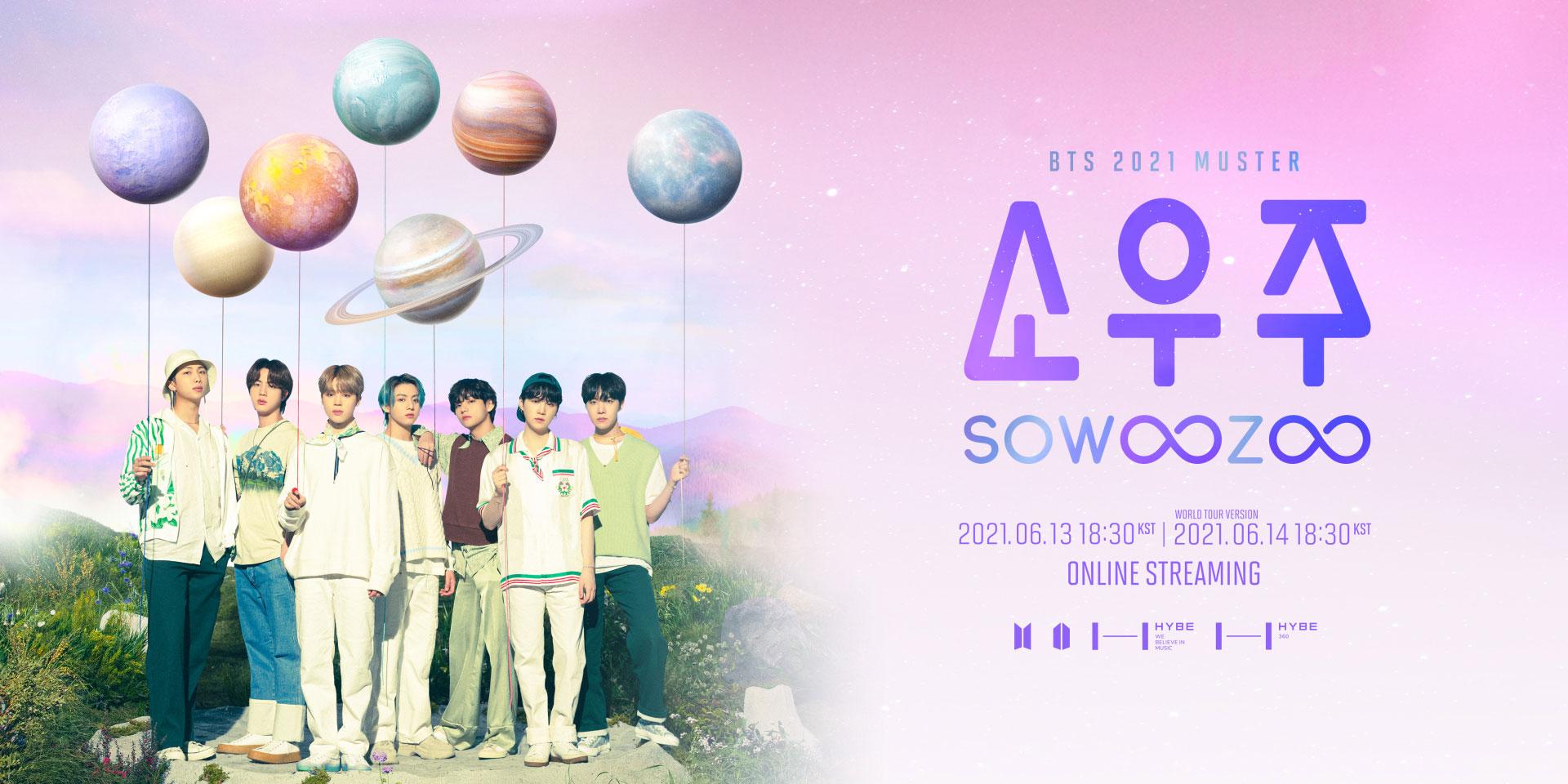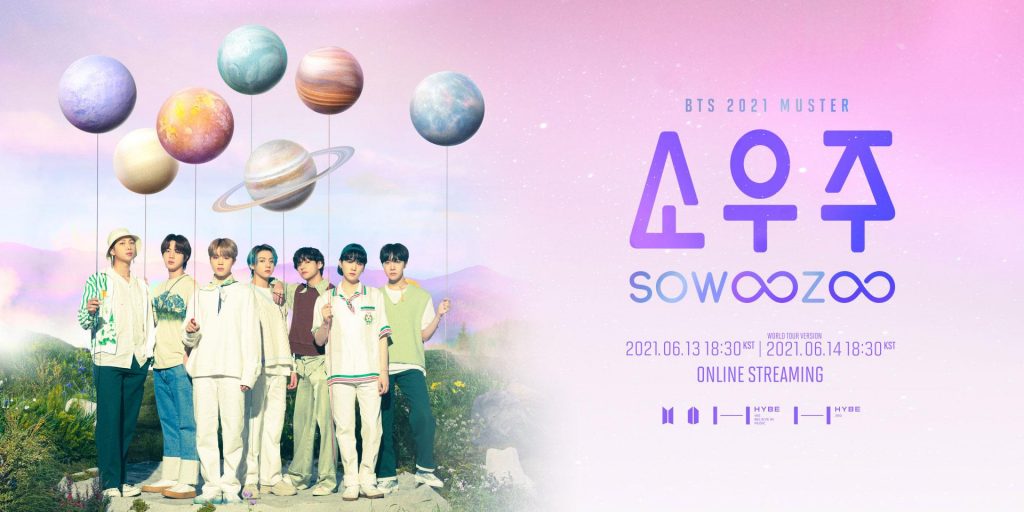 K-pop superband BTS is celebrating the eighth anniversary for the group's members and fan club this coming weekend (literally just a couple of days away) with a two-day live streaming event broadcasted from Seoul, South Korea – BTS 2021 Muster Sowoozoo.
BTS Muster is an annual event for BTS fans where the K-pop group members perform their hit songs from their discography, put on skits and interact with their fans, known as ARMY. Since the formation of the band and before the pandemic occurred, BTS Muster events used to be held with audiences.
In October of 2020, "Map of the Soul On:E," fan event managed to break the Guinness World Record for most viewers of a music concert livestream in history, with 993,000 people tuning in from 191 countries.
Regarding this year's event, Jin, the eldest member of BTS, said in the announcement, "We are working hard to prepare a great performance, ARMY. So, please look forward to it." Jungkook went on to add, "I am looking forward to spending some time with ARMY."
To successfully pull off this year's online anniversary event, HYBE (formerly Big Hit Entertainment) will join VenewLive again to provide BTS fans ARMY 4K resolution experience with multi-views from different camera angles. Chat rooms will also be available for people to interact with one another, and some lucky fans will be given the chance to talk to the group members via "ARMY on Air" event during the live streaming.
The first edition of the fan event will begin on June 13, 6:30 PM KST, while the "World Tour Version" is to be held the next day, on June 14, 6:30 PM KST. Encores of the show will be available from June 18 to 19.
There are several ticketing options – If you don't have a fanclub membership, you can choose an HD Single-View ticket for the event on June 13, an HD Single-View ticket for the second day event, or an HD Single-View 2-Day Pass which will allow access to both shows.
There are more options to select for those with the BTS Global Official Fanclub ARMY membership. As well as the above-mentioned tickets that are available to everyone, fanclub membership holders can purchase HD Multi-view tickets, an HD Multi-view 2-Day Pass, and a 4K Single-View with an HD Multi-view ticket for both events.
You can check the schedule and details to get tickets via webview.weverse.io.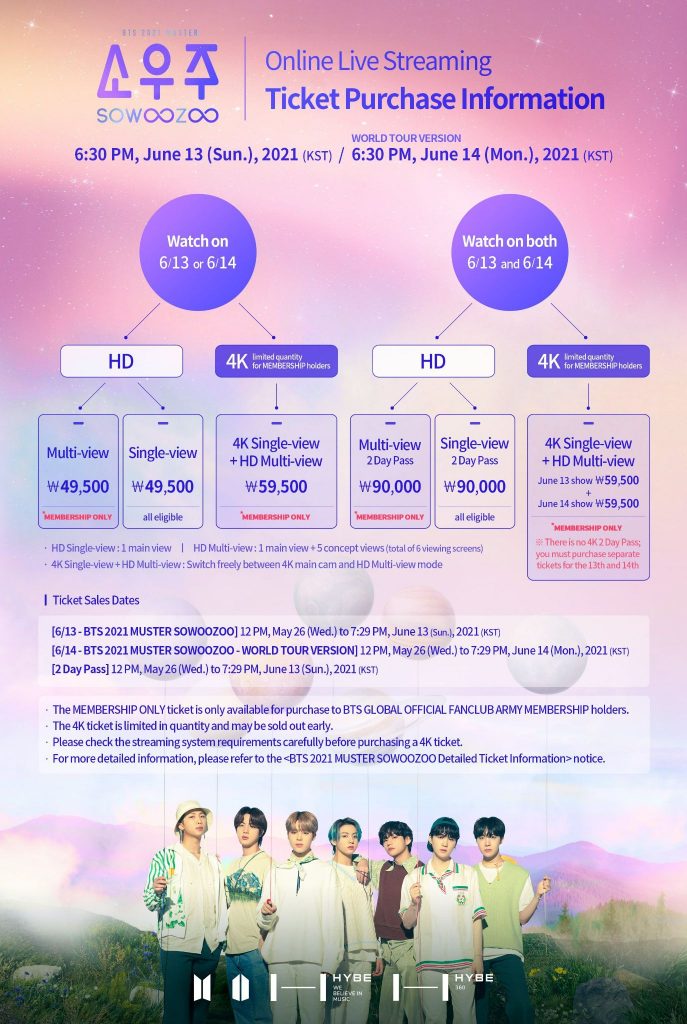 -J.Chung.
#BTS #HYBE #SOWOOZOO #kpop #fanmeeting #livestream #concertstream
#BTSMuster #MapOfTheSoul #ARMY #VenewLive #kpopidols #BTSGlobalOfficialFanClub #BTSWorldTour #BigHitEntertainment #ArmyOnAir
Related Articles