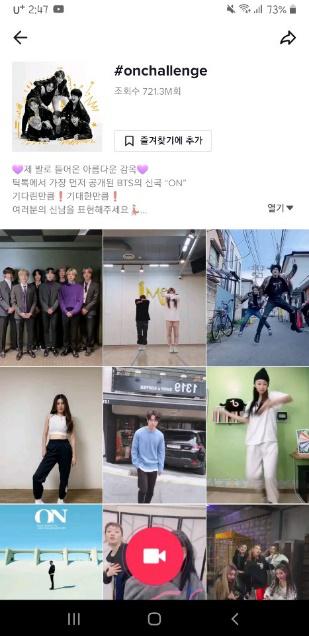 K-Entertainment world is facing a new trend now, challenge marketing events using Chinese social App 'Tiktok' is spreading like a wildfire.
Tiktok's strongest point as a Short-form video platform is creating a synergy effect with new generations' interest, as they like to present themselves to the world by showing their originalities. Until 2019 K-Entertainment was not visibly sharing this pie, but from a series of successful campaigns made recently, it is witnessing Tiktok's outstanding media influence power.
Top K-pop boy group BTS has released a teaser video of new title song 'ON' in their latest 4th studio album <Map of the sol:7>. The earliest access was given to Tiktok users, however, putting aside most powerful streaming websites or even youtube. The new teaser achieved 5 million views in the first hour from Tiktok alone, skyrocketing to 6.5 mil views in the following hour. Starting its first Tiktok account at Sept 2019, BTS is also famous for fastest reaching 1 million followers in only 3 and a half hours – They also ranked top of the 'Korean Artist Top 10' selected by Tiktok, outpacing Blackpink, TXT, Park Ji Hoon, StrayKids, Cha Eun Woo, and Momoland.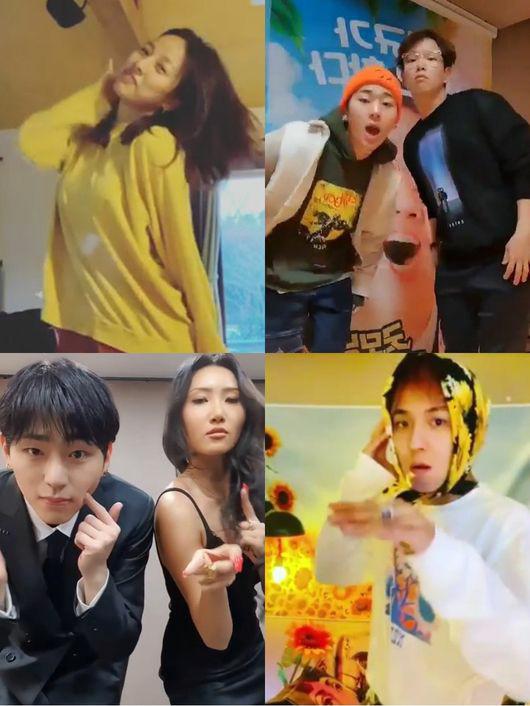 Advent of K-Tiktok challenges
BTS is not a pioneer of Tiktok K-pop marketing, though. 2019 winter-release 'FEVER' by JYP founder and singer Park Jin-Young, and 'Flower Shower' by artist Hyuna has been using Tiktok challenge as a marketing platform. But we cannot really talk about 'New Song Challenge fever' without referring to rapper ZICO (former Block-B leader). When he posted a video of himself dancing by his new song on January 2020, celebrities including Hwasa, Chungha and uploaded dancing video with hashtag #anysongchallenge. As this went viral and turned into a public fad, overall view of this challenge has reached over 800 million by this February. The extraordinary success of this Tiktok campaign also earned him global awareness, helping his 'Any Song' rank #4 Billboard World Digital song. Starting from ZICO, New K-Pop Song challenge has flooded into Tiktok from Feb 2020 – such as '#HandsUpChallenge' by Cherry Bullet, '#CrossroadChallenge' by GFriend, '#SoWhatChallenge' by LOONA, and you name it.
Recently emerging campaigns are Tiktok challenges highly engaged with social welfare activities, and these are where you can find K-drama actors or actresses' participation. With the recent global situation of COVID-19 lockdown, a couple of public ad challenges have been created by hashtag '#LemonChallenge' (eating a lemon after washing hands according to COVID-19 guidelines, then donating $190), '#FlowerBucketChallenge'(gifting a bouquet of flowers in order to save endangered flowering industry), and more. Actor Lee Seung-Gi and actress Ha Jiwon has recently posted a challenge shots collaborating with UNICEF (#Short-but-steady-happiness), raising funds for children with Tiktok account they created last year.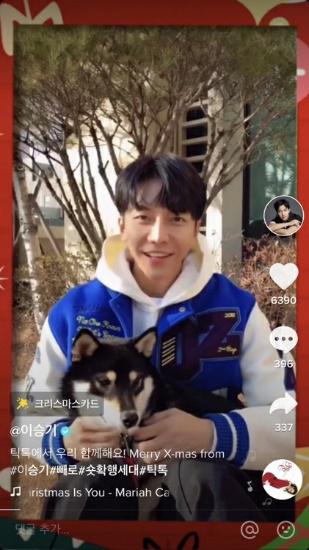 How Tiktok Challenge interacts with K-Entertainment world
These new formats of marketing start from active collaboration of Tiktok and individual musician/celebrities. Global influence among younger generations, which Tiktok can provide, is such an attractive offer for celebrities; Consistent reactions from World-famous stars, and their social account activities help Tiktok expand its business toward global market. Either Tiktok or Individuals can suggest new marketing campaigns, while Individuals or their agency can make plans for content by themselves.
But even if celebrities create a new challenge and Tiktok promotes it, the entire plan does not work If there is no one who takes the challenge and performs it. Challenge marketing stands for 'voluntary participation and diffusion'; instead of waiting for articles or social media postings of the favorite star, Fans enjoy their fan life uploading & sharing challenges, thus actively engaging into content creation. To lead successful viral marketing, K-stars and their Fans are working together now.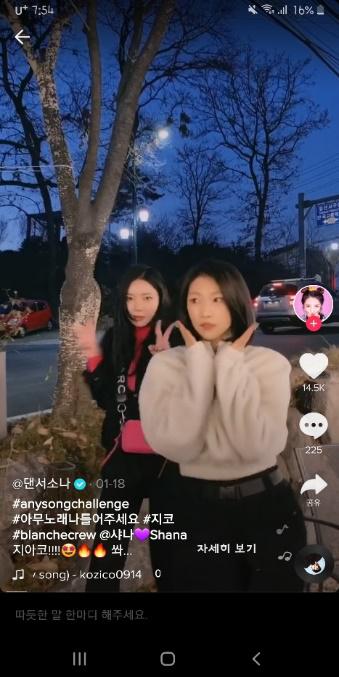 How Tiktok is changing public attitudes
As a social media platform, Tiktok has a strong merit of 15-min long video service. You don't have to spend a great deal of your time to create such a short content; yet you can still put fun elements such as stickers, music, effect tools and make your video attractive. With these advantages Tiktok is getting spotlight as a new marketing breakthrough in the K-Entertainment world.
But how Tiktok changes K-Entertainment fans is even more interesting. Before then fangirls and fanboys found themselves far away from their stars, since these stars were the only ones who could put a lot of time and effort to provide attractive content. But with Tiktok's 15-min video and some editing work people found content-making much easier, found K-stars lot more relatable and this is letting them engage in K-Entertainment more enthusiastic ways.
'DancerSona' is a Korean Tiktok celebrity with 2.2 million followers, and It's easy to find her dancing Kpop choreos & taking part in Kpop challenges such as '#Anysong challenge'. But she is not one of those Kpop stars -what she shows her followers with her video is how she dances. She represents how ordinary people can enjoy memes from K-Entertainment & yet showing her own identity using Tiktok.
It is clear that Tiktok is slowly, but steadily changing the geography of the K-Entertainment world. Through Tiktok two-way communication is made between celebrities and their fans. Both Stars and Fans are creating memes among the social media world, and the boundary of content creator and its viewer is getting blurred. It is worth watching how the collaboration of Tiktok and Korean Entertainment Industry will lead to a new fandom culture.
—-Uinn Peng
Related Articles