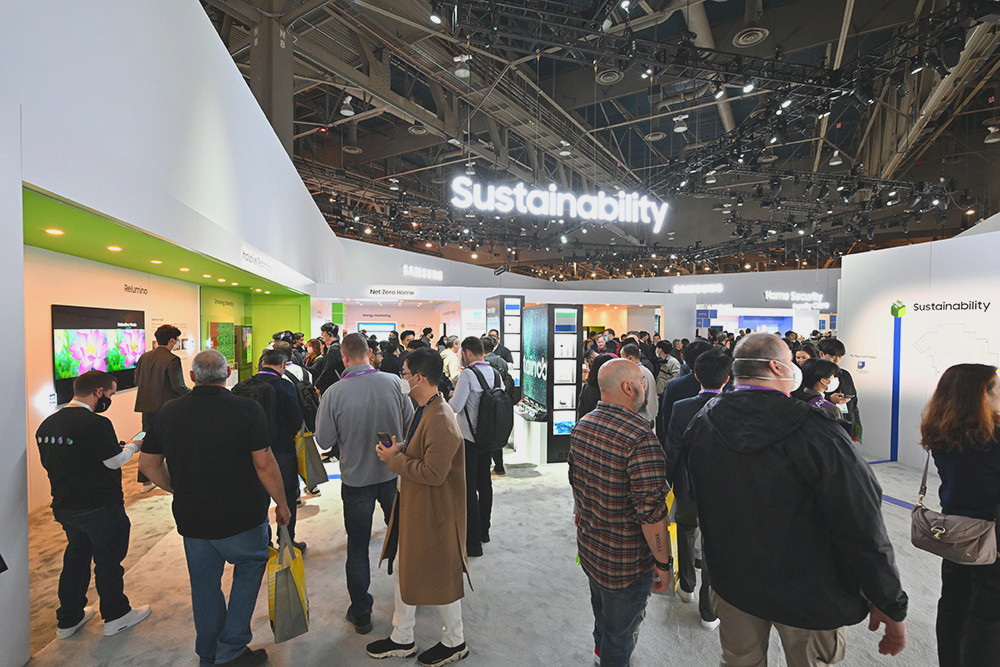 The world's largest IT and consumer electronics exhibition 'CES 2023', which opened in Las Vegas on the 5th (local time), ended successfully on the 8th.
About 3,200 companies from 174 countries participated in CES 2023, which was held in person for the first time in three years after COVID-19 pandemic. Considering that the number of companies participating in 'CES 2020' was close to 4,400, it is said to have recovered a lot to before-the-pandemic level.
323 of the Fortune Global 500 companies, including Google and Microsoft, which did not exhibit on-site last year, participated in the event. At least 100,000 people visited the exhibition hall, a significant increase from last year when the number of visitors was 45,000.
At this year's CES, the title of the largest participating country except for the United States was gained by Korea. In Korea, more than 550 companies, including Samsung Electronics, LG Electronics, SK, Lotte, Hyundai Mobis, HD Hyundai, Body Friend, and Seoul Semiconductor participated, drawing attention from all over the world. Among others, Samsung built the largest exhibition hall, and LG succeeded in gaining popularity with a super-large OLED sculpture at the entrance of the exhibition hall. Korean local governments, universities also joined CES as well as the high executives from the large conglomerates.
TechCrunch, a media specializing in information technology, picked "Samsung Electronics and LG Electronics along with Sony and Panasonic as the most noteworthy companies at this CES."
At this year's CES, major companies brought smart home technology to the fore. Samsung Electronics and LG Electronics introduced 'SmartThings' and 'LG ThinQ', which are smart home platforms, respectively, as representative items. The two companies participated in the Home Connectivity Alliance (HCA), a smart home platform interlocking consultative body, and demonstrated it publicly.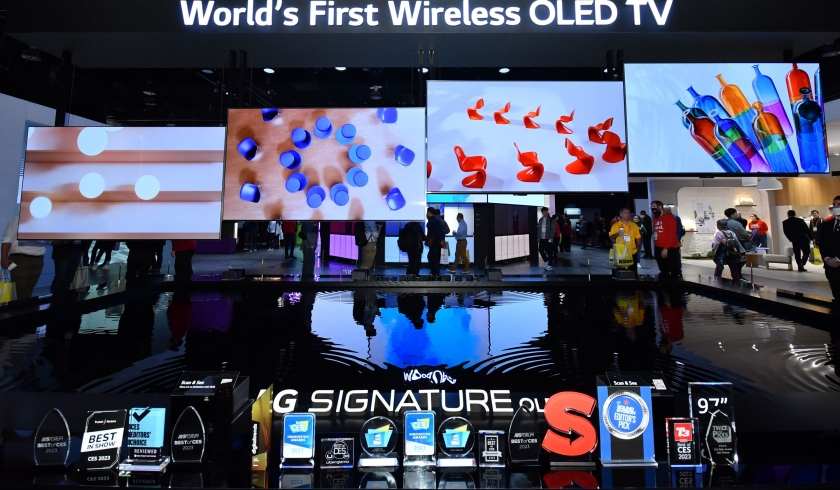 HCA, which was born at CES last year, showed control of third-party air purifiers, refrigerators, and air conditioning systems with different brand apps within one year of its launch. Samsung Electronics even controlled smart devices of other companies, such as operating and controlling Aero Tower, an air purifier of LG Electronics, with the SmartThings app. For example, they simply check the remaining washing time of the LG Wash Tower in another brand app or preheat the GE oven with the Samsung SmartThings app.
HCA is participated by global home appliances and air-conditioning companies such as Samsung, LG Electronics, GE, Haier, Electrolux, Arcelic, Train, Ridigio, and Bestel.
Smart mobility technologies such as autonomous driving, electric vehicle charging, and purpose-based vehicle (PBV) were also gathered.
Harman, a subsidiary of Samsung Electronics, introduced future mobility solutions at this CES. It introduced 'Ready Tune' and 'Ready On Demand', car audio solutions that provide a more immersive and differentiated personalized sound experience to help drivers enjoy a pleasant driving experience.
SK launched a virtual experience program for Korean Urban Air Transportation (K-UAM). It was so popular that long lines lined up around the SK Integrated Exhibition Hall to experience the virtual experience simulator in the form of a UAM aircraft installed in the exhibition hall.
LG Innotek exhibited various electronic parts that will be responsible for the era of autonomous driving, such as advanced camera modules. LG Display also unveiled ultra-large, slidable, and transparent OLED (organic light-emitting diode) to target the premium automotive display market.
Samsung Electronics prepared an exhibition hall of 3368㎡, the largest among participating companies at this CES. Various exhibition zones were also organized with the keywords of 'sustainability', 'smart things', and 'partnership'.
This year, it is not just a simple product exhibition, but it is also eye-catching that it consists of customer experience-oriented exhibitions such as ▲Sustainability ▲Home Security ▲Family Care ▲Health & Wellness ▲Entertainment ▲Smart Work.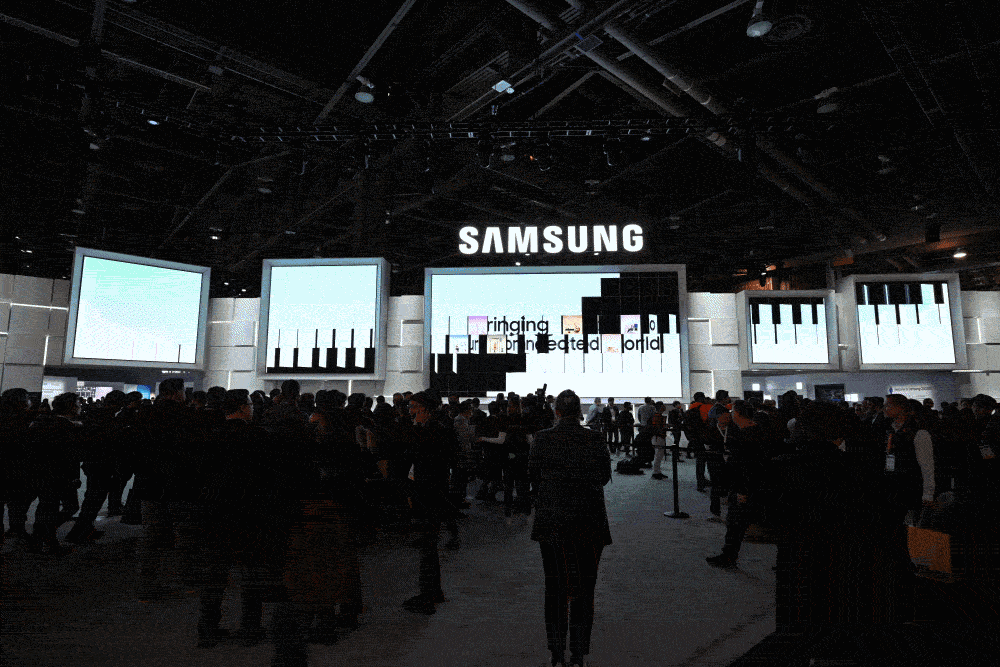 Samsung Electronics decorated the entire exhibition hall with a variety of bespoke home appliances, from the 2023 Neo QLED 8K to the new Family Hub products, as well as mobile devices such as the Galaxy Z Fold 4 and Flip 4, and the Galaxy Watch, and smart monitors.
In particular, it introduced for the first time a 'large-capacity integrated greenhouse gas treatment facility (RCS, Regenerative Catalytic System)' that safely handles process gases used in semiconductor manufacturing. Samsung Electronics is the first and only company to use RCS in the semiconductor industry.
Eco-friendly products such as a microplastic-reducing washing machine developed in collaboration with Patagonia, 'Net Zero Home', a futuristic eco-friendly housing type, 'SmartThings Energy' and 'AI Energy Mode', which allow you to see at a glance the amount of power consumed by devices connected to SmartThings. ' and other energy-saving solutions were also exhibited.
It is said to have regained its past reputation as the 'Las Vegas Auto Show'. With the goal of transforming into an 'integrated platform specialist', Hyundai Mobis unveiled 'M Vision TO', an electrified self-driving concept car. This concept car, which moves separately with four wheels equipped with a steering and braking system, moves sideways like a crab or rotates in place.
The number of participants and exhibits related to marine mobility, Marine Tech, also increased. HD Hyundai introduced new functions and business plans of Avicus, a subsidiary specializing in autonomous navigation assistance, and a vision to fundamentally change the perspective and utilization of the sea, as well as the future of large merchant ships and energy.
Various entries were also presented in the metaverse sector, and new products in the field of smell and touch drew attention. Korean tactile solution developer Behaptics participated and attracted attention.
—-Jiyoung Lee
#CESInLasVegas2023 #CESLasVegas #Samsung #LG #Koreancompanies #kcrushnews #Korea #HDHyundai #ecofriendly #SamsungSmartThings #LGThinQ #fortune500companiesatCES #HCA #kcrushamerica #HarmanReadyTune #HarmanReadyOnDemand #TechCrunch #SKKoreanUrbanAirTransportation #IT #electronics #Lotte #Hyundai #Mobis #BodyFriend #SeoulSemiconductor #originalkcrush #kcrush2014 #ITandconsumerelectronicsexibition #LGElectronicsOLED #purposebasevehicle
Related Articles