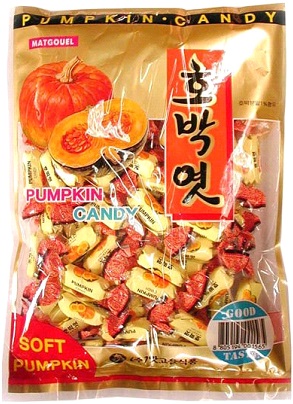 Who doesn't love candy?   Sweet, tasty candy is what is right in the world sometimes.   In Korea, they seem to feel the same way I do about candy, so they blessed us with pumpkin caramel chews which sound promising and delightful just by the name alone.   But, do the candies live up to their heavenly-sounding pumpkin-ness?   In the spirit of the upcoming fall season, let's unwrap a few in a taste test!
Initial Impression
Each piece of candy is individually wrapped, so it's nice for individual snacking.  Plus, the wrapper helps to keep your fingers from getting sticky since it is a taffy-type treat.
When unwrapped, the candy resembles a lemon Jolly Rancher: It has a yellowish hue, but it's not as opaque.
The package I had might have been older, but it wasn't soft as advertised.  When I bent it to test the softness, it cracked instead of pulled as expected.  Soft things shouldn't crumble.
There isn't a distinct pumpkin scent attached to it.   It has a waxy scent that's mixed with some nutty notes.  There's more fresh peanut butter than anything, so it's hard to tell where pumpkin actually plays a role in the whole candy.
Taste
Biting into the candy was a bit of an adventure, but that's because I have crowned teeth and my dentist recommends I no longer eat these types of foods.  The candy isn't that sticky on teeth, but it does crumble.   Just like with the "bend test," don't expect this to be a soft caramel.  When warmed in your mouth, it does become softer, but it is a bit of a workout for your jaw because it is really chewy!
The little candy bursts with flavor as it touches the tongue, but none of those flavors resemble anything pumpkin.  There's a taste of peanuts with sweet caramel notes that make the treat incredibly tasty!  The caramel taste isn't overwhelming, so it's more of an accent flavor.  However, it is more like eating peanut fudge.  I tried several pieces to see if there was anything pumpkin-flavored, but there is none.  It doesn't matter because the candy is addictively delicious!
Final Verdict
The candy's flavors mixed with the sweetness of the caramel make for a delightful flavor adventure.  I recommend warming the candy in your hands first since it is on the hard side.  If you have dental work, I would bite it with caution unless you warm it up.  The candy is tasty and addictive and oh-so-worth it despite its disappointing lack of pumpkin.
–Joelle Halon
Related Articles